Self-designed dress made of burgundy upholstery fabric on Tonight Starring Jack Paar in 1961
Barbra Streisand made her television debut on "Tonight, Starring Jack Paar" on April 5, 1961, wearing a burgundy damask dress which she designed herself. On this episode Orson Bean was filling in for Jack Paar while he was on vacation. Other guests that evening included Albert Dekker and Phyllis Diller with Gore Vidal and Streisand listed as the "special guests."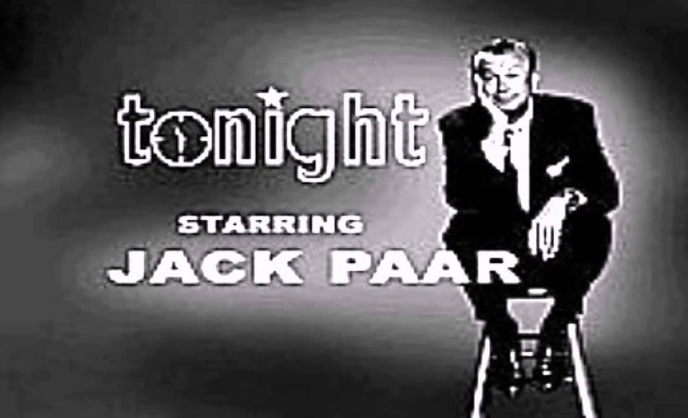 Barbra certainly knew how important this moment was for her developing career. At the time of the booking she was doing her first ever out of town gig singing at Detroit's Caucus Club, and didn't feel as though she had anything in her wardrobe appropriate for a major television appearance. She decided she would have to design something brand new and really special for the occasion. During her weeks at the Caucus Club, Barbra had become friends with frequent patrons Dick Sloan, a movie exhibitor, and Bernie Maroy who owned Robinson Furniture Company. Maroy was happy to come to Barbra's aid when she requested several yards of burgundy damask upholstery fabric for her dress design to be made by a seamstress. In William J. Mann's book Hello, Gorgeous: Becoming Barbra Streisand, Mann notes that Sloan and Maroy were part of a group who would sit up front nearly every night and were charmed by Barbra's offbeat personality. They loved her style and were known to give her critiques on her fashion choices. Maroy offered even more assistance for The Tonight Show appearance when he was able to pursued a female friend to loan Barbra a figure hugging black dress that she ended up wearing to sing her second number, as well as for the interview portion (p.113-116).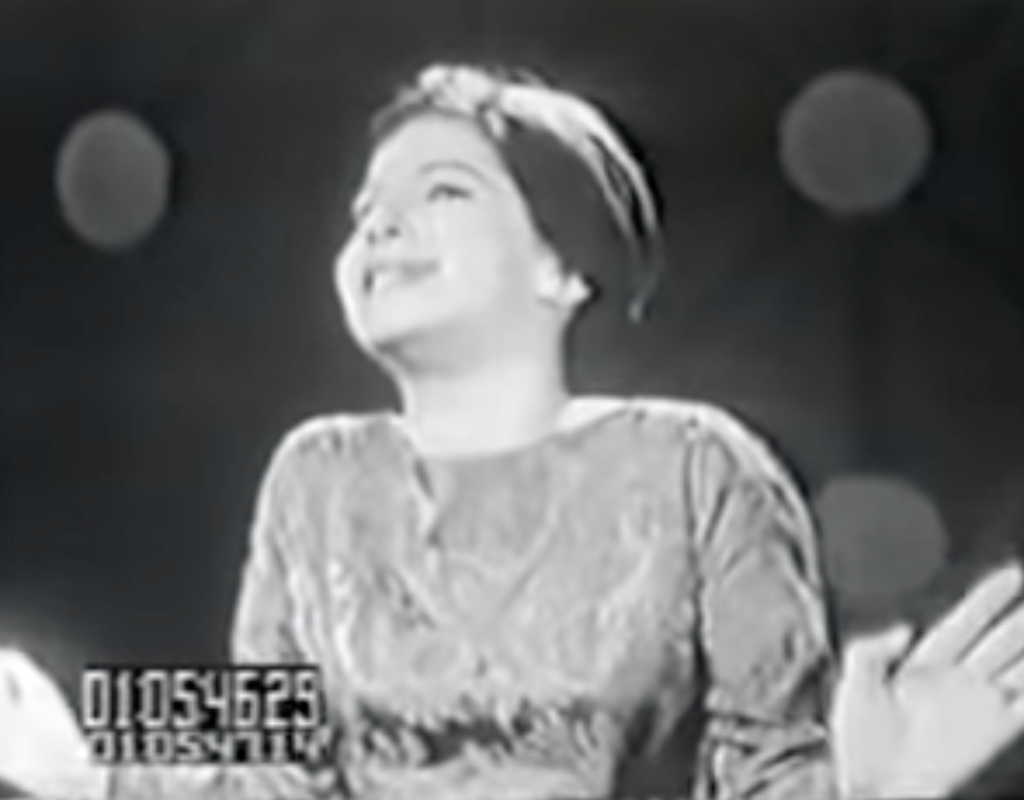 Barbra knew that she needed fabulous shoes to compliment her damask dress, so she decided to splurge on a pair made by Fiorentina that she previously admired in New York. Since their original color would not have coordinated with her dress, she requested that they be dyed to match. In a 1999 interview with Rosie O' Donnell, Barbra recalled how picking up these shoes ended in a random encounter with a casting director who had previously rejected her. "The funny thing is, the day before…the day of my first appearance on the Jack Paar show, I had made a dress out of upholstery fabric from my friends in Detroit who owned a couch company, and I went into this place, Fiorentina..they had the most beautiful shoes, forty dollars I remember they were. Forty dollars was really expensive. And I was having them dyed the color of this couch fabric, burgundy damask, and as I was picking up these gorgeous shoes, knowing that i'd be on television for the first time that night there was this woman, this casting director. A real tall woman. And I said well tonight i'm appearing on the..(it was the Jack Paar show, accept it was Orson Bean, you know?) And it was like I knew that she knew, well I hope she knew anyway she made a mistake."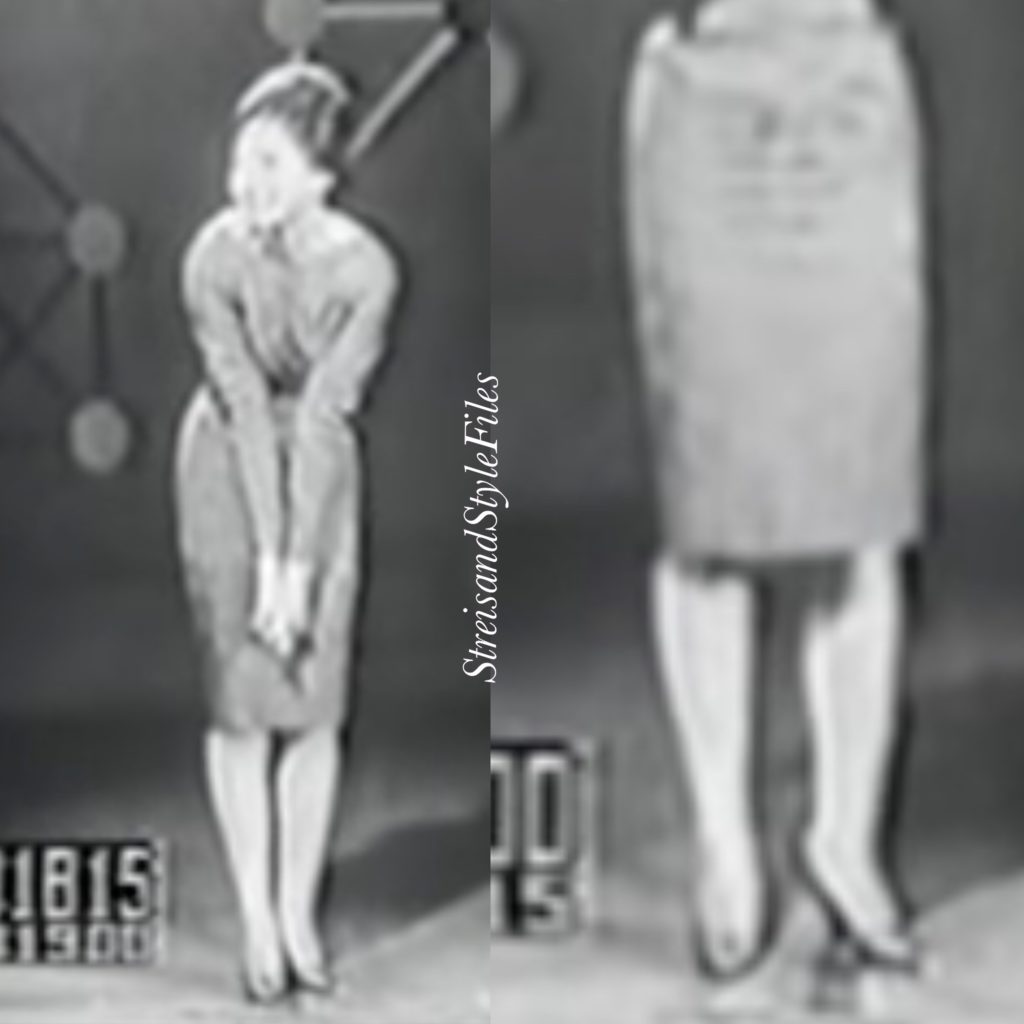 Though Streisand was still an unknown in 1961, her eye for detail and fashion was already apparent. As I watch this performance sixty years after it happened, Barbra's passion, drive and raw unpolished talent remains absolutely magnetic. Her goosebump inducing version of A Sleepin' Bee transcends decades, and the emotions she poured into the song remain palpable. I can only imagine that anyone watching live must have known without a doubt that they were witnessing the beginnings of a legend.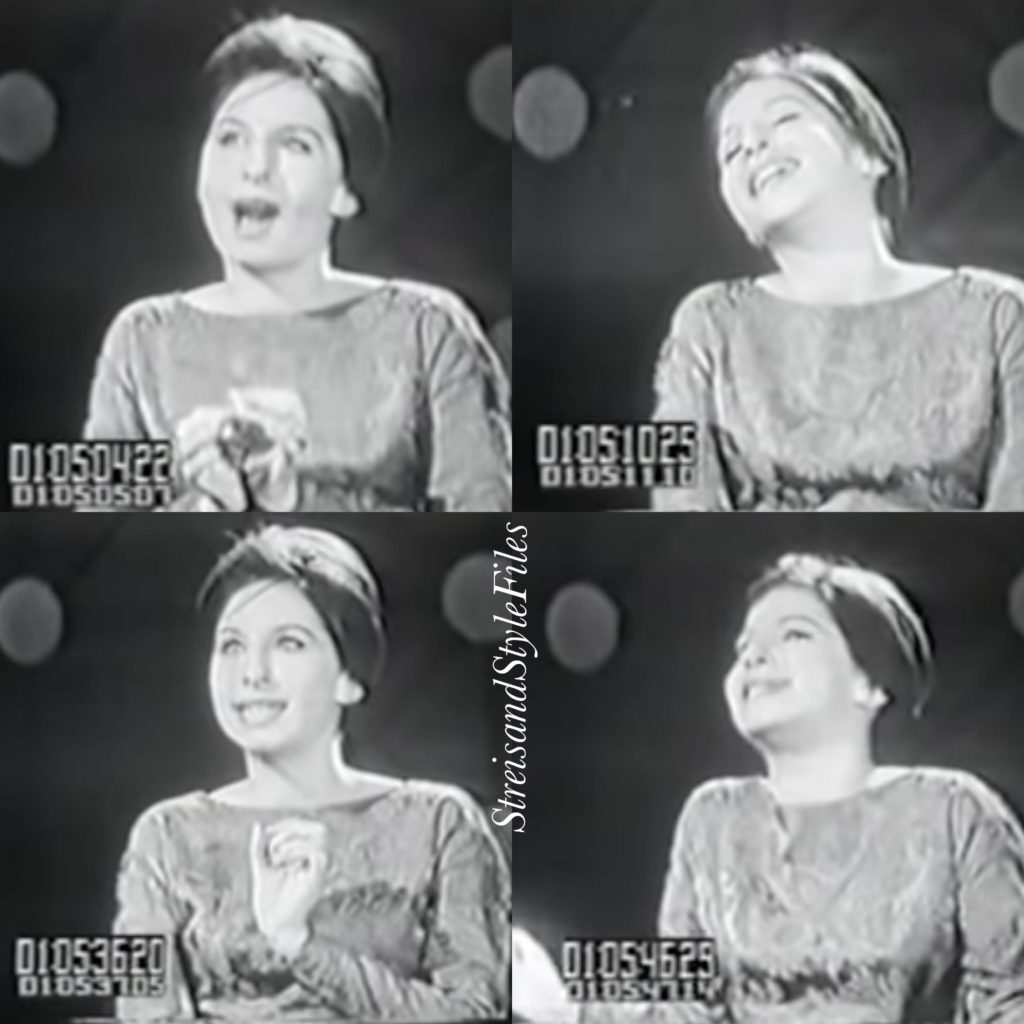 Barbra's attention to detail in creating this look was a success. The dress she designed accentuated her perfect figure and youthfulness, while exuding a lush elegance and professionalism. Women's fashion was evolving quickly in 1961, but in this look we can still see some elements classic 1950's style, especially in the cinched waist and bateau neckline. All of the effort to make sure her shoes matched perfectly had been worth it, since the show was broadcast live in color and they were seen in several wide shots. Barbra would go on to wear Fiorentina shoes again while modeling for Vogue in 1964.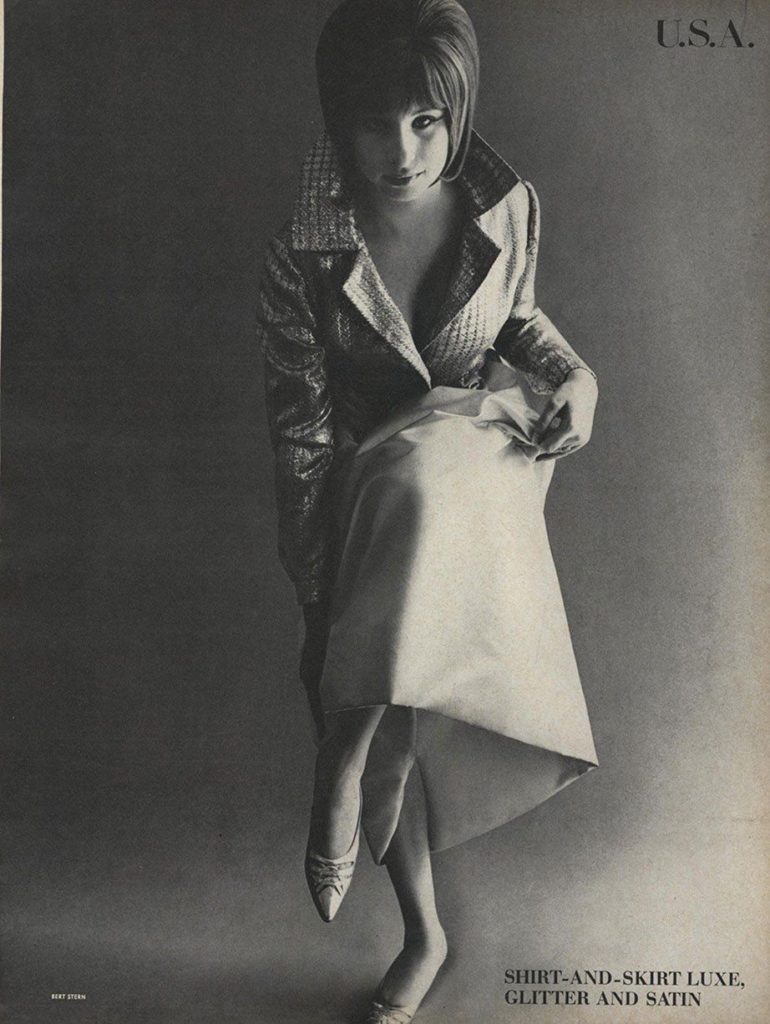 After her two songs were complete, Streisand was bursting with excitement as she sat down for her chat with Bean who said "That was just wonderful Barbra! Albert Dekker said to me 'Do you remember the first time you were ever on television?' and this is your first television show isn't it?" Barbra replied "This is so exciting, all these people and cameras and lights!" When asked if all her friends in Detroit were watching tonight she said "I think so" and told everyone about the beautiful flowers she had received from them before looking into the camera to thank "Bernie and Dick and everybody". She added, "actually, he clothed me. I'm clothed by the Robinson Furniture Company in Detroit." Bean quipped "That's a beautiful chair you have on there!" to which Barbra joked "I'm the original Castro convertible..movable parts!" She further expressed her appreciation saying, "No really, the first dress I wore is upholstery material you see, and he gives it to me."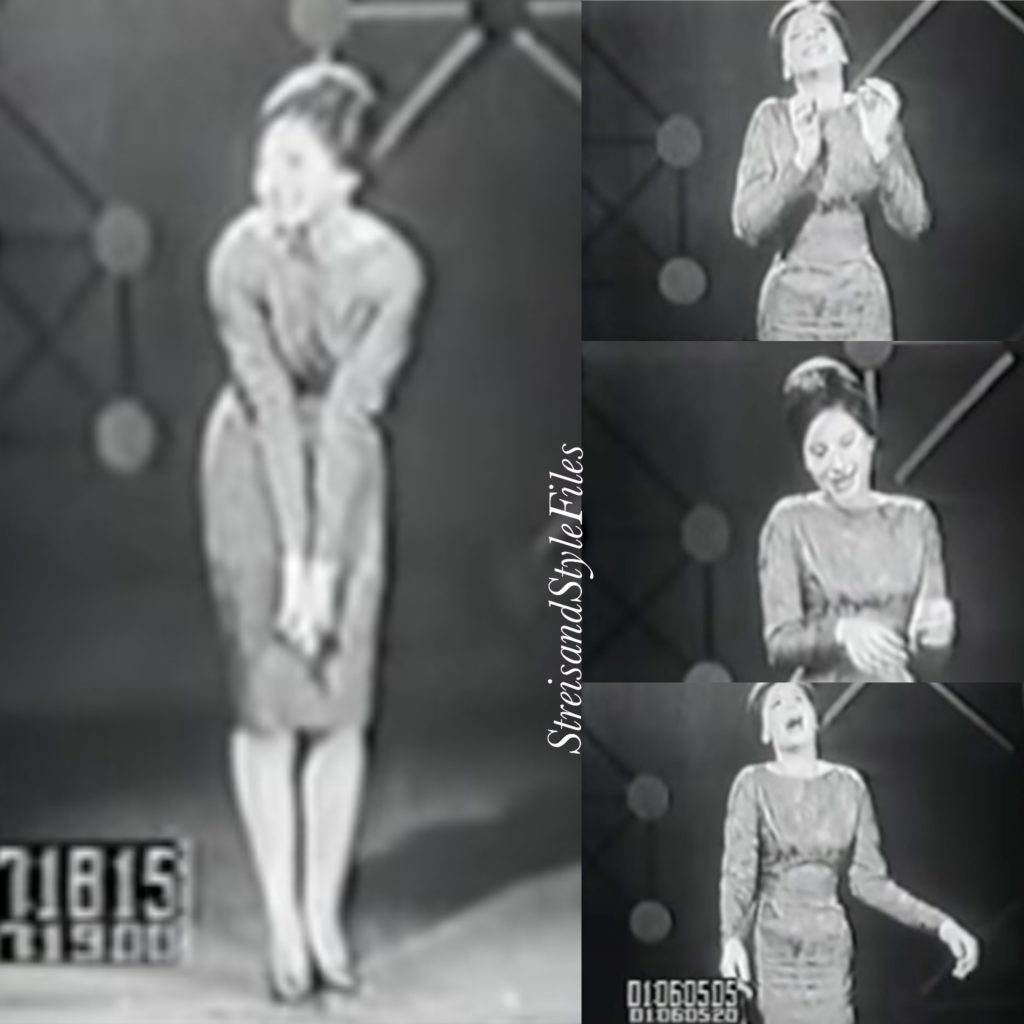 Bernie Maroy had been happy to help and continued to give Streisand any fabric she requested. Her passion for using upholstery fabric as clothing continued long after she left Detroit. In 1966 she was photographed in her New York apartment wearing dress she had made using the same paisley upholstery as the one on her couch. She told a reporter "I like to wear it and sit on the sofa and kind of fade into the scenery." Barbra frequently had her favorite upholstery fabrics used to both to decorate her apartment and be made into clothing and coat linings. These unique custom pieces were incredibly special because no one else in the world had them, further sealing Streisand's place as a risk-taking fashion trendsetter.