Rudi Gernreich knit cross my heart jumpsuit in LIFE magazine, January, 1970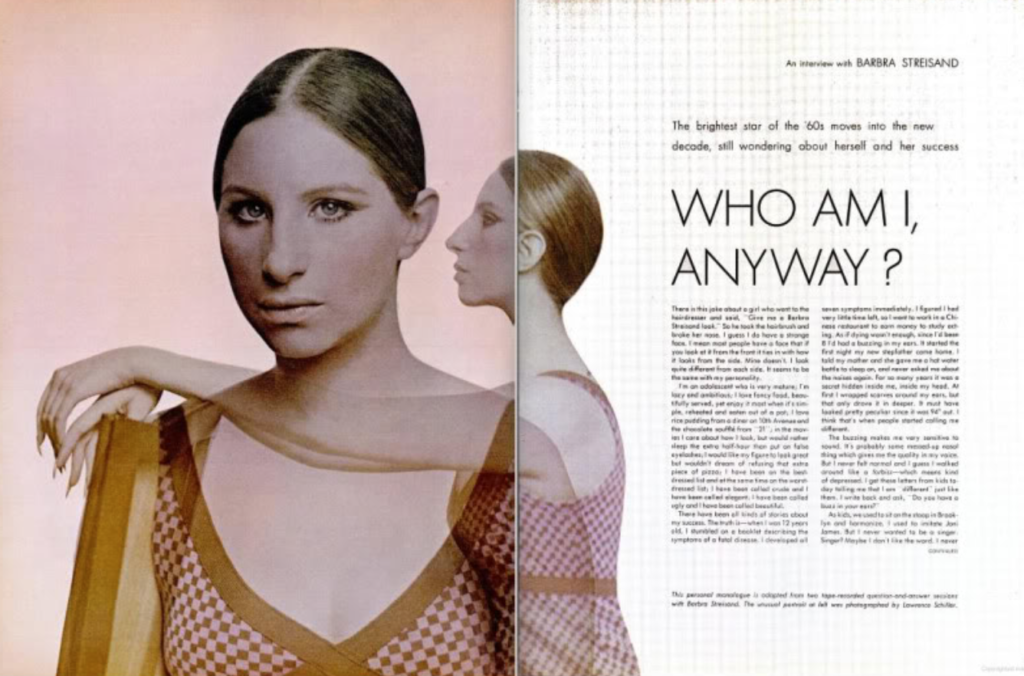 Barbra Streisand wore this Rudi Gernreich iconic "Cross My Heart" knit jumpsuit for a Lawrence Schiller photo shoot in 1970. The photos appeared in the January 9th, 1970 edition of LIFE magazine which featured an article titled "Who Am I Anyway". These photos can additionally be seen in Schiller & Steve Schapiro's 2014 limited edition book titled "Barbra Streisand." This jumpsuit was produced in collaboration with Gernreich and Harmon Knitwear. It is a knit blend of triacetate and nylon. Similar styles were mass produced for Lord & Taylor and sold for around $80 at the time. Barbra's jumpsuit features mod, checked purple and brown fabric with Gernreich's signature cross my heart brown banding around the bust. The fabric is gathered in an inverted pleat under the bust and flows into a long wide leg, bell bottom pant with a drop crotch. There are two side seam pockets and a scoop neck back with a zipper/hook and eye closure.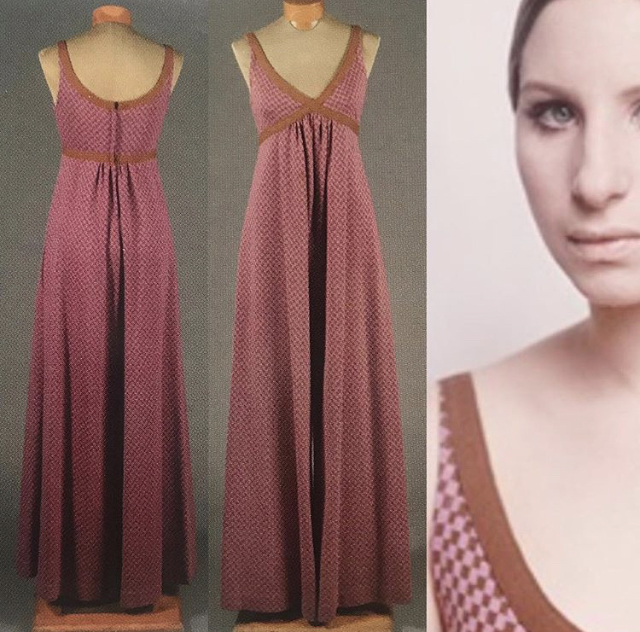 Rudi Gernreich (1922-1985) was one of the most fearless & Avant-Garde designers to emerge in the twentieth century. Far ahead of his time, his vision for the future of fashion was "unisex." He introduced the iconic topless "monokini" swimsuit in 1964 and it became a sensation, making him an international fashion star. His contributions to fashion are endless. Knit tank suits, vibrant stockings and transparent tops were among his trademarks. He was the first to use cutouts and create vinyl and plastic clothing. As a former dancer, Gernreich was interested in liberating the body from the limitations of clothing and desexualizing it. Flat feet were also a design feature Gernreich emphasized, often dressing his models barefoot or in sensible short-heeled or flat shoes. As a child Gernreich he had learned about fashion from his aunt who owned a dress shop. Here he learned how to sketch and about fabrics. His father was a stocking manufacturer and World War I veteran who committed suicide when Gernreich was eight years old. In 1938 at just sixteen years old, he and his mother were forced to flee Nazi Austria and immigrate to Los Angeles, California. To support themselves his mother baked pastries which he sold door to door. He also picked up an additional job washing bodies in the morgue at Cedars of Lebanon Hospital. He spoke of that early job later in life saying "I grew up overnight. I do smile sometimes when people tell me my clothes are so body-conscious [that] I must have studied anatomy. You bet I studied anatomy." Gernreich attended Los Angeles City College where he studied art from 1938-1941. After a stint in Hollywood costume design he joined Lester Horton's modern dance company as both a designer and dancer. He admitted that he had very little dance talent but loved it anyway. In 1948 he joined Hoffman Company as a fabric salesman and then moved into fashion design full time.
In 1951 Gernreich began designing for Walter Bass and, in 1953, Westwood Knitting Mills. He produced knitwear that was comfortable and unstructured. He designed under both labels until his seven year contract expired in 1960. Afterward, he left to start his own label (Rudi Gernreich Incorporated) and began to design for Harmon Knits.
Gernreich also worked as a costume designer for various film productions including 1960's Exodus. He was the first name designer to sell his lines to chain stores, making his designs accessible to normal consumers and not just the very wealthy. He closed his company in 1968 but continued to design through the early 1980's. Over the course of his career Gernreich won four Coty American Fashion Critics awards. After Gernreich died, Peggy Moffitt retained the trademark to his name. In 2003 his designs were recreated and sold in collaboration with Rei Kawakubo under the Comme des Garcons label. Today his unique creations remain collectors items and are showcased in museums worldwide. 
With support from Barbra Streisand, "Fearless Fashion: Rudi Gernreich", an exhibit showcasing his work was on display at Skirball Cultural Center in LA from May 9-Sept 1, 2019. This jumpsuit sold at Auction in 2004 for $880.00 including the buyers premium.