As Sarah Bernhardt Wearing Charles And Patricia Lester
Barbra Streisand wore custom Charles and Patricia Lester while experimenting with a Sarah Bernhardt inspired look for a private photo shoot at her home in Malibu on July 28, 2011. This look was photographed by Alexei Hay and styled by Stacey Battat. Later that evening, Barbra changed into her green Funny Girl peacock dress to shoot an interview for Elle Magazine's "Women In Hollywood" short film, which was directed by Marcel Wepper. During the Elle video, Barbra mentions the curly wig she is wearing. "Actually people may wonder why my hair is like this. I've always wanted to play Sara Bernhardt and this is my experimenting with Sarah Bernhardt. Do you think I should take off this hairdo?" Barbra goes on to take off the wig for the remainder of the interview revealing her real, straight hair.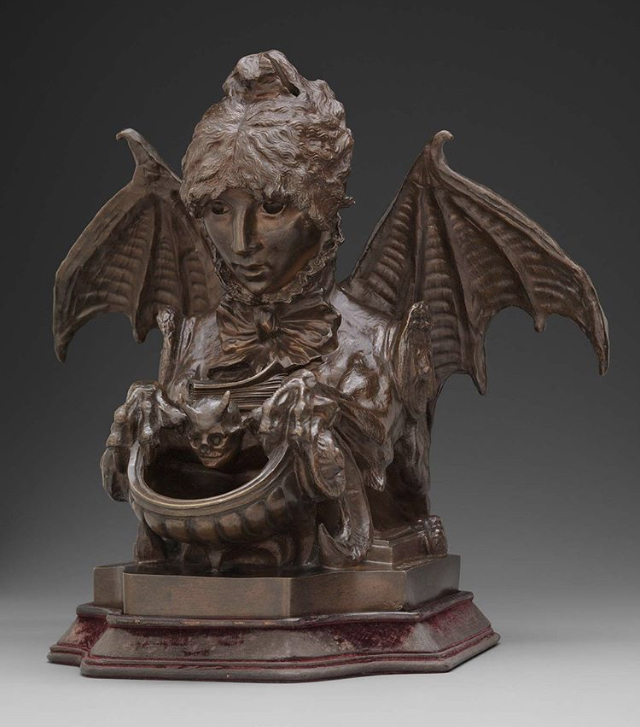 This video was taken in preparation for November 2011's Women In Hollywood issue which featured Barbra on the cover. In this interview Barbra was asked which actress she most admires. Her response was "Sarah Bernhardt. I have her self-portrait in bronze. She was very instrumental in politics in terms of the Dreyfus Affair. Standing up for Alfred Dreyfus. It was an anti-Semitic political thing. She had her own theater. She ran things. The way I work, the kind of all consuming thing I do when I direct movies, I get very involved in all the details, down to the actors' haircuts. Reading about her, I feel a kind of affinity, like I did with Fanny Brice in a way." Additionally, on October 17, 2011 Barbra was honored with the L'Oréal Paris Legend Award at Elle's Women in Hollywood celebration.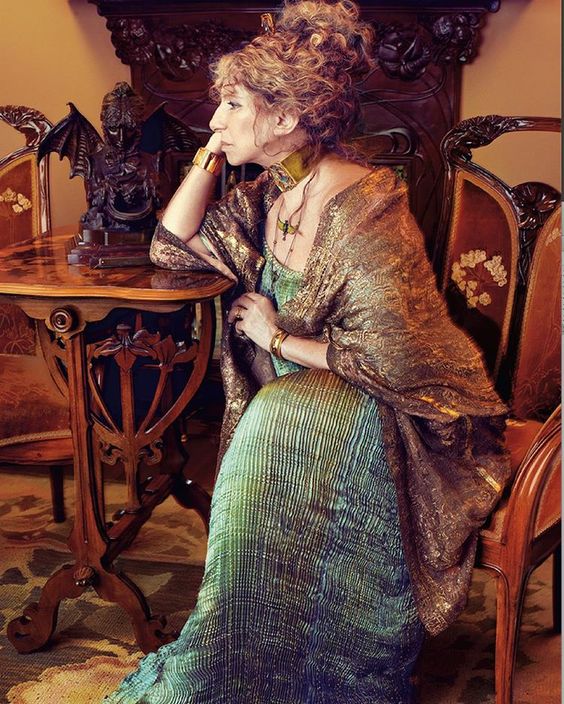 Barbra's custom, hand painted Lester gown is Fortuny inspired. It was made from hand pleated silk in shades of melty watercolor green. There is a ruffle/lettuce hem and scoop neckline. A custom mint cape was designed to go with this dress, but the color was not quite right so Barbra returned it. This cape is currently for sale at charlespatricialester.com for £4,950.00. Barbra also purchased a pink dress and pleated cape from the Lesters, which she wore to the Academy Awards on March 30th, 1992.
Barbra has been a fan of Fortuny style dresses since the 60's, when she wore a red Fortuny Delphos in Funny Girl. She loved the outfit so much that she had Irene Sharaff create a replica of it in pink for "A Happening In Central Park." Fortuny's method of pleating was extremely secretive and nearly impossible to duplicate, but the Lesters' stunning work comes close. Charles and Patricia Lester are couture and textile designers. For over fifty years they have designed simple, fluid garments in lustrous velvets, silks and devorés, hand-painted using special techniques of dye application. The unusual qualities of the fabrics used- notably their hallmark hand-pleating- allow the clothes to mold to the shape of the body. Their impeccable designs have been displayed in museums worldwide.

Barbra again referenced her desire to play Sarah in an instagram post on Nov 14, 2019 featuring the 2011 photo in this dress, stating "I've always wanted to play admired..and have always wanted to play Sarah Bernhardt."