This Schreiner, NY brooch came from Barbra Streisand's personal collection. Barbra had worn it pinned to her Donald Brooks gown which she wore for her Chicago appearance in An Evening With Barbra Streisand and dress rehearsal for A Happening In Central Park.
Designer Henry Schreiner started out as a blacksmith in Bavaria and immigrated to the USA in 1923. In the 1940's he began designing costume jewelry for Trigère, Norman Norell, and Christian Dior. He opened his own jewelry company in 1951. He is best known for his unusual color combinations and hand made settings in necklaces, pins, and earrings. He was also the first person to use blackened jewelry alloy to emphasize the brightness and beauty of crystals. Schreiner's signature was inverting the position of his rhinestones, placing them with their point up within the open prong settings of his pieces. His most sought after pieces were ruffle brooches which featured kite shaped crystals, overlapping from a central gem.
Schreiner loved to use very expensive custom made glass stones in his work, made by Czech masters in Germany and Austria. When Schreiner died in 1954, his daughter Terry took over the business. Audrey Hepburn, Marilyn Monroe and Bette Davis were a few of the stars to wear Schreiner pieces. The company went out of business in 1973. Due to the fact that their pieces were almost all handmade in small quantities, the collector demand for them has soared over the years. Schreiner jewelry is not all signed, but the jewelry he made for fine retail was.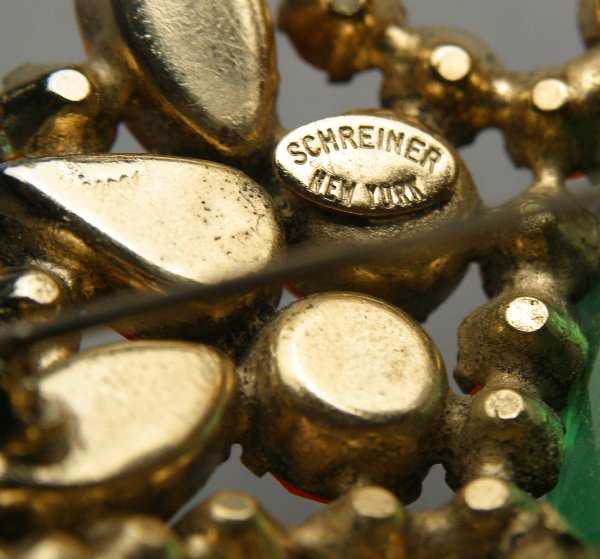 Barbra's brooch features a "Schreiner, New York" signature. It is 2 ½ X 3". It has Schreiner's signature upturned rhinestone setting along with kite shaped, teardrop and round orange glass stones in various sizes. The central green, emerald cut gem sits in an ornate, intricate, gold four claw setting. It sold at auction in 2004 for $930.00 including the buyers premium.