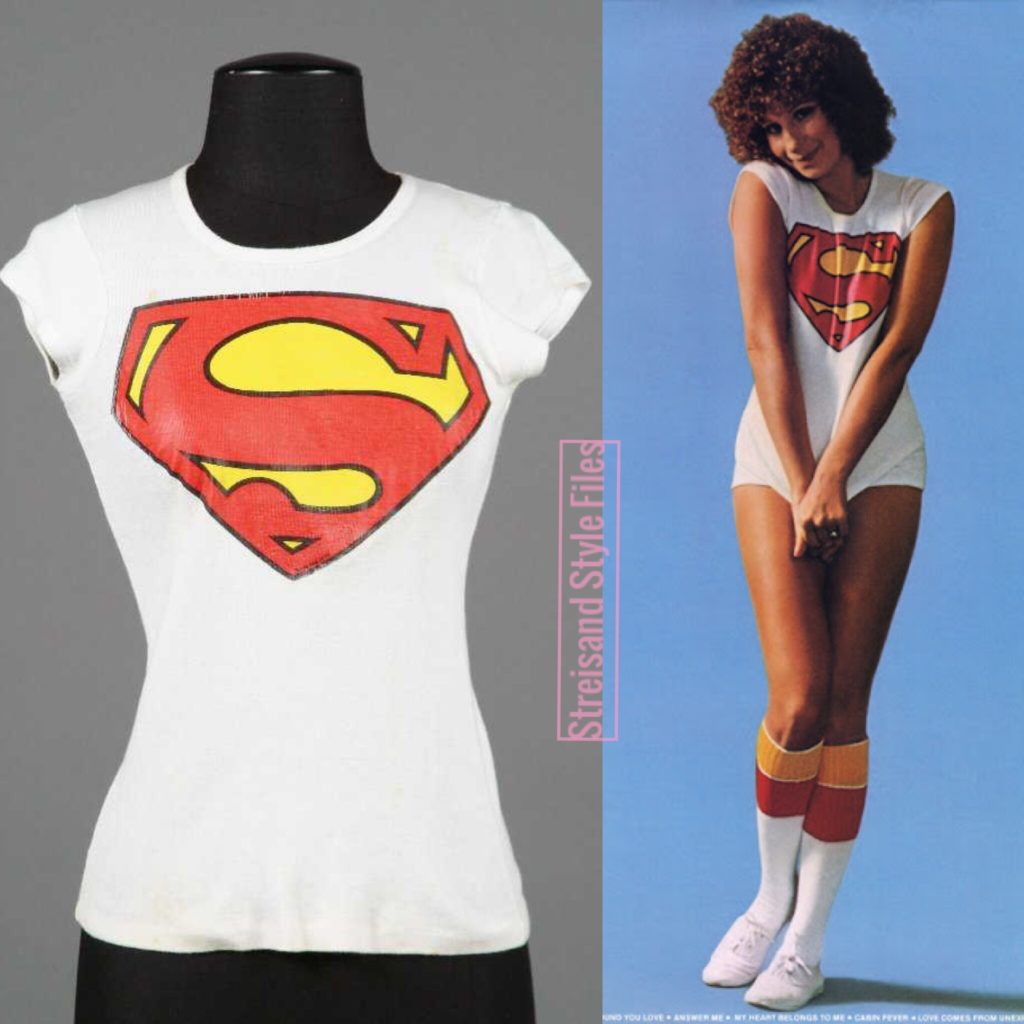 Barbra Streisand first appeared in this Superman look in a scene from "A Star Is Born" (1976.) It was so popular with fans that Barbra decided to recreate the look for her "Superman" (1977) album key art. In photos shot by Steve Schapiro, Barbra is seen in many playful poses giving us total 70's siren vibes. 
This iconic t-shirt is babydoll style, with cap sleeves, and a screen printed Superman logo. This was paired with white hot pants, striped tube socks & white Keds. 
Hotpants were huge in the 70's, but by the end of the decade they became associated with the sex industry, which contributed to their fall from fashion. Prior to the 60's these short shorts had been worn only for sports or as beachwear. Designers at the time made the bold decision to turn these into fashionable pants made with luxury fabrics. 
You'll notice that the tube socks that Barbra wore in A Star Is Born were a different pair than the ones that appeared on the Superman album cover. The film version socks have classic red & yellow top-stripes, but the album cover socks feature red & yellow color blocks. The tube sock originated and evolved from the growth of organized sports in America, particularly basketball & soccer. Since players were wearing short shorts, knee high socks- also known as high risers became essential to cover skin. In 1955 Esquire printed that shorts "look like the devil unless you wear high-rise socks with them." The tube sock design that we know todaycame to be in 1967. It was invented by Nelson Knitting Company in IL. The company touted a seamless sock knitting machine that created socks shaped like a tube with no heel in just six seconds. Unfortunately they never patented this design & it became widely knocked off. In the 60's & 70's tube socks became mainstream. The rise of popularity in roller skating contributed to this trend. Tube socks were immortalized on film with celebrities including Farrah Fawcett & Raquel Welch wearing them. They became trendy again in the mid 90's but have not had a revival since. 
Barbra's Superman T shirt is so iconic that it sold at auction in 2004 for $6,000 USD.