The Barbra Streisand Bridge at the Academy Museum
After first being imagined over 90 years ago, the Academy Museum will finally open its doors September 30, 2021. Their official website states that "When it opens, the Academy Museum of Motion Pictures will be the largest institution in the United States devoted to the arts, sciences, and artists of moviemaking. Global in outlook and grounded in the unparalleled collections and expertise of the Academy of Motion Picture Arts and Sciences, the Academy Museum will offer exceptional exhibitions and programs that illuminate the world of cinema. They will be immersive and dynamic and will tell the many stories of the movies—their art, technology, artists, history, and social impact—through a variety of diverse and engaging voices. The Academy Museum will tell complete stories of moviemaking—celebratory, educational, and sometimes critical or uncomfortable. Designed by Pritzker Prize—winning architect Renzo Piano, the Academy Museum's seven floors feature exhibition spaces, education and special event spaces, a conservation studio, a café, and a museum store. In addition, the museum's 1,000-seat David Geffen Theater and 288-seat Ted Mann Theater will present a year-round calendar of screenings, film series, member programs, panel discussions, family programs, and symposia. Programs will include retrospectives and thematic series that illuminate the artistic and cultural contributions of an international selection of movie artists."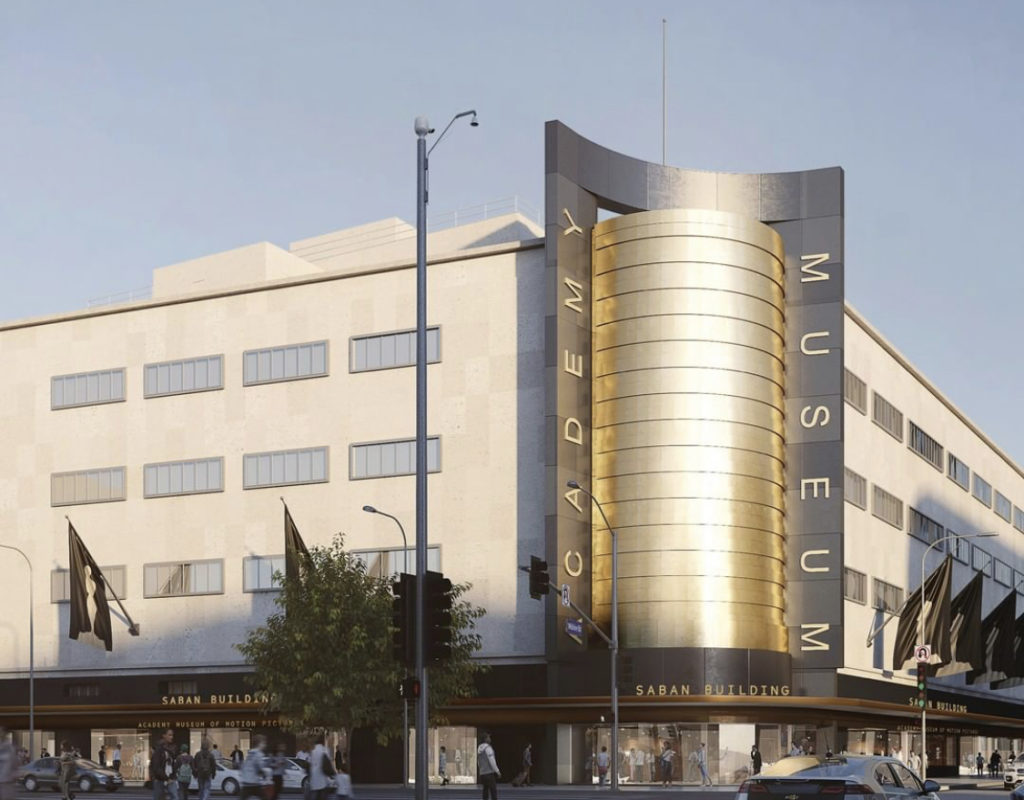 Streisand fans will be most delighted about getting to walk across sleek glass-lined Barbra Streisand Bridge, which will lead them to a breathtaking view of the Hollywood Hills from the Dolby Family Terrace. This innovative terrace is an open-air dome constructed from 1,500 panels which rotate with the sun to shade the space. Streisand told Rebecca Keegan of The Hollywood reporter "I like bridges, because bridges connect us, just as the stories we tell in movies connect us and lead us to a deeper understanding of other people's lives, as well as our own. And this bridge connects the old building with the new, the past with the future. It was important to me to be part of a museum that celebrates the history of movies and hopefully will inspire future filmmakers. I'm very proud to have my name on this lovely bridge."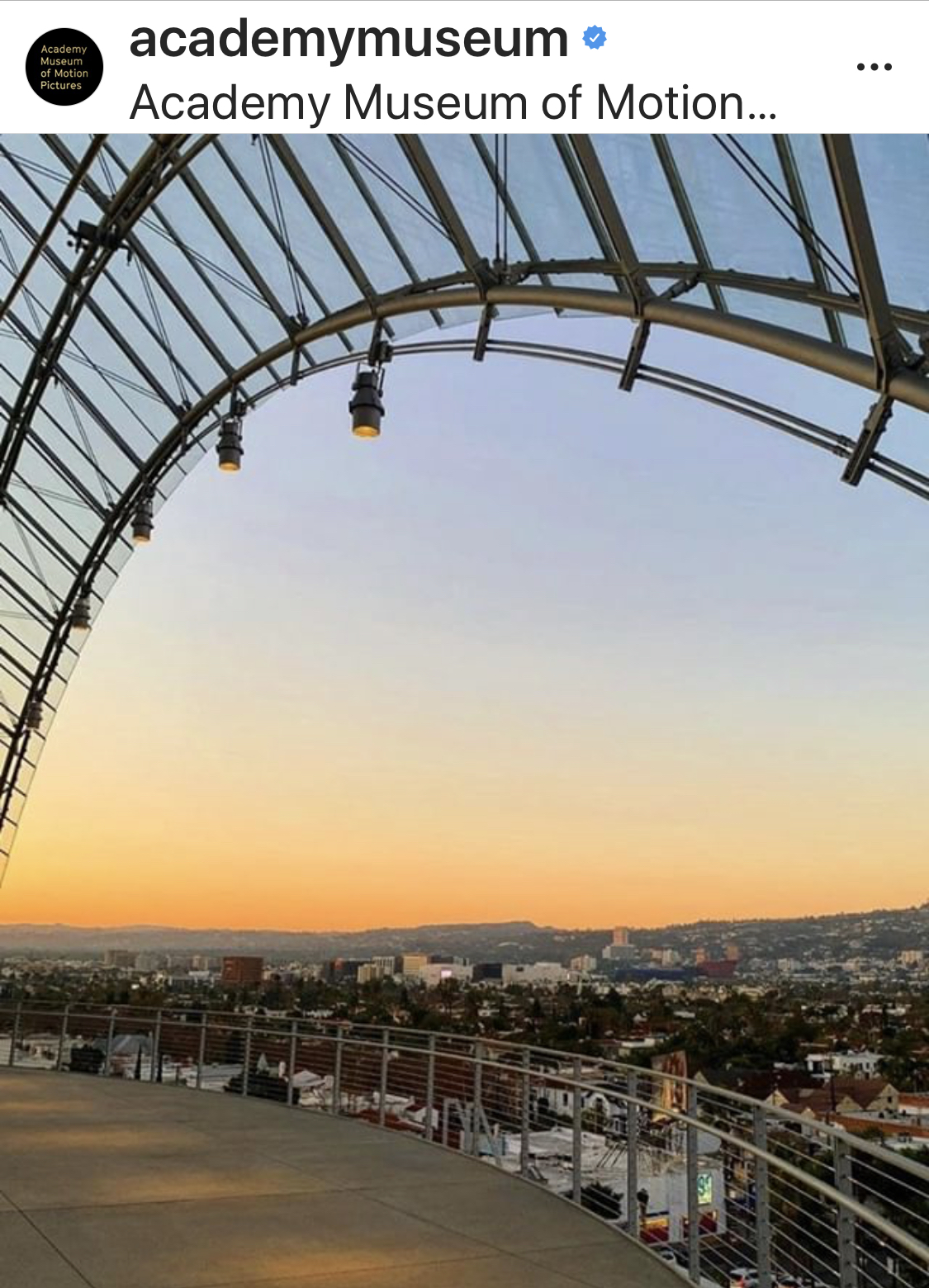 Regarding the bridge being connected to there Dolby Family Terrace, Streisand added "In 1976, when I was mixing the sound for my film A Star Is Born, a man who said he was from a company called Dolby walked in and told me about this new, untested technology where the sound could surround the viewer. I said, 'That's exactly what I need.' Since A Star Is Born was a film with music and we recorded all the songs live, I was determined to capture that authenticity. In the very first scene, you're plunged into a rock concert, and I wanted the audience to feel as if they were right there in the arena, immersed in that pulsing surround sound … just like in real life. I'm proud of the fact that A Star Is Born was the first film to be released in Dolby Stereo, as told in the 2019 documentary, Making Waves: The Art of Cinematic Sound. Isn't it amazing that 45 years later, Dolby and I are connected again? The Barbra Streisand Bridge at the Academy Museum leads to the Dolby Family Terrace. There's something magical about that."
Streisand's outfit perfectly matched her personalized leather director's chair in a photo posted to her Instagram today. Fans might recognize this chair from the Just For The Record booklet where it can seen on page 74. The chair cushion features a beautiful red monogram reading "BJS."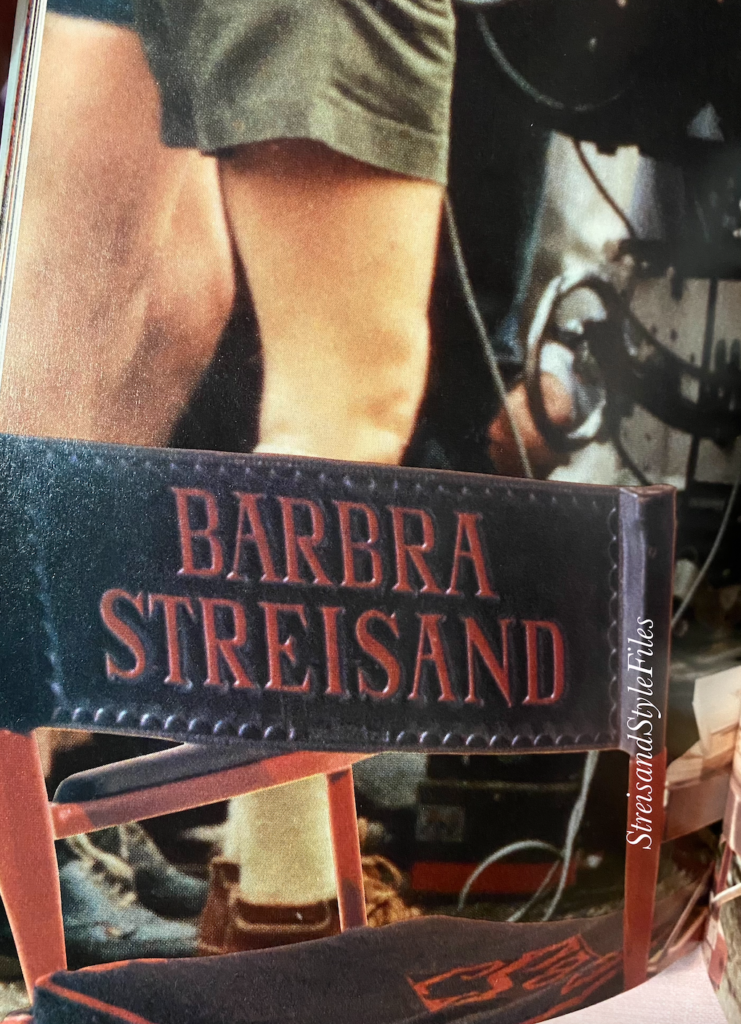 Though there is no confirmed provenance on the piece, the detail work looks extremely similar to other leather director chairs made by Al Shelton (1920-2016.) Shelton created incredible leather goods including director chairs, belts and guitar cases for Hollywood A-listers including Clark Gable and Ronald Reagan.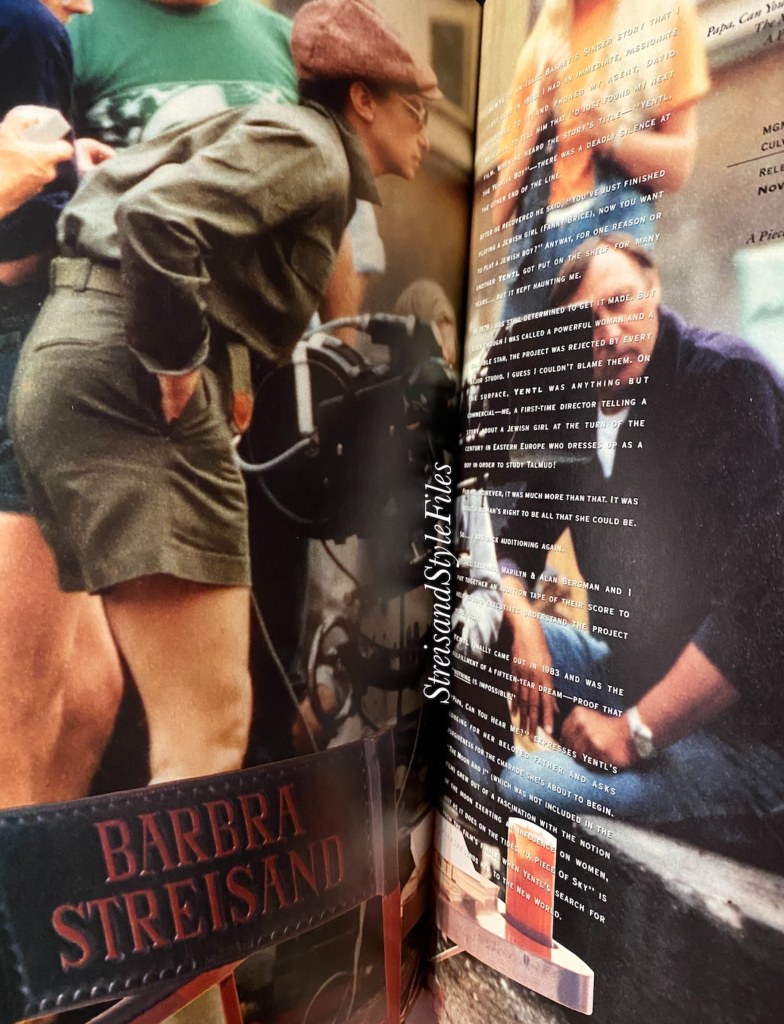 In February, 2020 Rebecca Keegan wrote about the multiple delays the Academy Museum faced, noting "The $388 million project, which was first announced in 2012, was initially slated to cost $250 million and open in 2017, but it has been delayed several times due to construction problems, including finding a prehistoric sloth fossil under the building and earthquake proofing Piano's complex dome." The pandemic beginning in March, 2020 certainly didn't help things move along any quicker. Keegan documented her 2020 sneak peek visit to the museum via Twitter.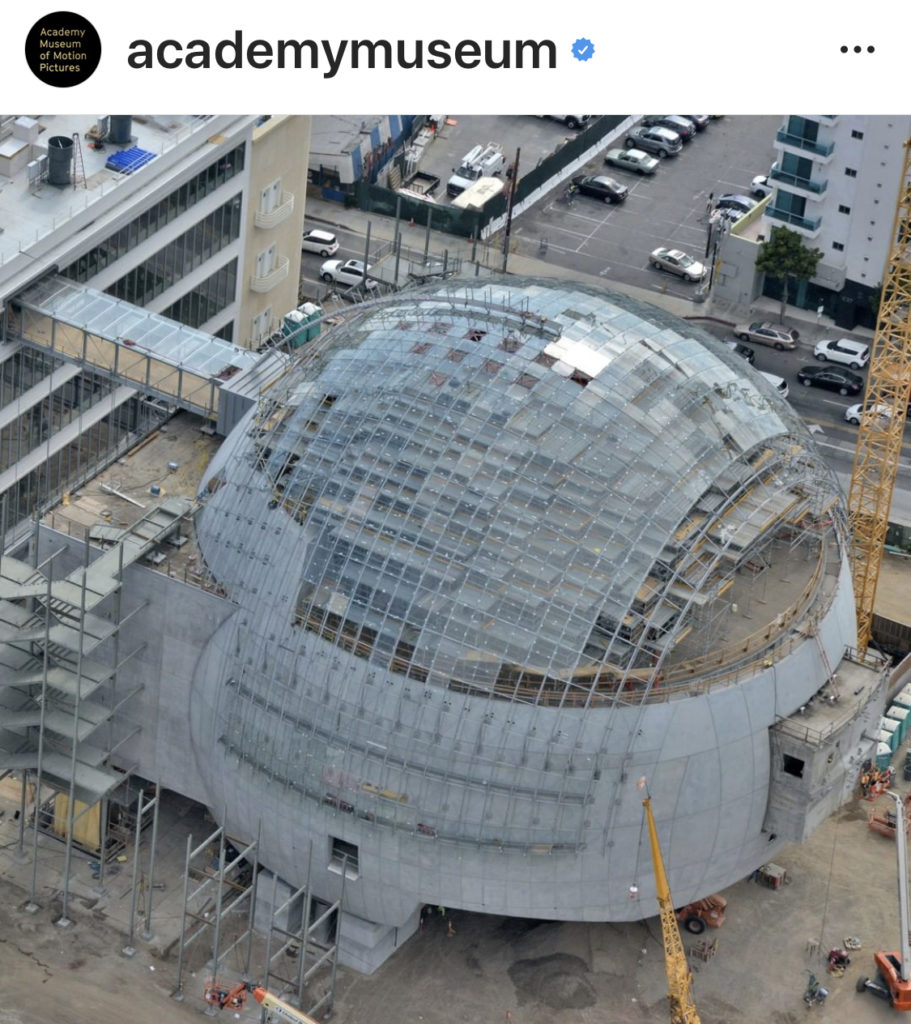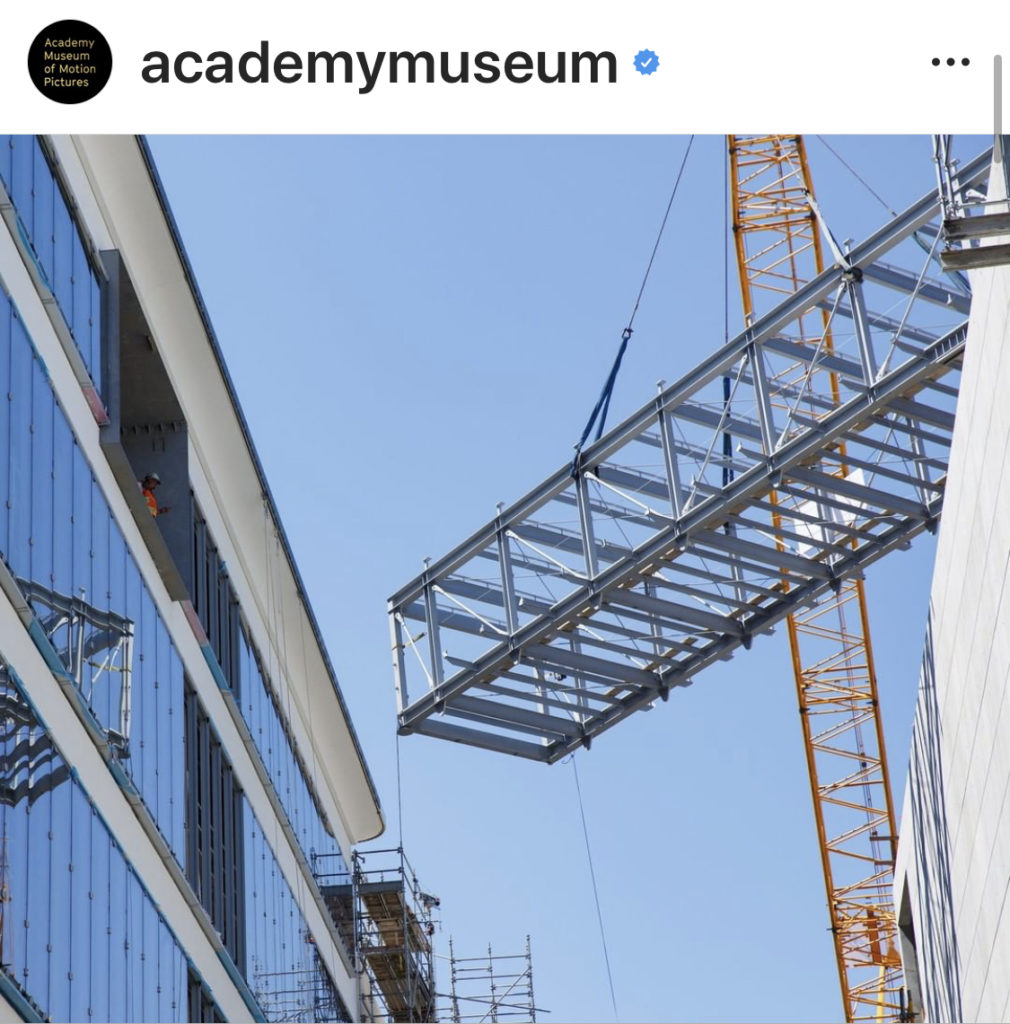 The Academy Museum has been created on the site of the former May Company department store, located in the Saban Building at the corner of Wilshire and Fairfax. The building's impressive eye-catching original golden circular structure features over 350,000 hand-laid 24 karat gold leaf mosaic tiles. Thirty-five percent of these had to be replaced due to age. Luckily the original tile makers Orsoni were able to recreate the 1-inch pieces to perfection and the building is glowing again. I look forward to visiting this exciting museum and Barbra's bridge in the near future!