The Belle Of 14th Street Butterfly Kaftan
Barbra Streisand wore this colorful short kaftan very briefly during The Belle Of 14th Street, which aired on Oct 11, 1967.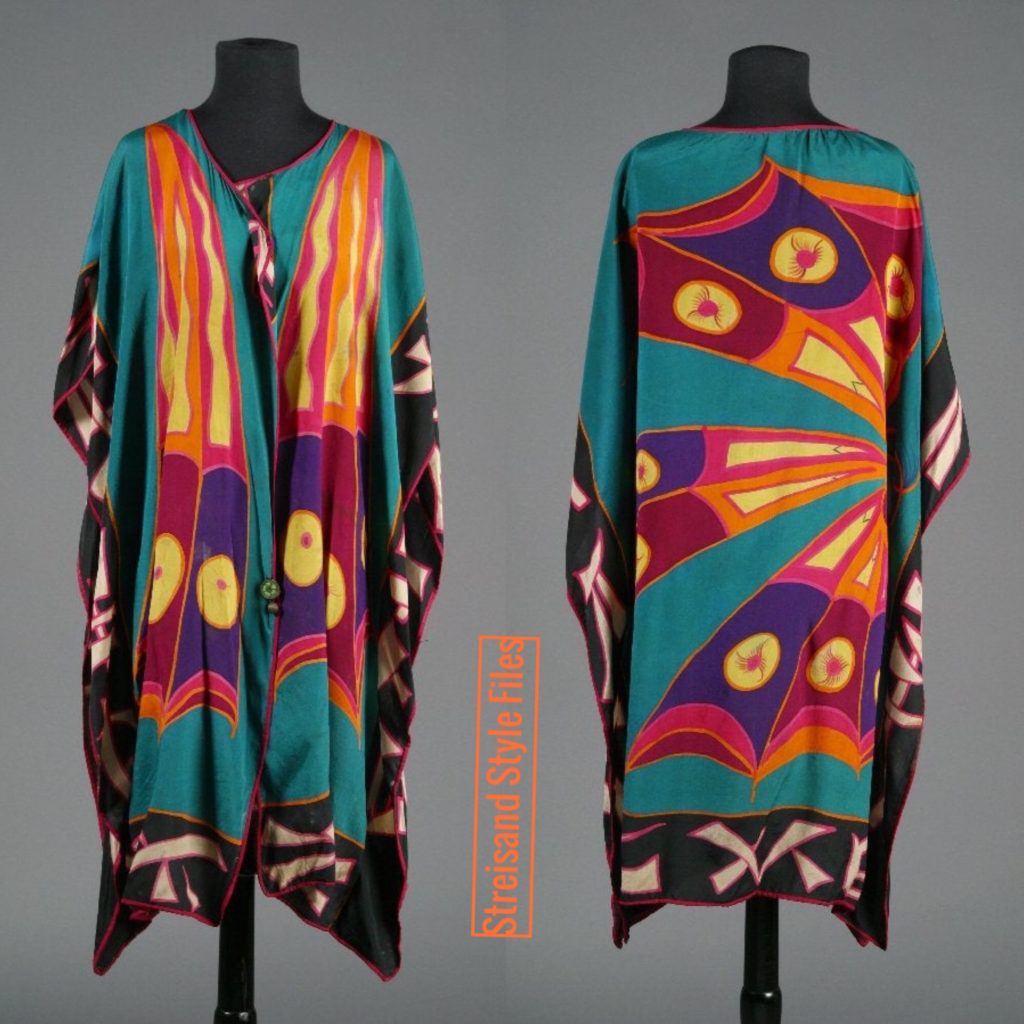 You'll see it appear immediately after "A Taste Of The Tempest" in act two when Barbra is playing a Southern woman, complete with a giant teased bouffant hairpiece. A Barbra enters and exits we get a glimpse of her pink Ariel costume and tights beneath this colorful throw-over. 
Though a majority of costumes for this T.V. special were designed by Fred Voelpel and constructed by Brooks-Van Horn, Barbra had full creative control of the project and her costumes. This gave her the ability to mix in some of the pieces she loved from her vintage collection.
This silk kaftan previously appeared in a WWD photo shoot from 1963 when Barbra was just 21 years old. It is one of the many looks she is seen playfully trying on in the photo shoot.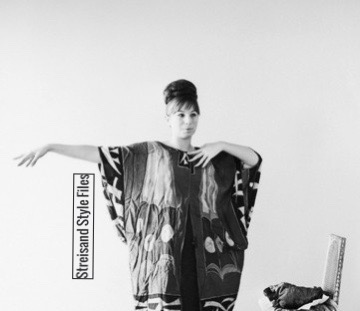 The colorful piece features a scoop neck with a snap closure and and one ornate round fabric covered button with a tiny green flower. There are kimono style sleeves with a thick black border which encompasses the entire garment. Inside this border are geometric Asian style symbols outlined in hot pink.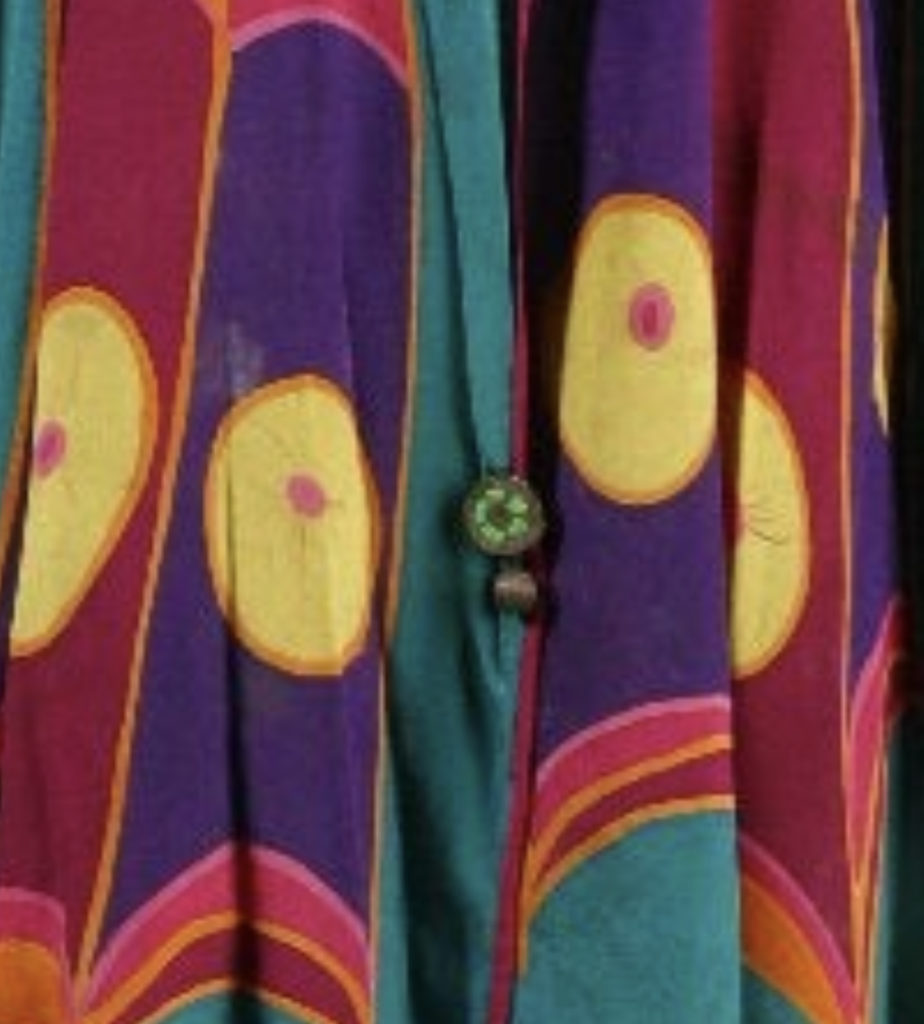 Over the vibrant green base of the kaftan is a giant butterfly. The wings stretch across the entire back in shades of purple, yellow, orange, burgundy and hot pink. Inside each wing are circles with another pink, fringed circle which almost look like tiny koi fish.
This theme continues down the front of the piece with two colorful sizzling wing designs plunging down from the shoulders. Hot pink piping edges the entire garment. 
A tag inside reads Oppenheim Collins & Co. This company was founded in 1876 and first opened a physical location in 1901 in NYC. They eventually expanded to more locations throughout New York, NJ, PA, Ohio and Maryland. They sold clothing, shoes, accessories and cosmetics. The company went bankruptcy and closed in 1979.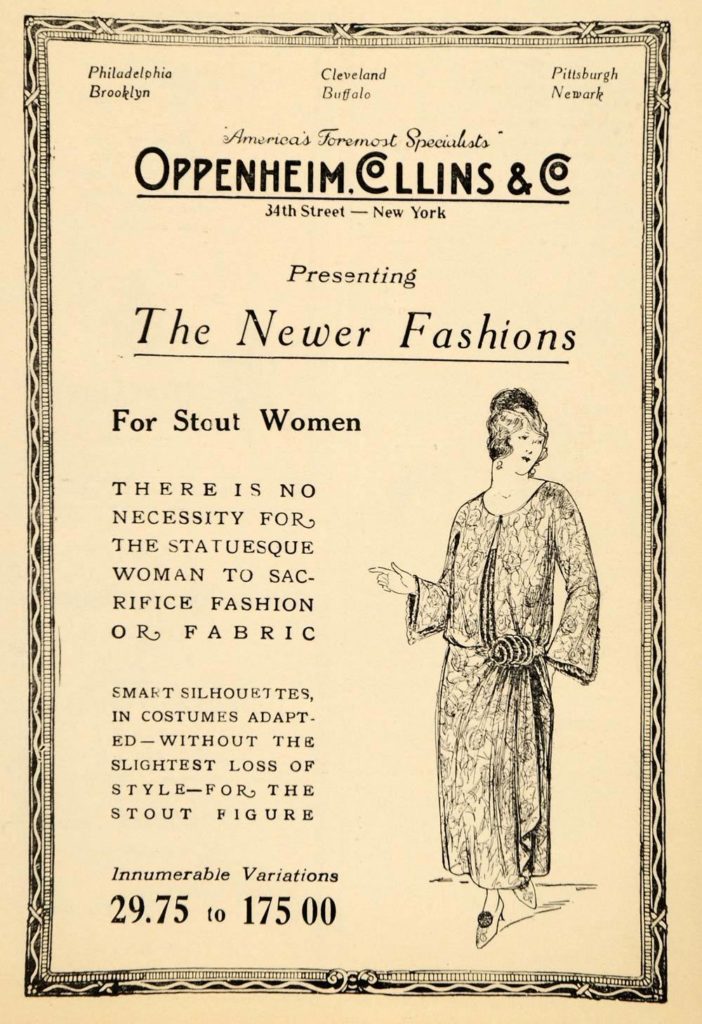 Given that Barbra was first photographed in this item at 21 years old, it is safe to assume this was one of her many unique thrifting finds. The piece sold at auction in 2004 for $440.00.