The Judy Garland Show, In A Donfeld Burgundy Middy Blouse
Barbra Streisand wore this burgundy and white Donfeld middy blouse during her appearance on Episode 9 of "The Judy Garland Show" which aired on October 6, 1963. In this "Tea Time" segment, Ethel Merman joined Barbra and Judy onstage as they bantered atbout belting and Broadway before launching into singing "There's No Business Like Show Business." The middy blouse was a quintessential part of Barbra's signature look in the early 60's. Earlier in the special Barbra wears the same top design in cream with burgundy stripes.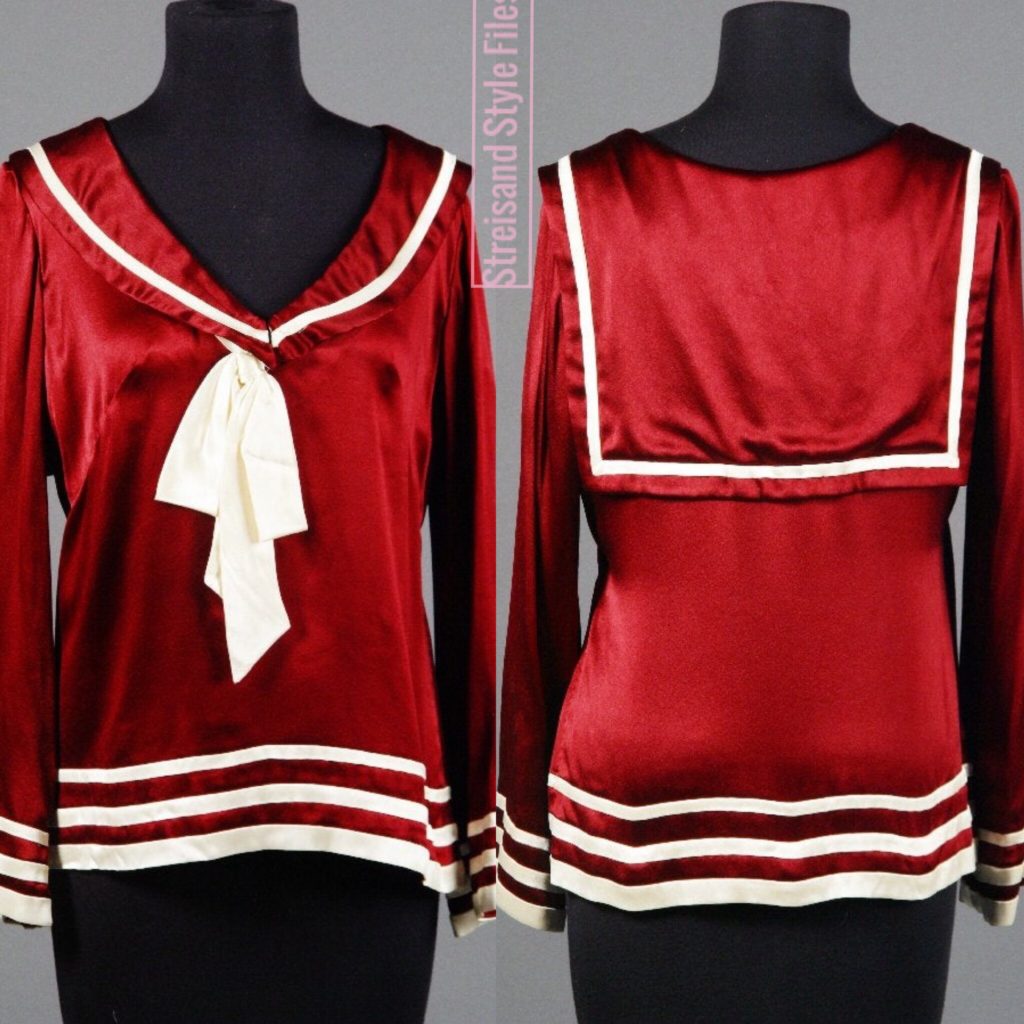 A month prior to this appearance, Barbra had designed several sailor tops in various colors in collaboration with Donfeld for her Cocoanut Groves shows.  During this decade, Donfeld quickly became the second highest paid costume designer next to Irene Sharaff.  In a 2012 NPR interview Barbra talked about her experience filming The Judy Garland Show . "She (Judy) was holding my hand and I thought, "Gee, she seems nervous". At that time, I wasn't nervous. I was still very young, I think, about to do Funny Girl, and now, when I think back on it, I think, "Oh, my God, I know exactly what she's feeling." Or, you know, the fears. It's like, as you get older and people are kind of looking for you to fail more, I think—not people, not the audience—but, you know, critics or producers or whatever. And I just felt her. I felt her anxiety. Part of me is much more relaxed than I've ever been, less frightened, less anxious. On the other hand, it's a coming-of-age-thing, and she was much younger than I am, but there are things with careers. … I just understand the anxiety even though in a sense I'm calmer. It's a dichotomy. It's hard to explain. … You wonder, 'Well, do I give it up? Do I retire? Or do I get more in before my time is up?"
This silk duchess satin top features a detachable collar and bow. This allowed Barbra to wear it in two separate styles-with or without the back bib. It features three rows of white silk piping at each sleeve and at the wrists, as well as a single line of matching silk edging at the collar. There is a deep V neckline and two darts at the bust. Small weights sewn into the seams allow the top to hang straight. There is a side zipper closure as well as snap closure at the front of the top which is hidden by the detachable bow.  
The word middy is derived from midshipman. The style was created by naval tailor Peter Thompson in the early 1900's. The look became a standard school uniform for children & also a trend in early bathing costumes. An important part of the middy was the fabric used. They were constructed from cotton duck. True middy blouses were not made to be tucked in. During the 20's middys with waistbands came into fashion, but were mostly worn as active wear with bloomers. The look has resurfaced throughout the decades, & was last seen in the 80's when Laura Ashley brought back the dropped waist middy dress.