The Mirror Has Two Faces pink bridesmaid dress
Barbra Streisand's pink bridesmaid costume from her 1996 film The Mirror Has Two Faces hit the auction block on December 2, 2021 for the third time in sixteen years. The costume was sold as lot #404 in Julien's "Icons & Idols Hollywood" auction for $1,280.00. I attempted to snag this iconic piece but was unfortunately outbid! This costume first sold in 2004 for $840.00 and again in 2017 for $896.00. With the 2.2% inflation rate since 2004, the original sale price would be about $1,219.00 today, so the costume has seen little increase in value.
Streisand wore this bridesmaid dress in one of the very first scenes in The Mirror Has Two Faces, when audiences are still getting to know her character, Rose Morgan. Rose refers to her disgust at having to wear the Pepto-pink monstrosity exclaiming "Look at me. I'm a grown woman wearing a prom dress. I look like an over-the hill-Barbie doll. And it's too tight!"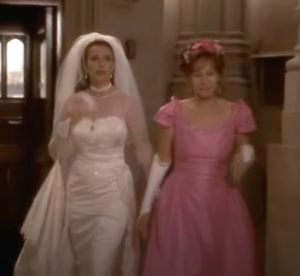 The Mirror Has Two Faces was the third film that Barbra Streisand both directed and starred in. She chose Theoni V. Aldredge (1922-2011) to design costumes for the production. The two had first worked together at the very beginning of Streisand's career when Aldredge designed costumes for I Can Get it For You Wholesale in 1962. During her life, Aldredge became one of the most honored costume designers in American theatre, receiving three Tony Awards in addition to eleven nominations. She also worked frequently in film and television and received an Academy Award for her costume design for The Great Gatsby in 1974.
Aldredge's concept for this costume was brought to life by Carelli Costumes in NYC. The look truly did its job in portraying an ill-fitting, dated, unflattering bridesmaid dress. The costume was made from pink taffeta and features a Basque waist and fitted bodice with princess seams and a sweetheart neckline. Two elastic shoulder straps covered in gathered pink tafetta provide structure for the off-the-shoulder, pleated cap-sleeves. In the film these straps are mostly hidden beneath the sleeves but are visible from time to time.
There are delicate gathers circling the waist seam and the dress has a zipper closure at center-back. An oversized pink bow with snap fasteners provides a decorative cover for the closure. Bows like this were a very popular element of bridesmaid fashion during this time period. Accessorizing this costume are a pair of white fingerless opera gloves, a pink taffeta choker, hair rosettes, and a ruffled shawl. The matching pink shoes were by a brand called "Touch Ups", who since 1896 have specialized in bridal, prom, and evening footwear.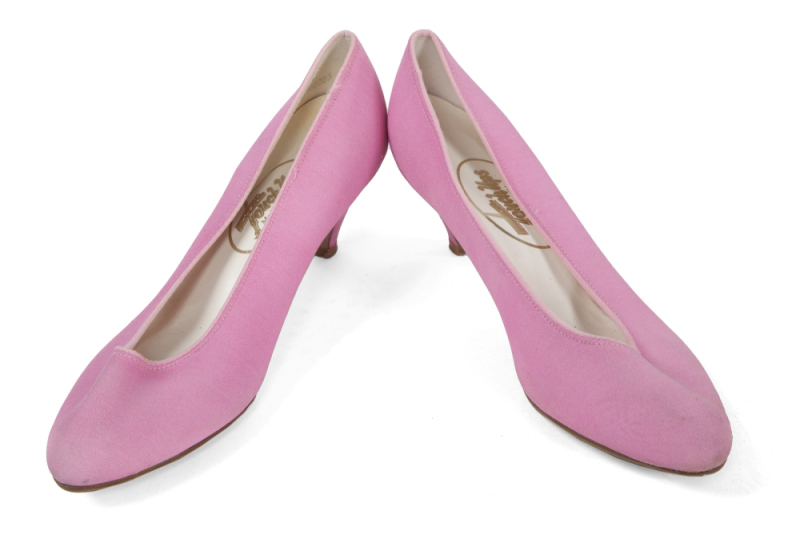 Auction house close-up photos of the choker reveal a pinhole from where the small decorative brooch was placed. This element likely came from Streisand's personal jewelry collection and remained in her possession after filming. A replica of this dress can be seen on a child actor who played the flower girl in the wedding scene.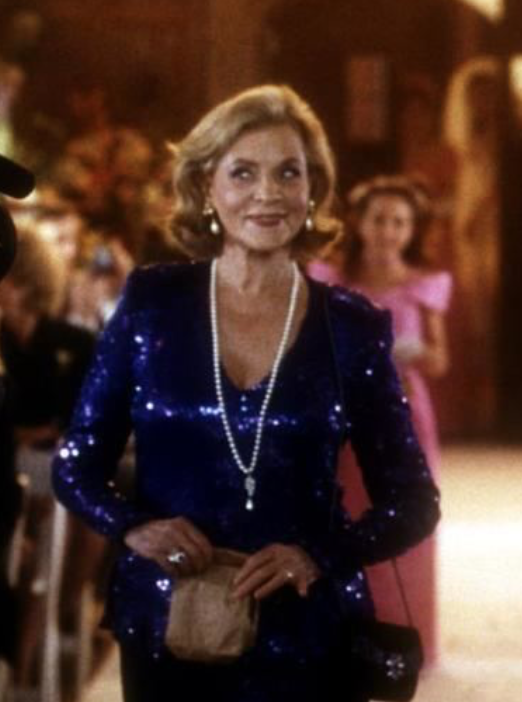 Due to photos of Streisand in this costume being used in promotional key art, it became one of the most famous and recognized looks in the film.
Bridesmaid dresses have origins dating back to ancient Roman times. It was believed that evil spirits and even rejected suitors who wanted to ruin the day would gather where marriage was being celebrated. In order to confuse and rid of these men and spirits, the bride's closest friends would dress almost exactly like the bride. The hope was that those who set out to ruin the day would get so confused that they would give up and leave all of the women alone long enough for vows to be completed. The idea that evil spirits would ruin a wedding continued until the Victorian era when bridesmaids would carry herbs, garlic, and grains down the aisle to scare them away.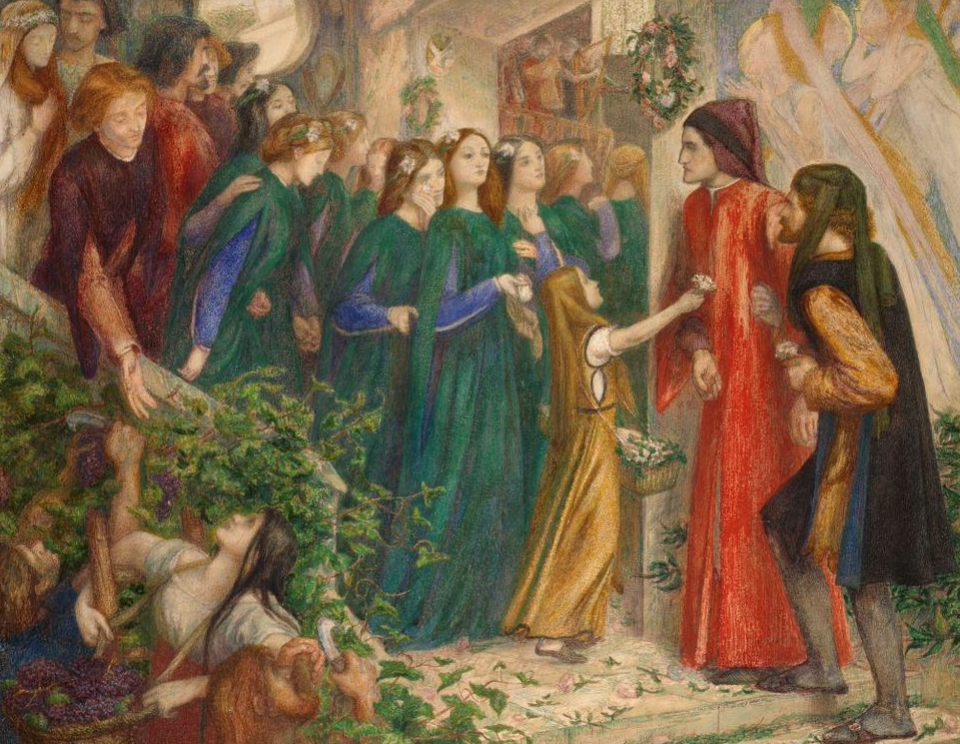 In some cultures, the tradition of bridesmaids wearing dresses to match the bride remains today, however in Western culture bridesmaids typically wear a color that contrasts with the bride's dress. Rose Morgan's pink dress exemplifies what happens when a bride selfishly strives to make her bridesmaids look worse than she does by choosing unflattering styles. This costume choice helped to create one of the most humorous scenes in the film that many women could easily relate to.