The Mirror Has Two Faces Bridal Party Dress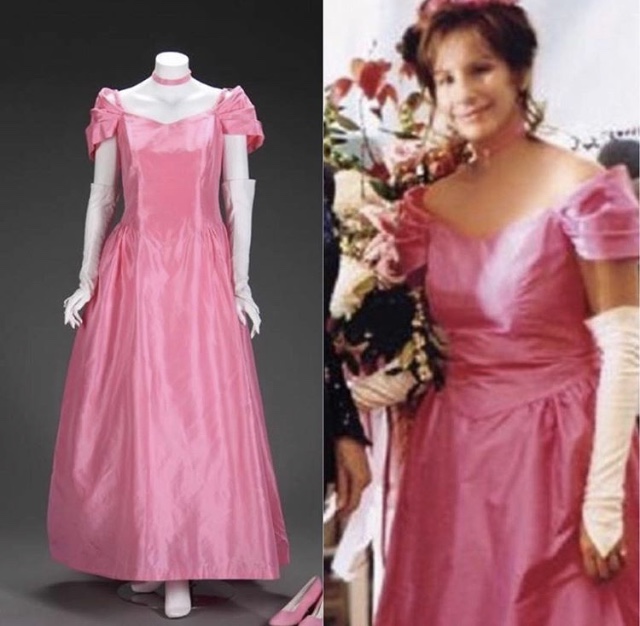 Barbra Streisand wore this pepto pink, bridesmaid dress as Rose Morgan in "The Mirror Has Two Faces" (1996.) This was the third film that Barbra directed. The dress was designed by Theoni  V. Aldredge, & made by Carelli Costumes, NY. Images of Barbra in this dress were featured on the official poster for the film, as well as on the CD Soundtrack key art. If you look closely at the reception scene, you can see another young actress playing a member of the bridal party in a matching dress. 
This gown was designed to be a funny take on unflattering bridesmaid dresses. The style has features of classic late 80's and early 90's bridal party wear. 

This dress was made from pink taffeta & features a Basque waist with a fitted bodice. There is pleating around the waist, & two elastic straps give way to rushed, off the shoulder cap sleeves. The back of the dress has a zipper closure & a large, snap closure, pink bow at the shoulder blade. White cotton fingerless opera gloves, white anklet socks, a matching pink chocker, shoes, hair rosettes & a ruffled shawl accessorized this look in the film. 
Bridesmaid dresses have origins in ancient Roman times, when the Bride's closest friends would wear the exact same dress as the Bride. Romans believed that happy occasions attracted evil spirits. The decoy dresses were also meant to distract the turned down suitors of the Bride to be. The goal was to confuse the spirits and would be grooms from the Bride long enough for her vows to be completed. By the Victorian era, the idea of evil wedding crashers had nearly fizzled out, but to be safe bridesmaids still walked down the aisle carrying herbs, grains & garlic to scare away evil spirits. The "white wedding" trend began after Queen Victoria & her bridesmaids all wore white. Around this time Brides' dresses became far more elaborate than their maids'. Later in the 20th century-and in complete contrast to the tradition's origin, wearing matching dresses fell out of favor so that the Bride would stand out and not be confused for her maids. Barbra's bridesmaid look sold at auction in 2004 for $870.00 USD.