The Prince Of Tides Antique Floral Wrap Dress
Barbra Streisand wore this antique floral dress in The Prince Of Tides (1991.) This dress first appears at forty minutes into the film. You'll see it hanging inside the closet door of Savannah's bedroom when Tom is getting ready to go to a party thrown by her roommate.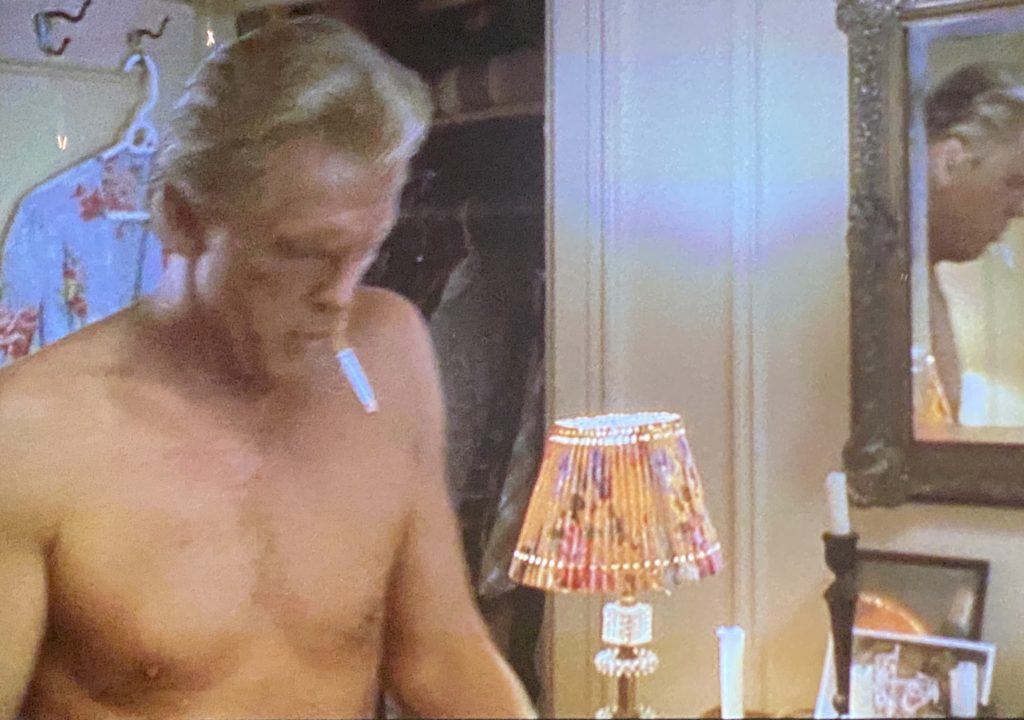 It appears again at one hour and fifty-one minutes into the film when Tom and Susan drive one hour out of New York City to spend the weekend at her beautiful country home. This scene and the one prior are the first and only times we see Susan Lowenstein in colorful florals. As she falls in love with Tom she starts to wear more happy, relaxed clothing and pastels come into play. They are both breaking into each other's shells and helping one another embrace parts of their personalities that they had yet to discover. Given when it first appears and how drastically different it is from Susan's normal style, I think it is safe to say that Susan borrowed Savannah's dress.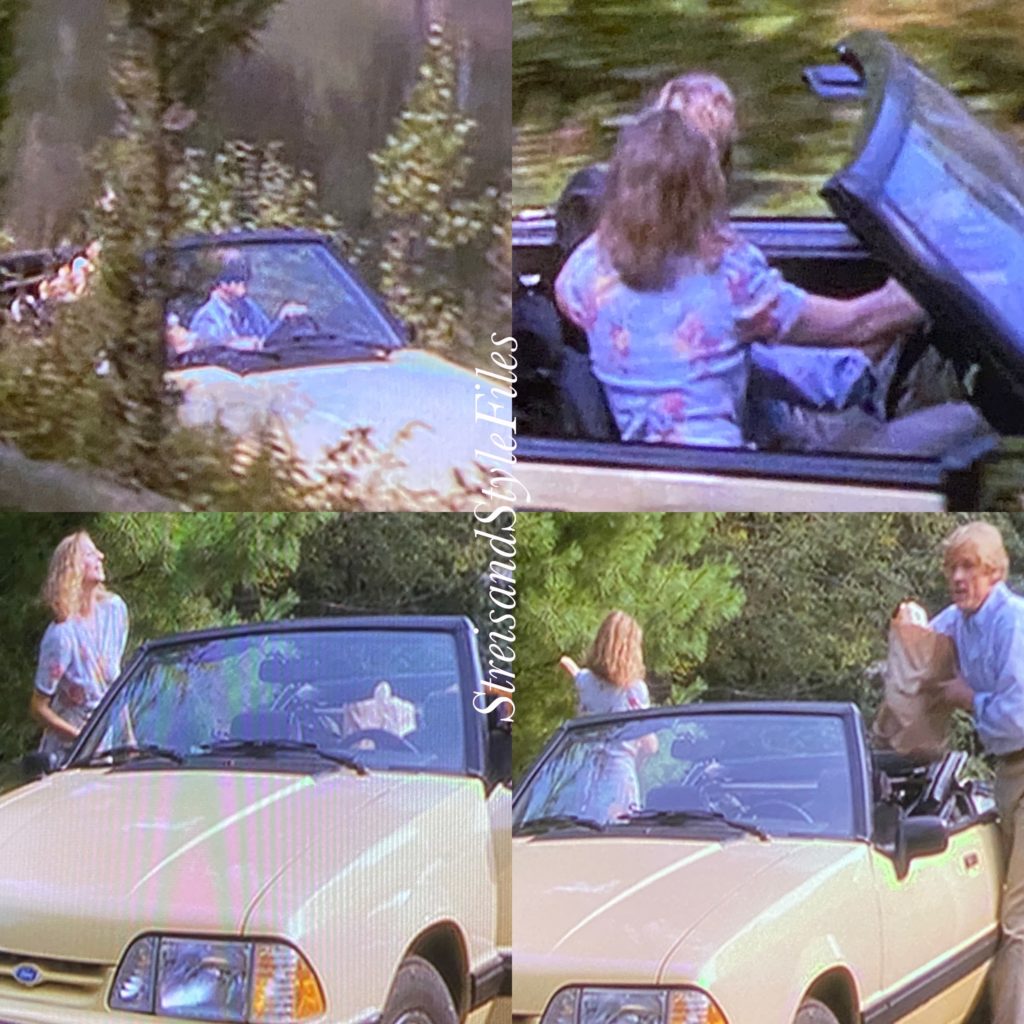 Like many of the costumes Barbra wore in The Prince Of Tides, this dress came from her personal collection. It is antique and has no tags. The style and detailing on the piece lead me to believe it is ca 1940's.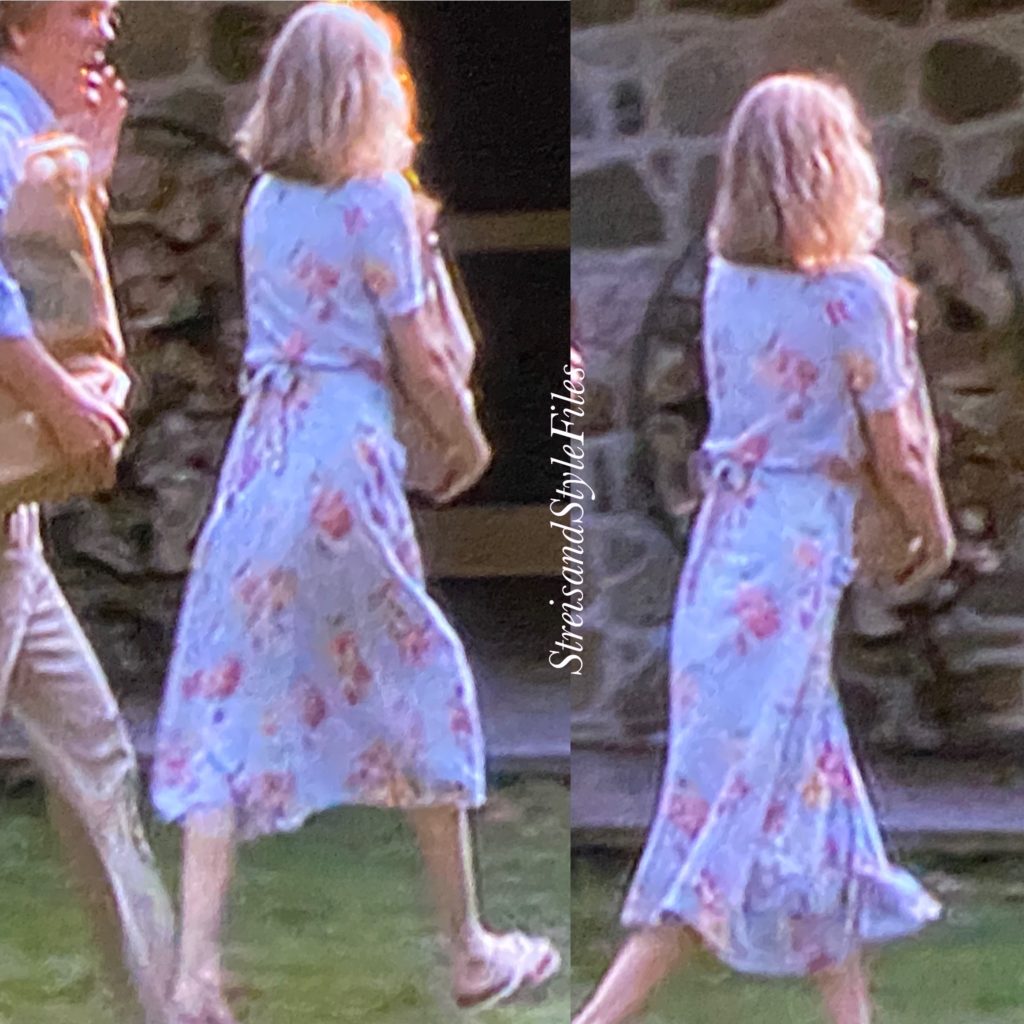 During this period, day dresses such as this continued to have high, modest necklines and hit just below the knee. To forget the war, women began to wear more colorful patterns like this one. Waistlines were meant to create an hourglass figure and skirt shapes were A-line.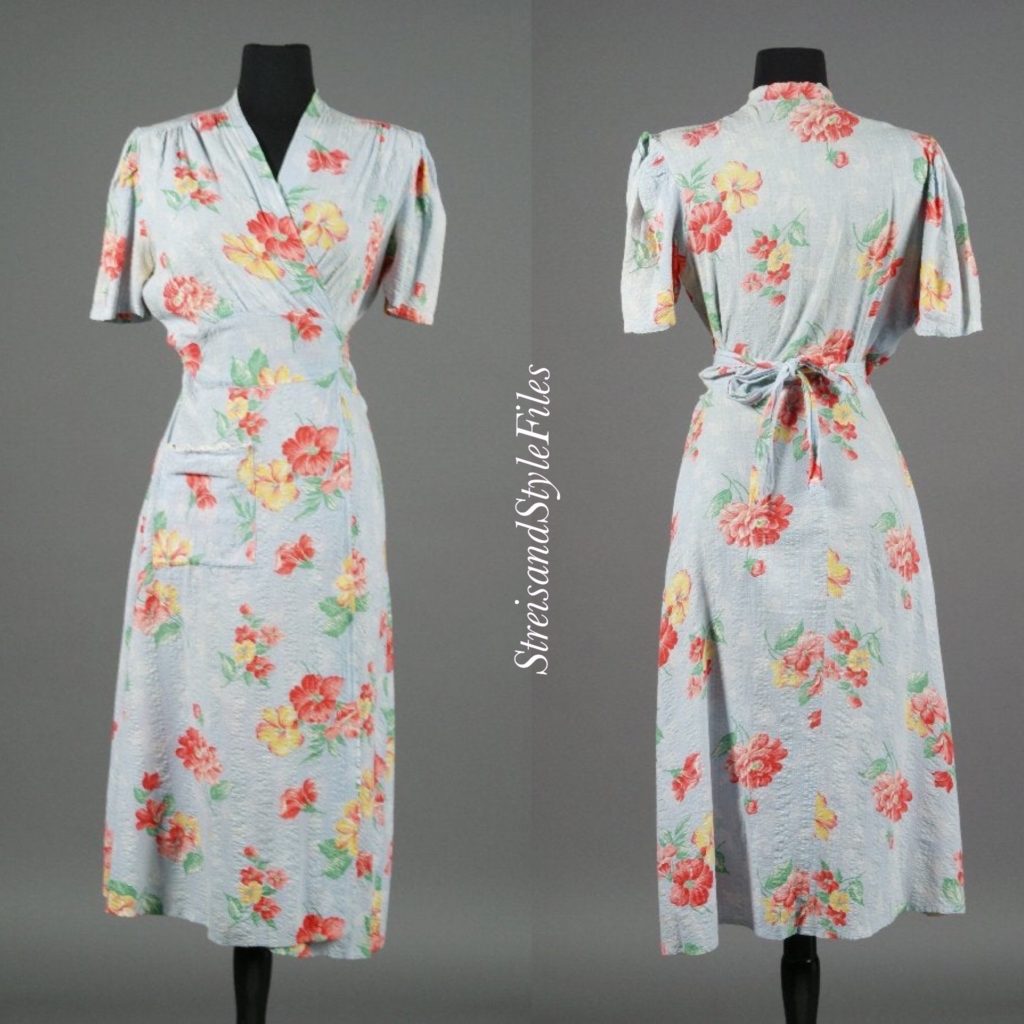 This dress style is consistent with what would have been worn as a house or day dress. Wrap dresses were also sometimes referred to as brunch coats. These were intended to be worn over lingerie but not nice enough to be worn out of the house. They often had hidden snaps in the lower wrap area to prevent any revealing accidents from happening.
Barbra's antique dress features yellow and red poppies as well as peonies over pale blue vertically textured fabric which could be crepe or seersucker. There are straight short sleeves and delicate shirring along the shoulders. The modest V-neck is met with a half-moon under-bust seem. The connected self-tie waist forms a bow at the back. In the scene this dress is worn, Tom drops and breaks a dozen eggs to quickly untie it. There is a square patch pocket at the right hip which is edged in scalloped lace. The skirt opening is to the left and the hem falls just below the knee. This was paired with simple white flip flops in the film. This dress sold at auction in 2004 for $975.00.
The Prince Of Tides will be re-released on Blu-Ray by The Criterian Collection on March 31, 2020 with all new director-approved special features including a new commentary, 4k digital restoration, audition and rehearsal footage and much more. Get your copy here.
**Special thanks to Jami Miller for assisting in the research of this dress.