The Prince of Tides New Director Notes On Susan Lowenstein's Wardrobe
Barbra Streisand wore this two piece skirt suit and sage green blouse as Susan Lowenstein in The Prince of Tides (1991). This look is significant because it is seen the first time the audience is introduced to Susan Lowenstein at thirteen minutes into the film. This outfit also begins the progression of color in Susan's wardrobe which shifts from dark Earth tones to whites, floral and pastels as she falls in love with Tom Wingo.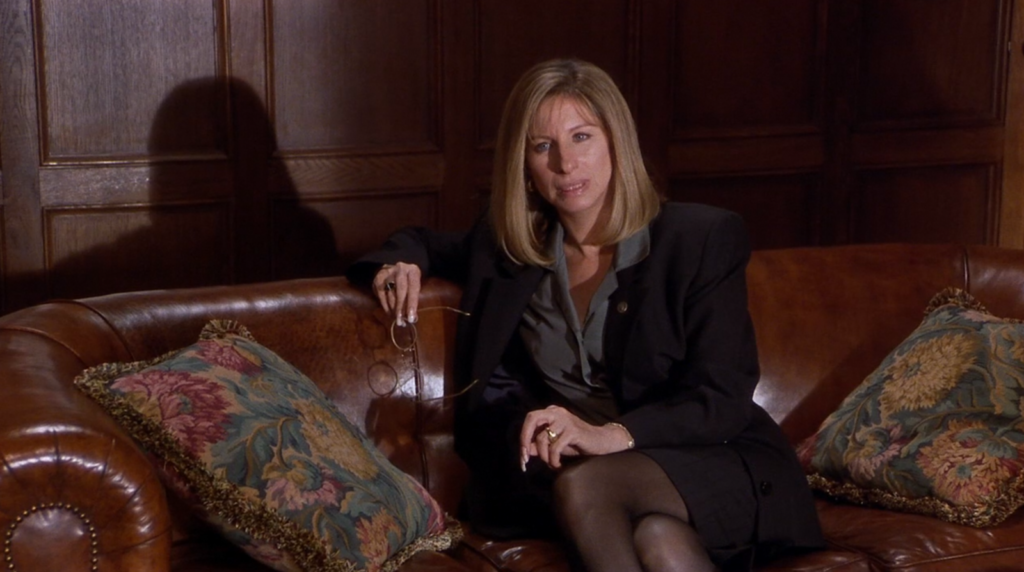 Just before Susan peeks her head through her office door, we see Tom in her waiting room, sitting on a vibrant green quilted leather sofa which gives us our first taste of the color palette in Lowenstein's office.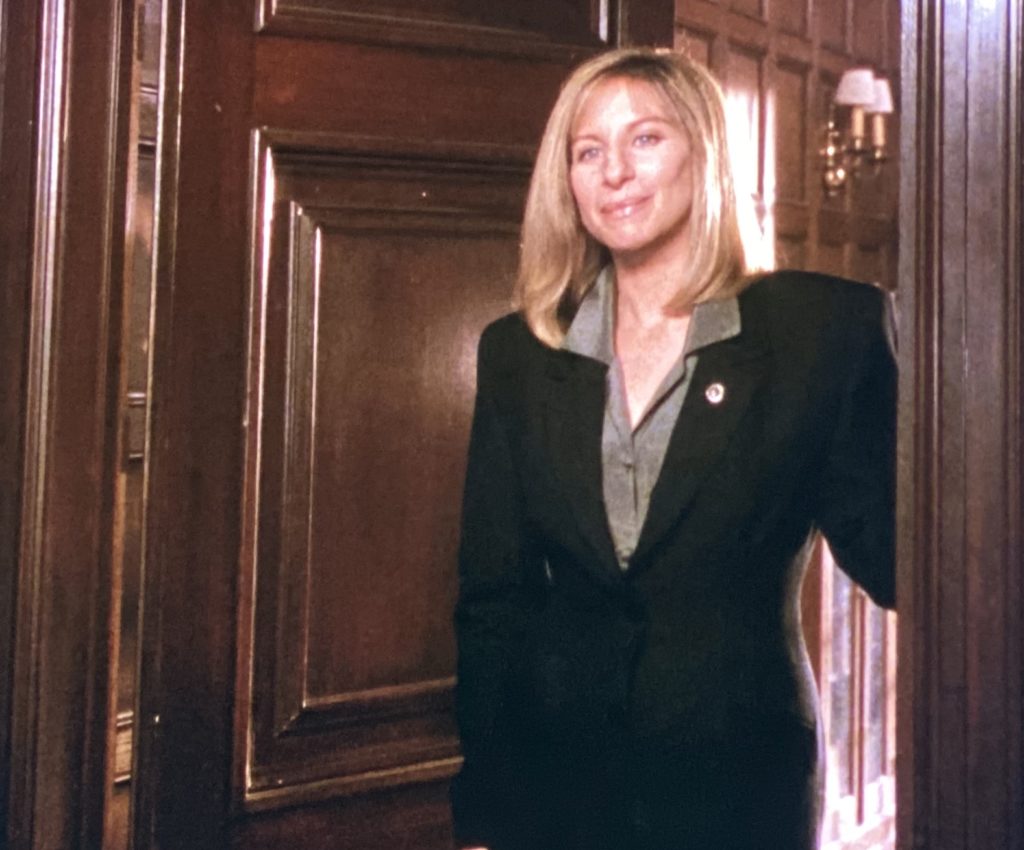 This blouse worn with this suit was hand dyed sage green to match the colors which were predominant in the scene's pillows and furniture.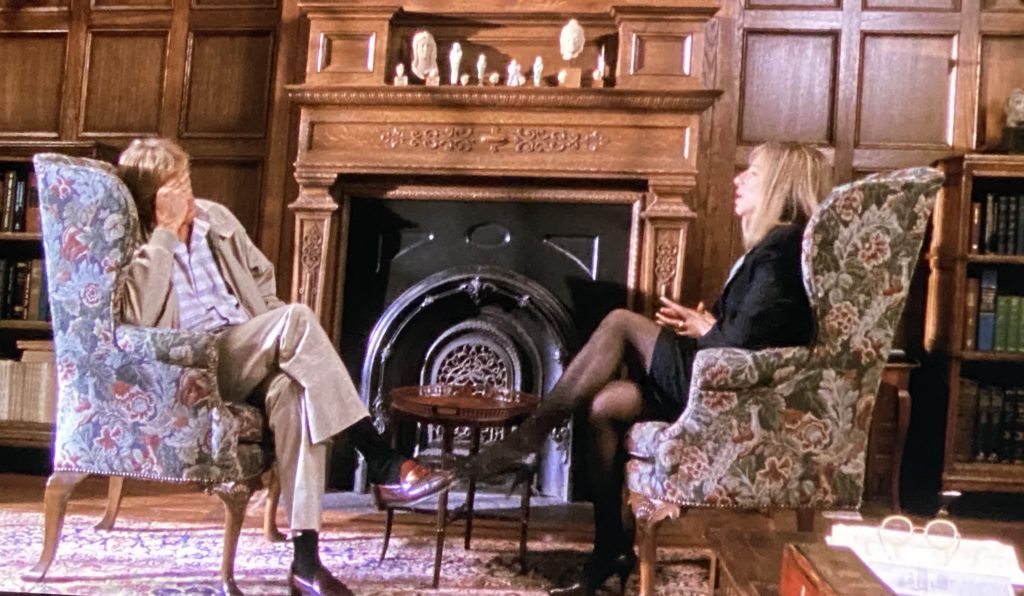 Barbra noted in the film's director commentary that "I like detail, I like monochromatic frames so if you notice the green color of my blouse is the predominant color in the pillows. It's also the predominant color in the chair on the right. I had the blouse dyed to match that green pillow so I could fade into the background a bit. I mean can you imagine if I was wearing a yellow blouse or any bright color? I wouldn't even be in character, but it's also why I love black and white movies. The less color you have in a frame the more you can concentrate on the story and the emotion. By the way, later on in the film you'll see her in a dark green suit with a burgundy top that also goes with the chair."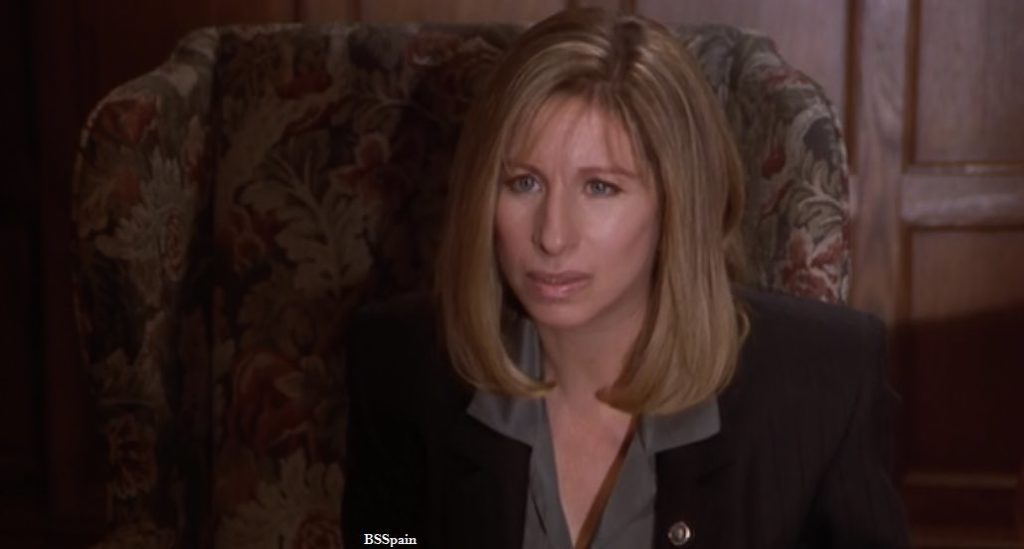 Tailored skirt suits have been a staple in Barbra's wardrobe since the 1980's. She looks fabulous in them, so they were an obvious perfect choice to work into her character's wardrobe. This two-piece black suit features a single breasted jacket with a notched lapel and button closure. Shoulder pads and stitched down pleats at the hips give the jacket definition.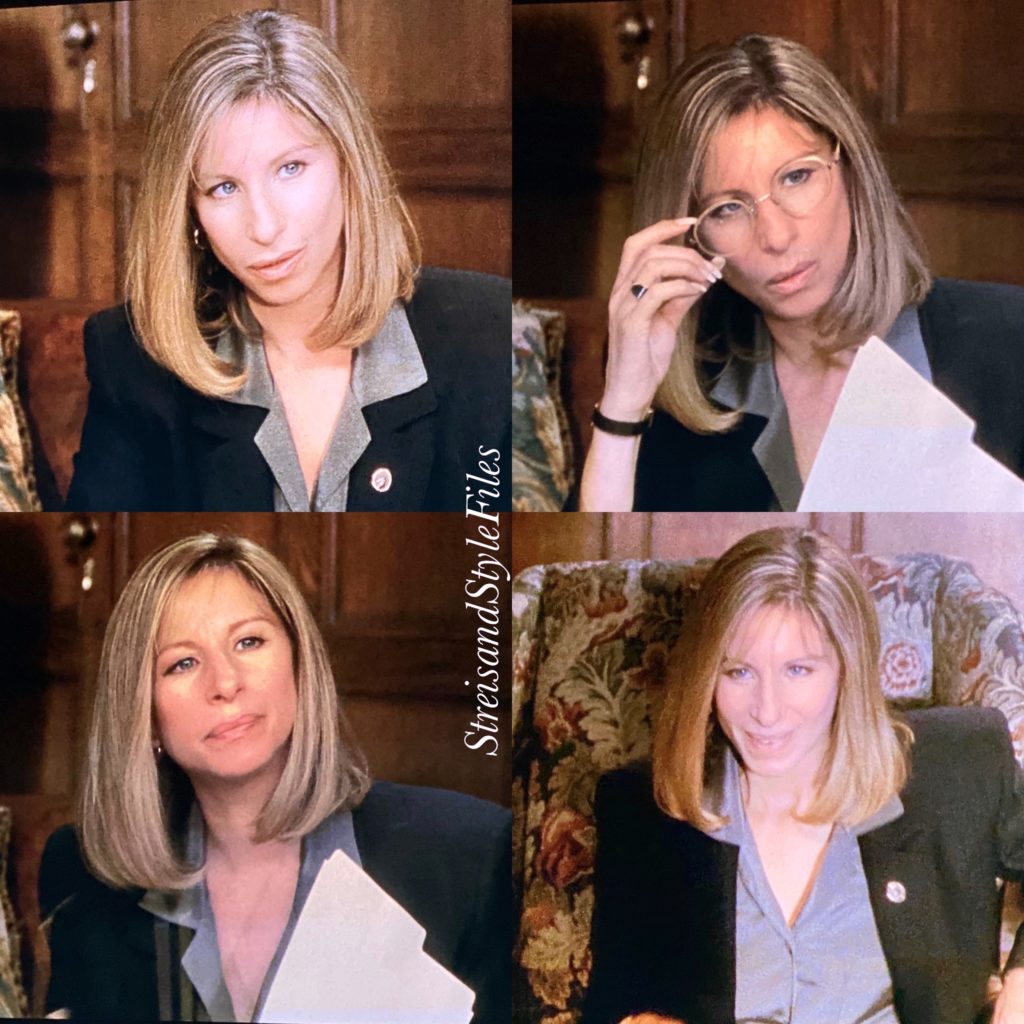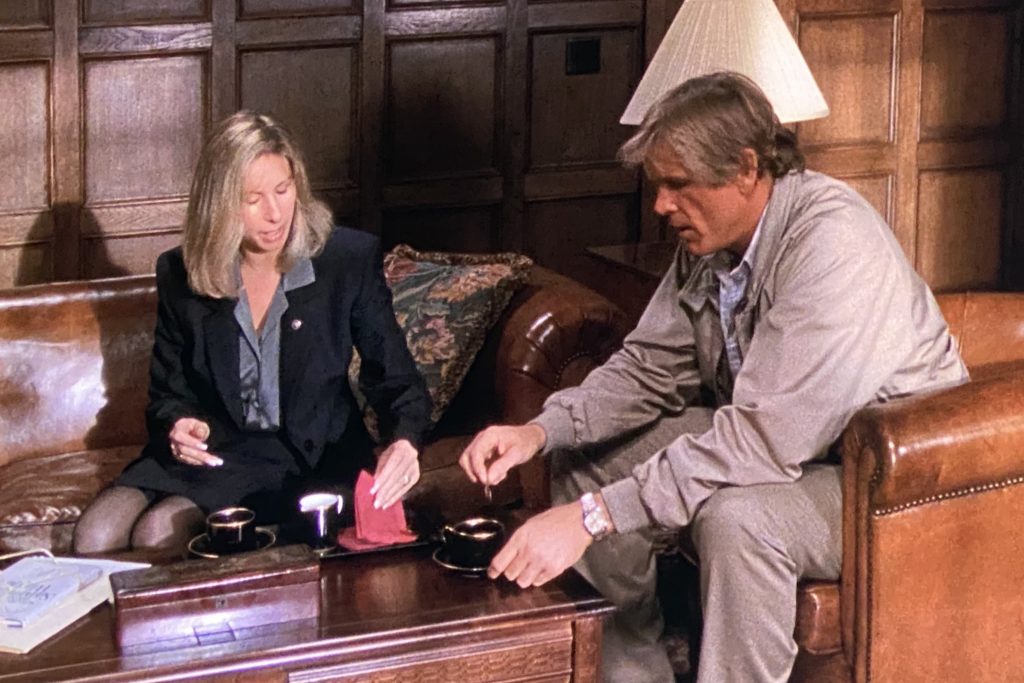 You'll notice that Susan has her jacket buttoned up when her husband leaves her office but unbuttons it as she begins Tom's session. This could be for comfort but could also be a subtle sign of the first time she starts to let him in.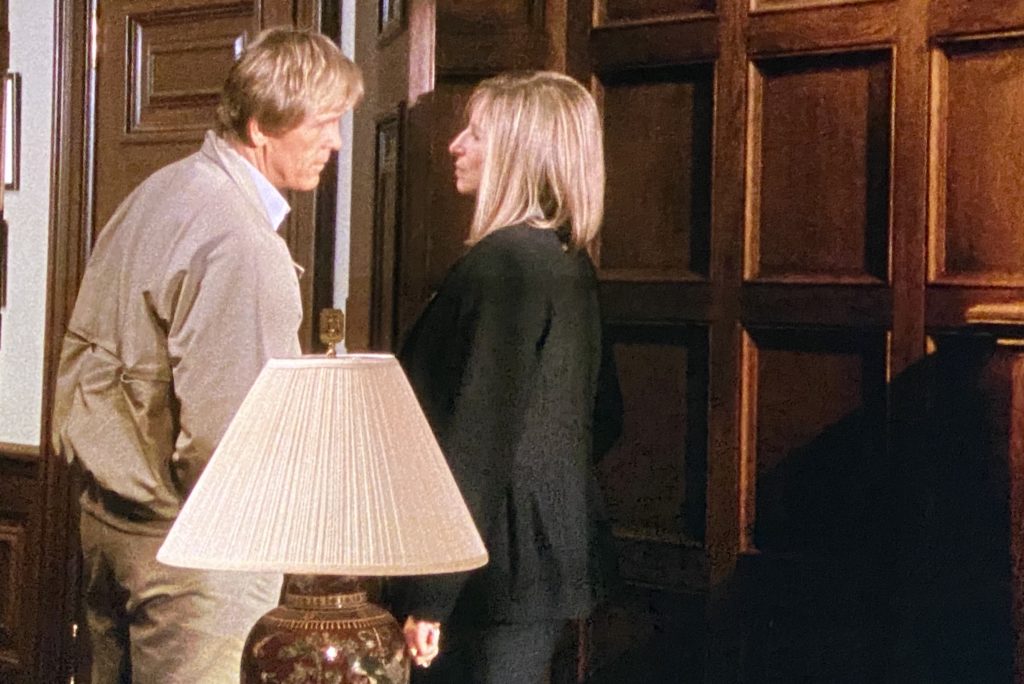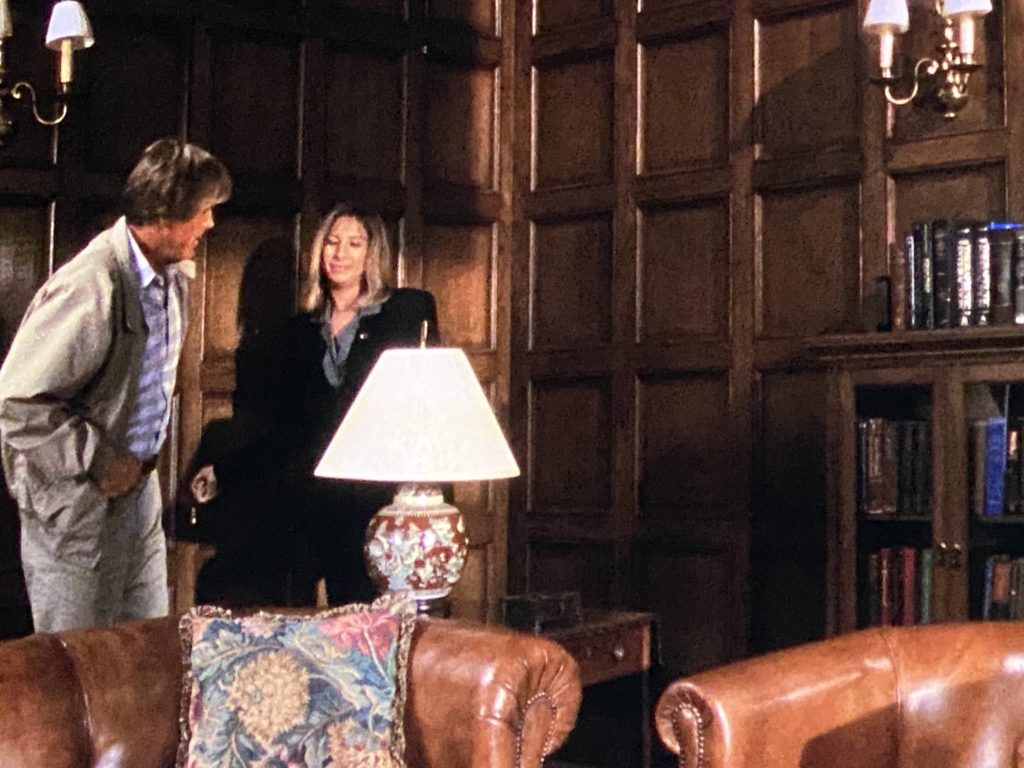 This jacket was paired with a knee length pencil skirt with a vented back. Under the jacket, is the above mentioned specially dyed sage green button down shirt which has a notched collar. All combined this look gives us crisp, upscale and elegant NYC therapist realness.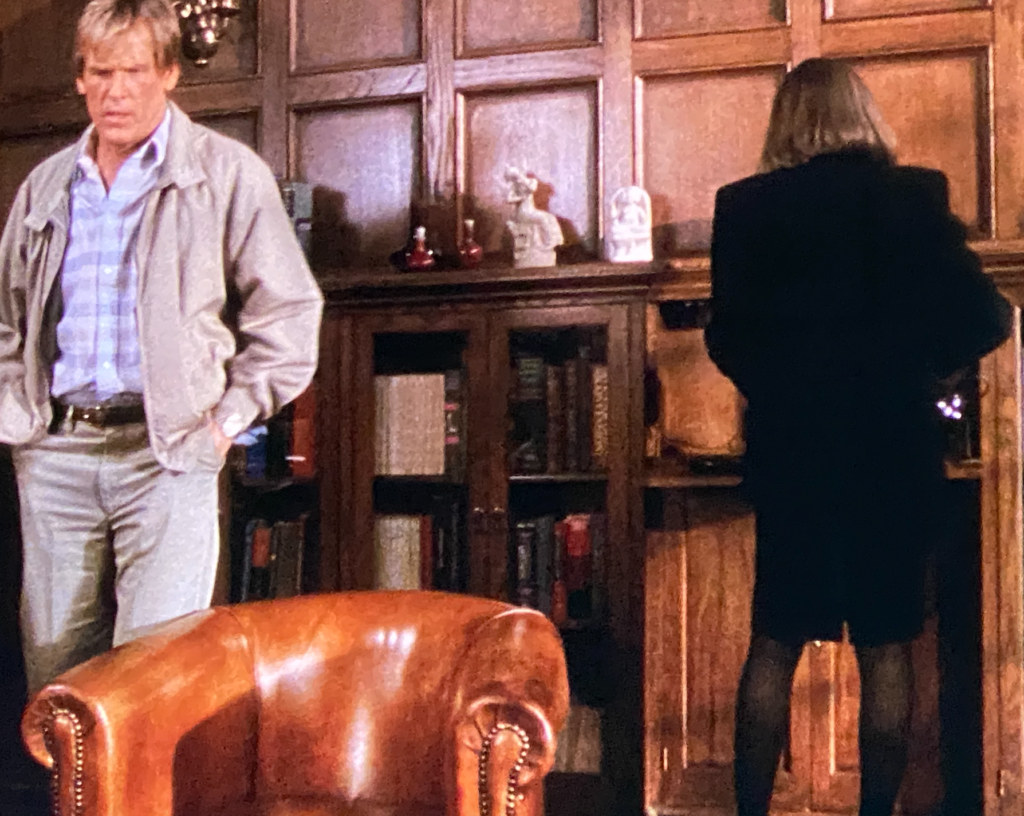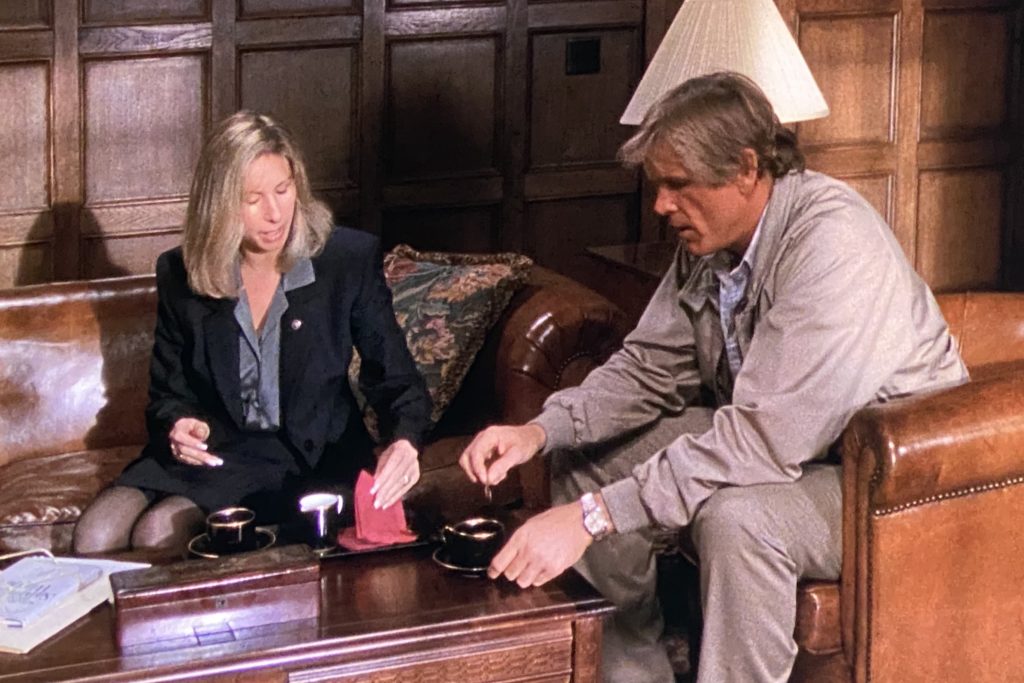 Placed prominently on the jacket's lapel is a round pin. In the director commentary on the new blu-ray release, Barbra explains its origin.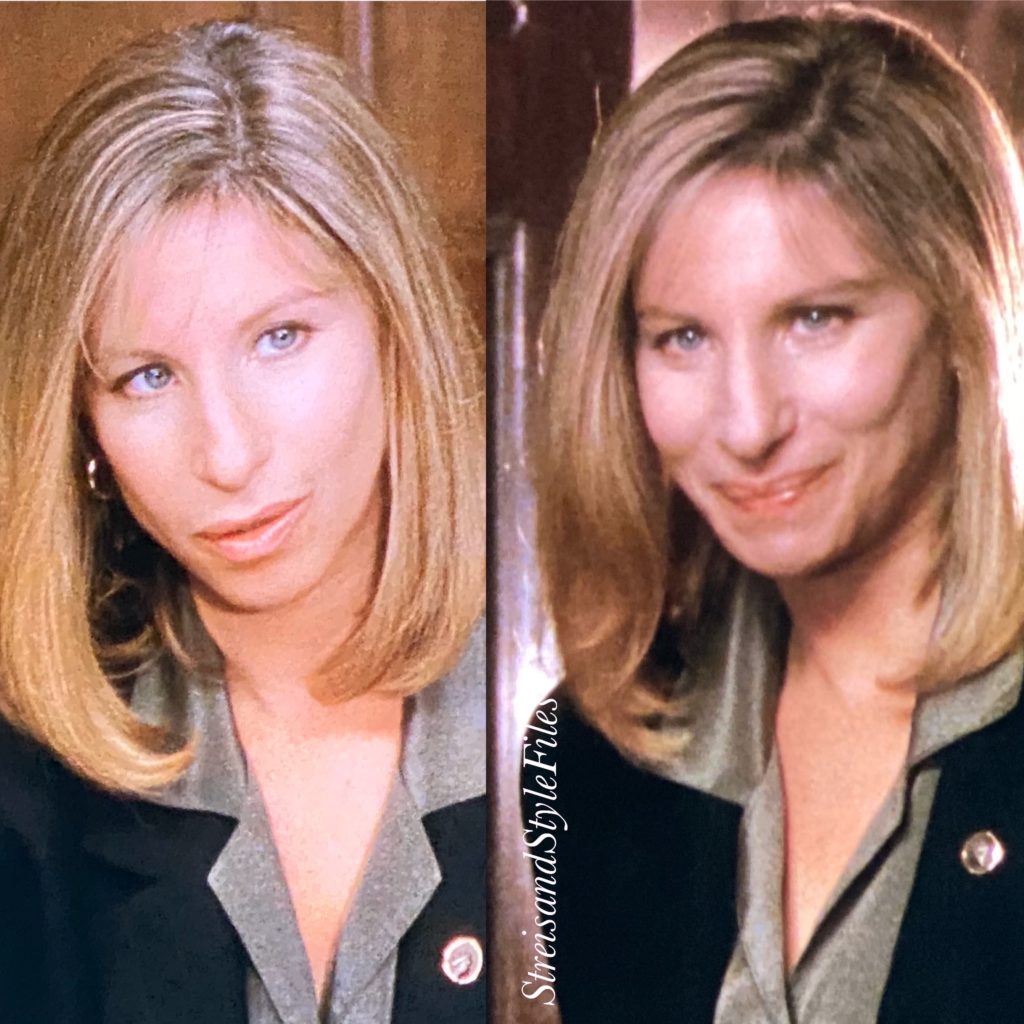 "I was taken to Greece by my friend Steve Ross and his wife and it was serendipitous because I was reading The Prince of Tides for the fourth time and I was so happy to be in a place that was filled with greek mythology. Apollo and Artemis were twins and Tom and Savannah were twins. Somehow there's a connection there. Great stories come from archetypes-from myths. The pin i'm wearing is an ancient greek coin that i've had for many years. I'm also wearing a greek ring from 450 BC. Can you imagine? These are objects that have stood the test of time. I chose these things for the character. All her little statues on her fireplace are Greek. When my son buys me a book in the bookstore later on in the film, it's a book on Greek civilization. These are things most people would never notice, and really don't have to notice, but they mean something to me as the filmmaker. Somehow it permeates the viewer. Not the specifics of it, but there's a feeling, there's a knowingness. It seems right."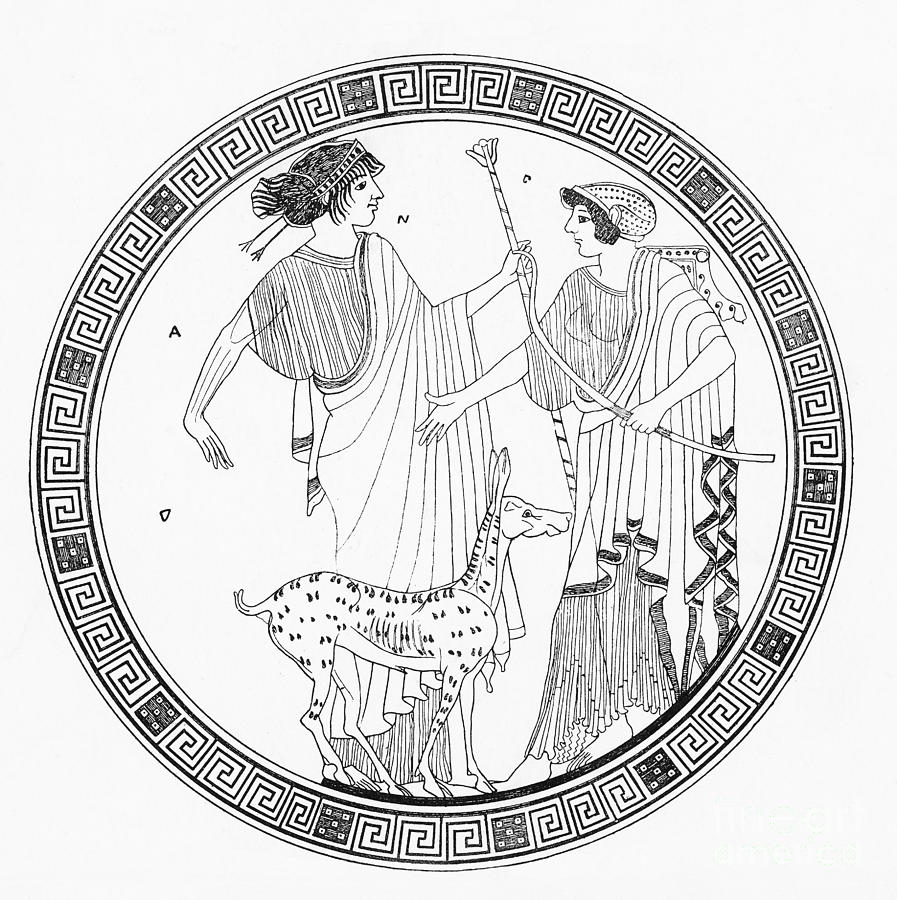 The Prince of Tides was re-released on Blu-Ray by The Criterian Collection on March 31, 2020 with all new director-approved special features including an updated directors commentary, 4k digital restoration and much more. Get your copy here.