Timeless act two gown, designed by Barbra Streisand
Barbra Streisand wore this ethereal white gown which she designed herself for act two of her Timeless concert.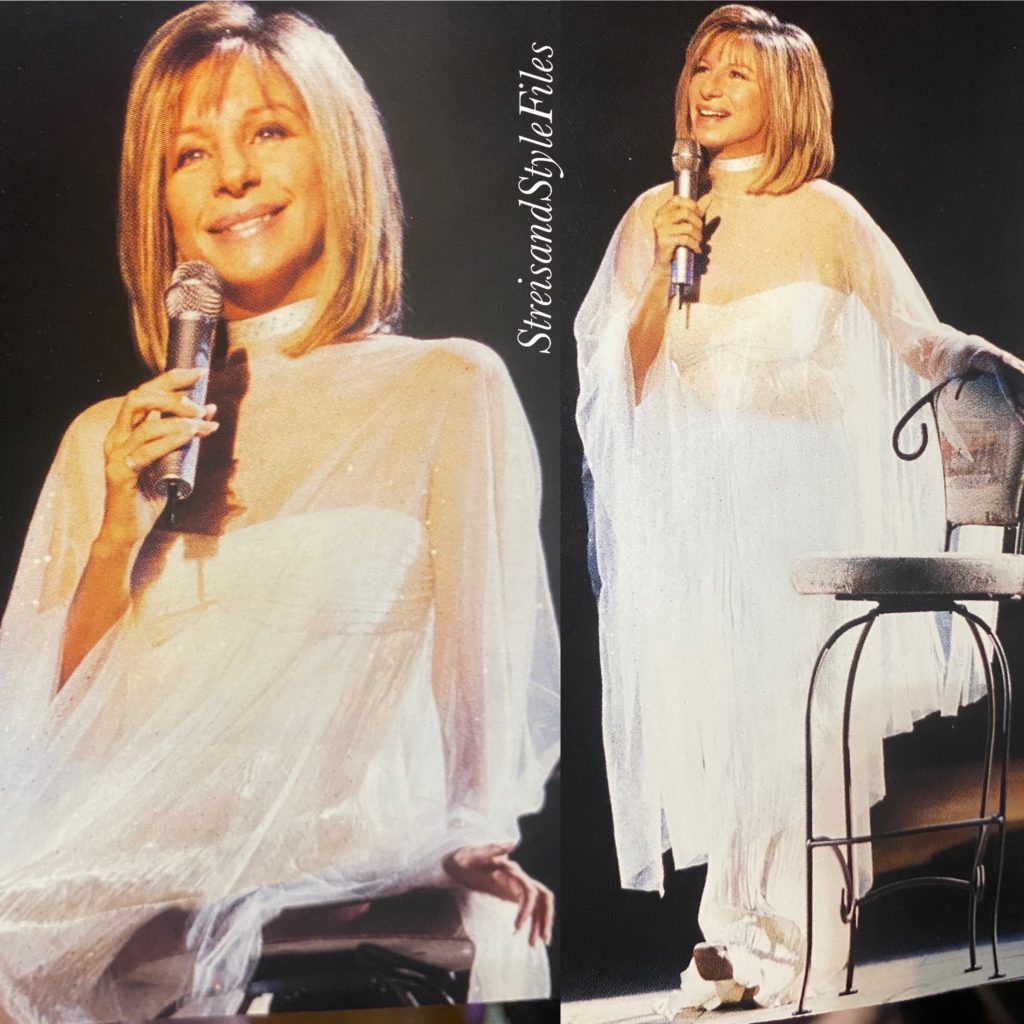 Streisand wore this gown for both of her special Timeless "Millennium" concerts on December 31, 1999, and January 1, 2000 at the MGM Grand in Las Vegas in addition to three out of four Australia shows in March 2000. For the March 10, 2000 show in Sydney, Australia this gown was replaced by a more weather-friendly look that included a hat, sneakers, and jacket due to rain and wind. The gown was cut entirely for the following four shows that took place in Los Angeles and NYC, where it was replaced with a sequined black off-the-shoulder look.
This gown is a bit surprising in that it is strapless, a style which, aside from here and there in the 1970s is not one that Streisand has worn often throughout her career. The fitted bust appears to be made from silk-satin and features a sweetheart neckline. The sides and back are lightly gathered, and there is a centerback hidden zipper closure.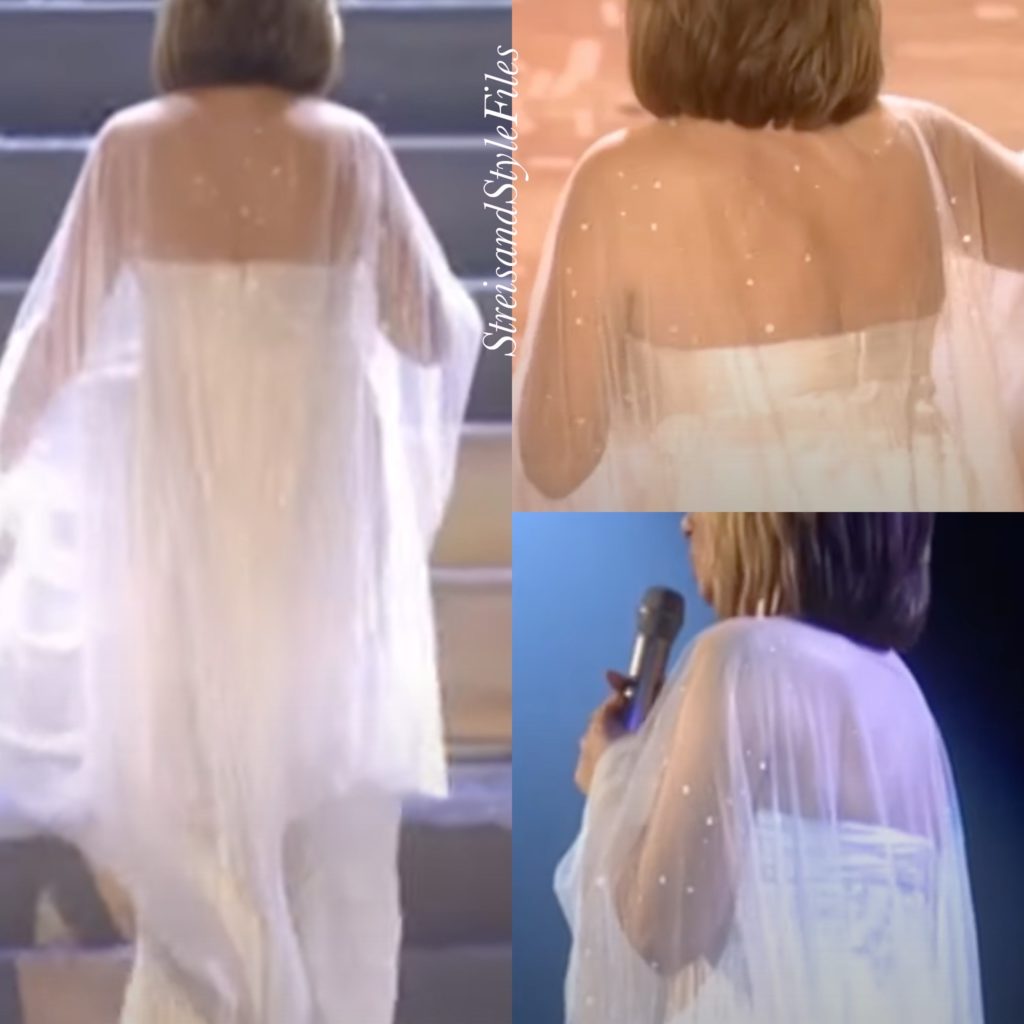 Pleated satin hangs loosely and freely from the empire waistline, which is a signature Streisand element. The gown features an elegant eye catching lettuce hemline.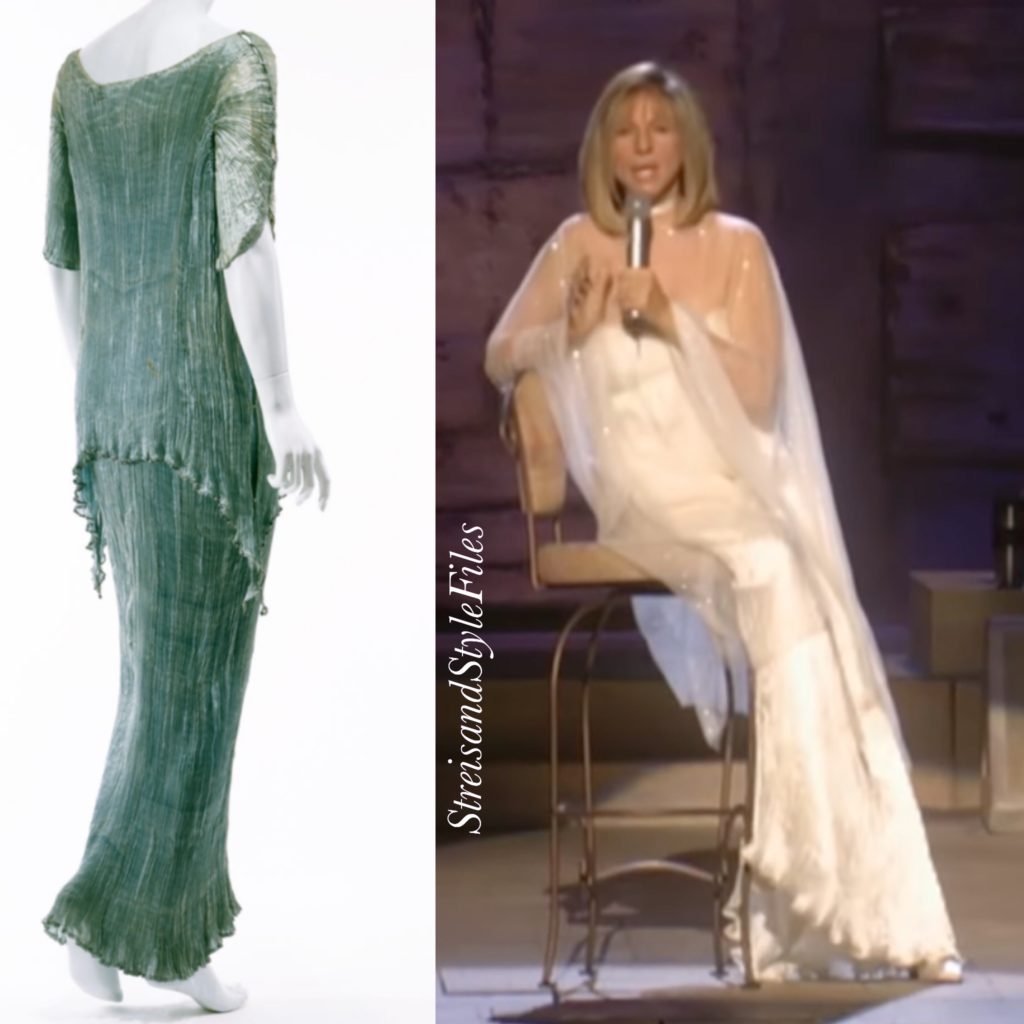 The bottom half of this look was undoubtedly inspired by Fortuny's famous Delphos gowns. Streisand's love for this look began when Irene Sharaff obtained a red Delphos for her to wear in the Funny Girl film. In her 2010 book, My Passion For Design Barbra recalled "I thought the Fortuny dress was gorgeous. Utterly simple-held together by a thin silk cord at the shoulders and very complex with that infinitesimal pleating. No one has ever figured out how he did those tiny pleats. It's like Tiffany glass in a way. You can't quite duplicate it, although many people have tried." She continued to explain "I wore the original in the movie of Funny Girl and then I had Irene copy it in pink for my 1967 concert in Central Park." In addition to Timeless, Streisand has worn Delphos-inspired pleated gowns to the 1977 and 1992 Academy Awards and for a Sarah Bernhardt-inspired photoshoot in 2011.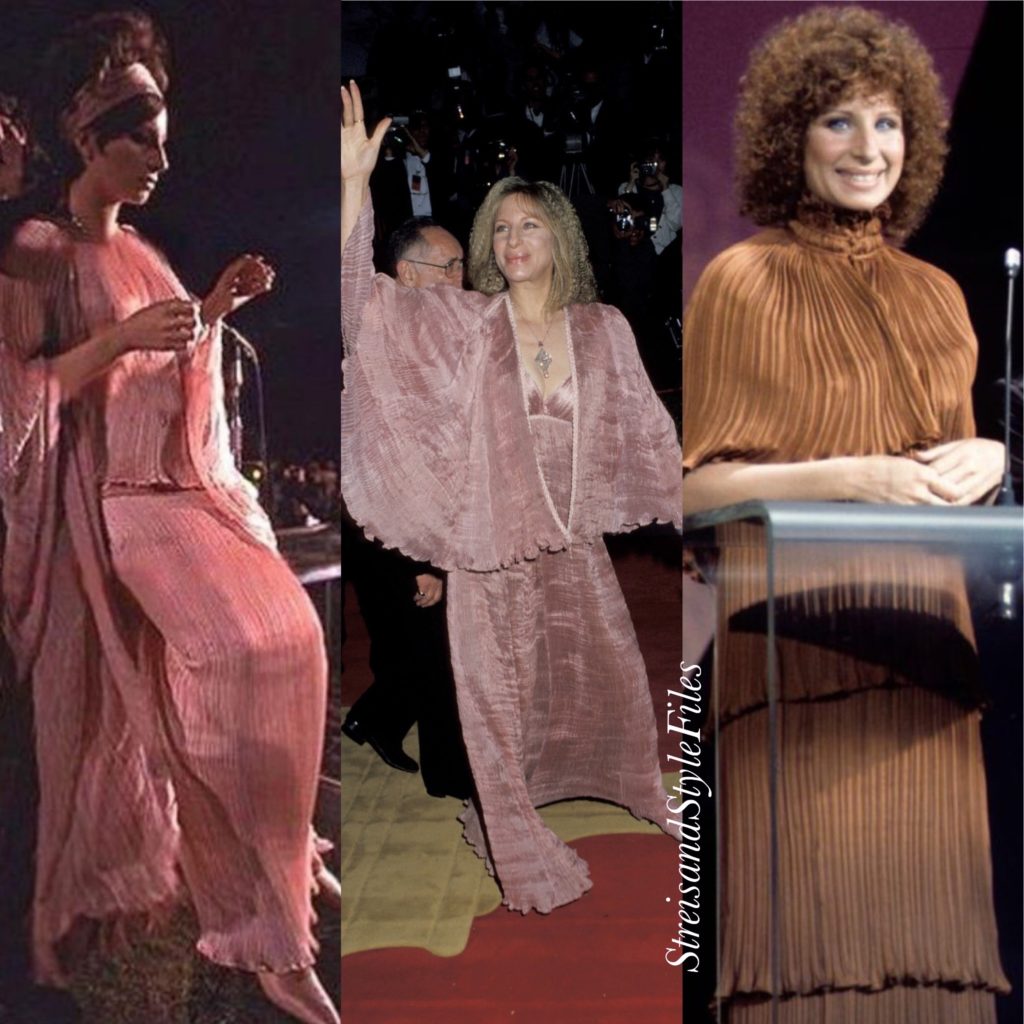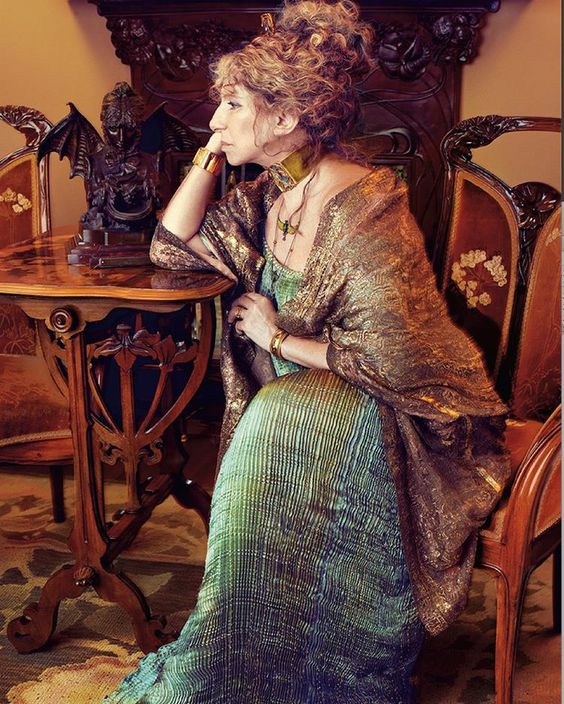 If the sheer outer sheer layer of the Timeless gown looks familiar, it is because Streisand used the same fabric as her wedding veil in 1998. While singing "I've Dreamed of You", Streisand stated, "This is my wedding veil fabric, by the way", as she extended her arm to showcase the sparkling overlay.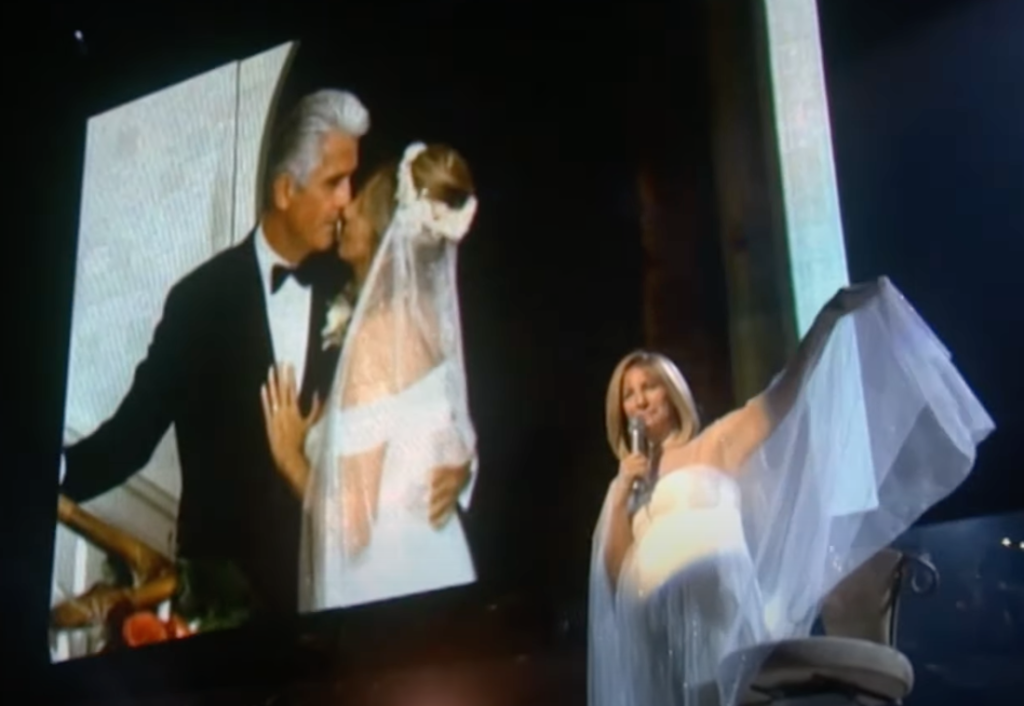 This fabric hadn't initially been easy to come by. With just two weeks until Streisand and Brolin's wedding day, Donna Karan had shown Barbra the off-white, hand-beaded crystal tulle from India. Barbra fell in love with it, but there was concern that it wouldn't ship in time for the wedding. Luckily the tulle arrived with enough time for the 15-foot long veil to be created. Karan recalled "When the delicate crystal beads on the tulle caught the light, Barbra looked like she was sprayed with a thousand sparkling stars. The dress took on Barbra's special radiance." Fans would get to see this impressive effect in person just a year and a half later during Timeless.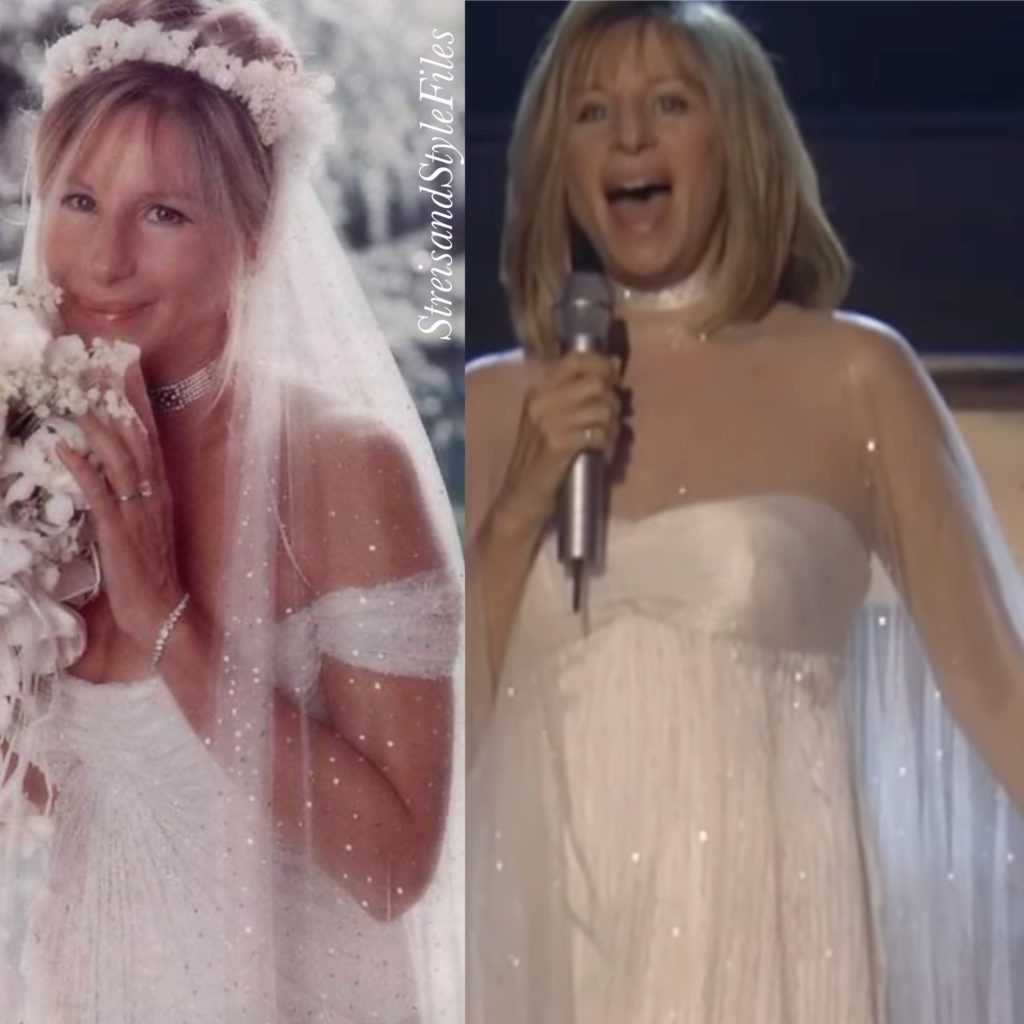 Streisand paired her remaining fabric perfectly with her gown design. The sheer shimmering tulle certainly added a magical, outer-worldly touch to the look and created drama with every movement. This cascading overlay was very simply made to slip overhead, with a boatneck cutout. The look was accessorized with square toe satin heels, a satin diamond choker, and two diamond rings, one of which was a pinky ring.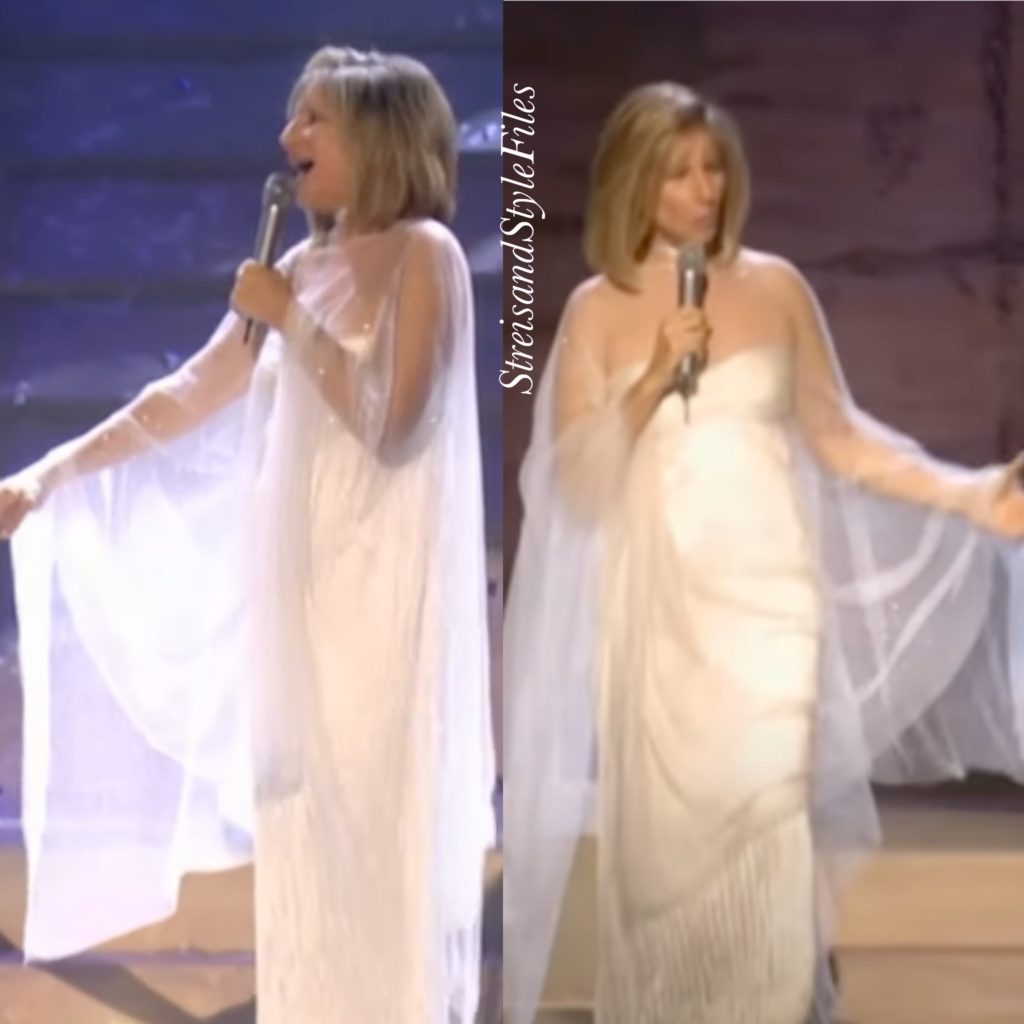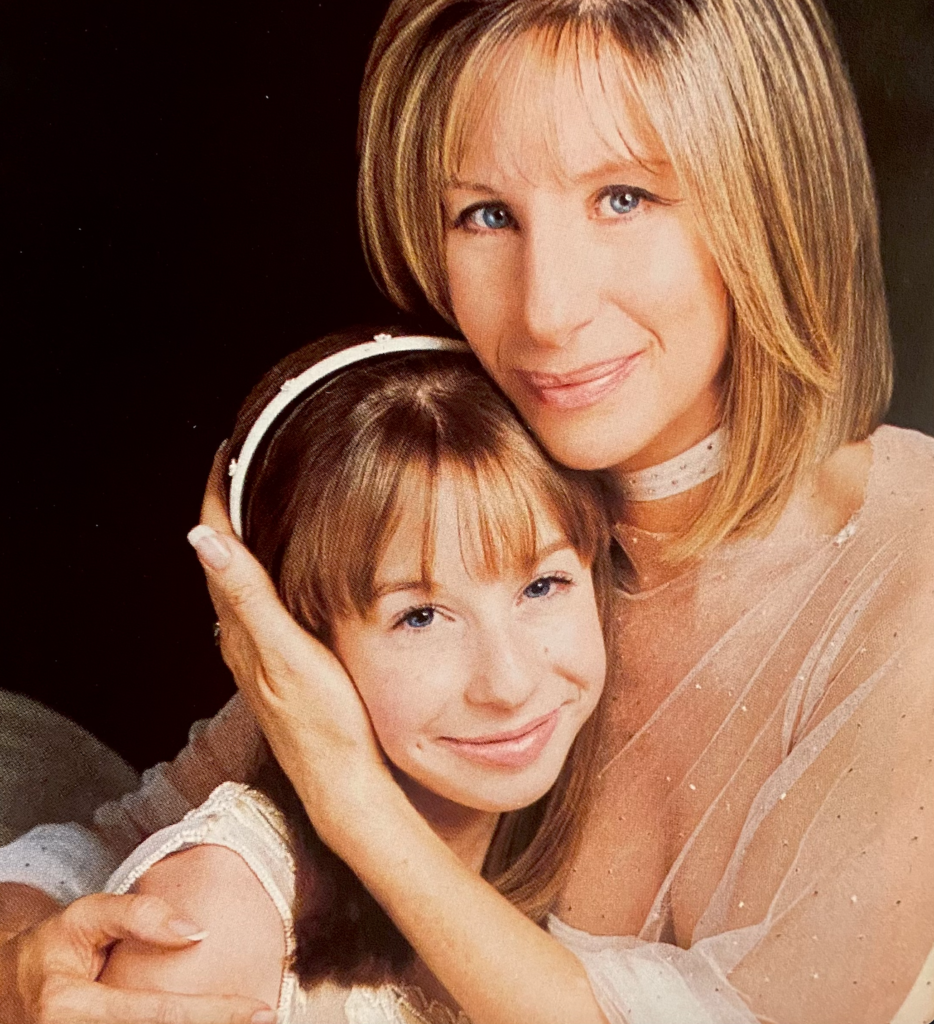 Overall, I feel like this gown was a great contrast to the act one streamlined pants set. It looked elegant, refreshing, and luminous on stage while giving audiences a dose of signature iconic Streisand Style.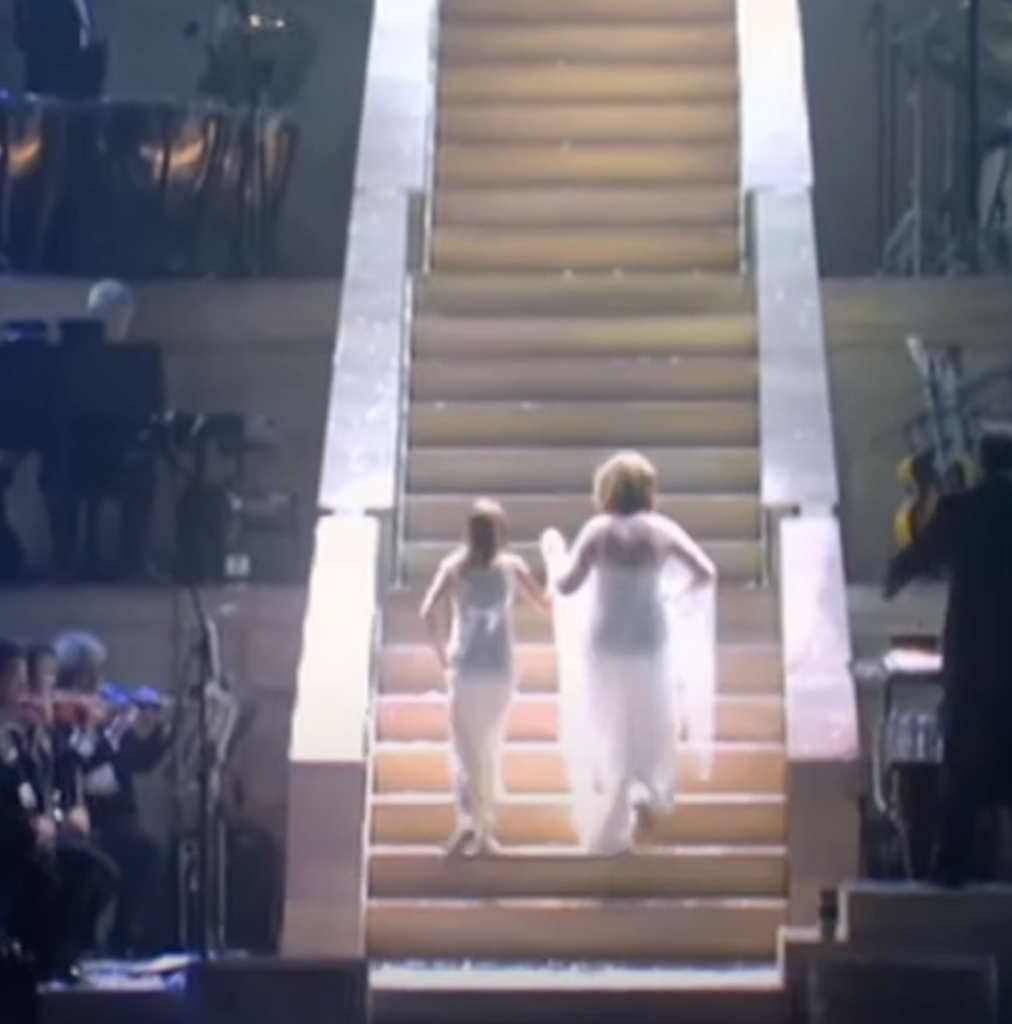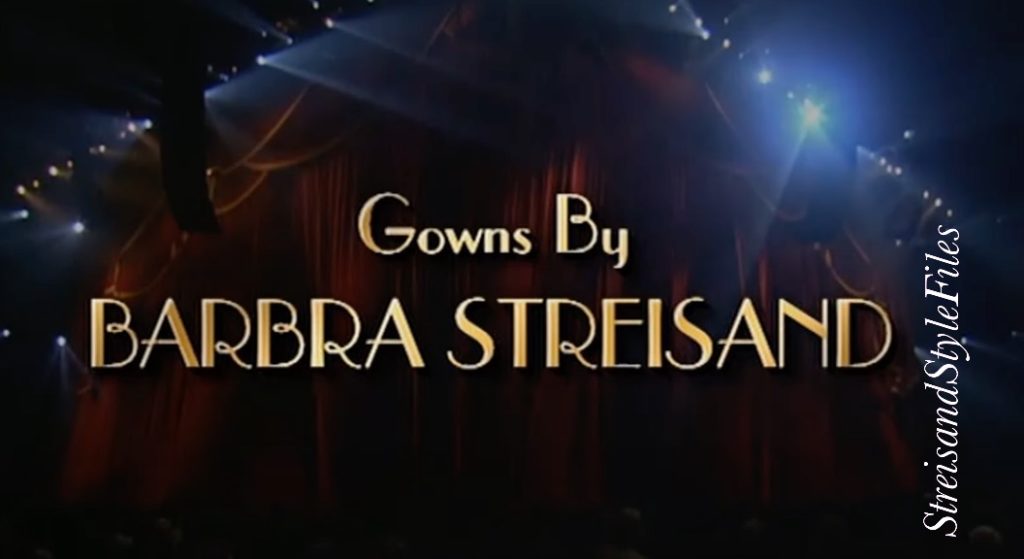 Read about other Timeless outfits below: