Timeless concert act one outfit, designed by Barbra Streisand
This sparkling silvery-grey ensemble is undoubtedly the most recognizable look from the Timeless concerts because it was captured for prosperity on the live DVD and seen frequently in press photos. The look, designed by Streisand herself, made its debut during act one of the Timeless "Millennium" concert on December 31, 1999 at the MGM Grand in Las Vegas.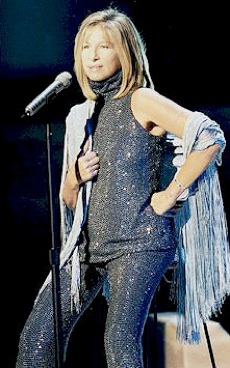 During her 2019 NYC and Chicago concerts, Barbra revealed that this outfit had been stolen from her dressing room and was never found. My research shows that she first began wearing a different outfit for act one at her March 15th, 2000 show in Melbourne Australia. Given this, I find it most likely that the outfit was stolen after the second Sydney, Australia show. When the Los Angeles shows happened nearly six months later, Streisand replaced the missing outfit with a replica made in copper.
This outfit's outer layer looks as though it were made from rhinestone sheet fabric, which typically features crystals set in back-plated aluminum mesh. This gave off an absolutely stunning sparkle under the stage lights.
The set was likely lined in a grey stretch blend fabric. This gave the look incredible depth of color that shifted beautifully with the lighting. The top was a simple pullover sleeveless turtleneck, which was one of Streisand's favorite looks to wear around this time period. She has also worn this style on screen, both in 1970's The Owl and the Pussycat and 2004's Meet the Fockers.
The pants for the Timeless ensemble were a flattering boot cut, with an extra several inches of length at the hem. This allowed them to hang over Streisand's heels (a great fashion trick that creates the illusion of extra height and lengthier legs.) A perfectly matched pair of sparkling ankle booties with an inside zipper closure completed this look. A photo in the CD booklet reveals that Streisand also wore a more comfortable pair of crystal-covered clogs at some point.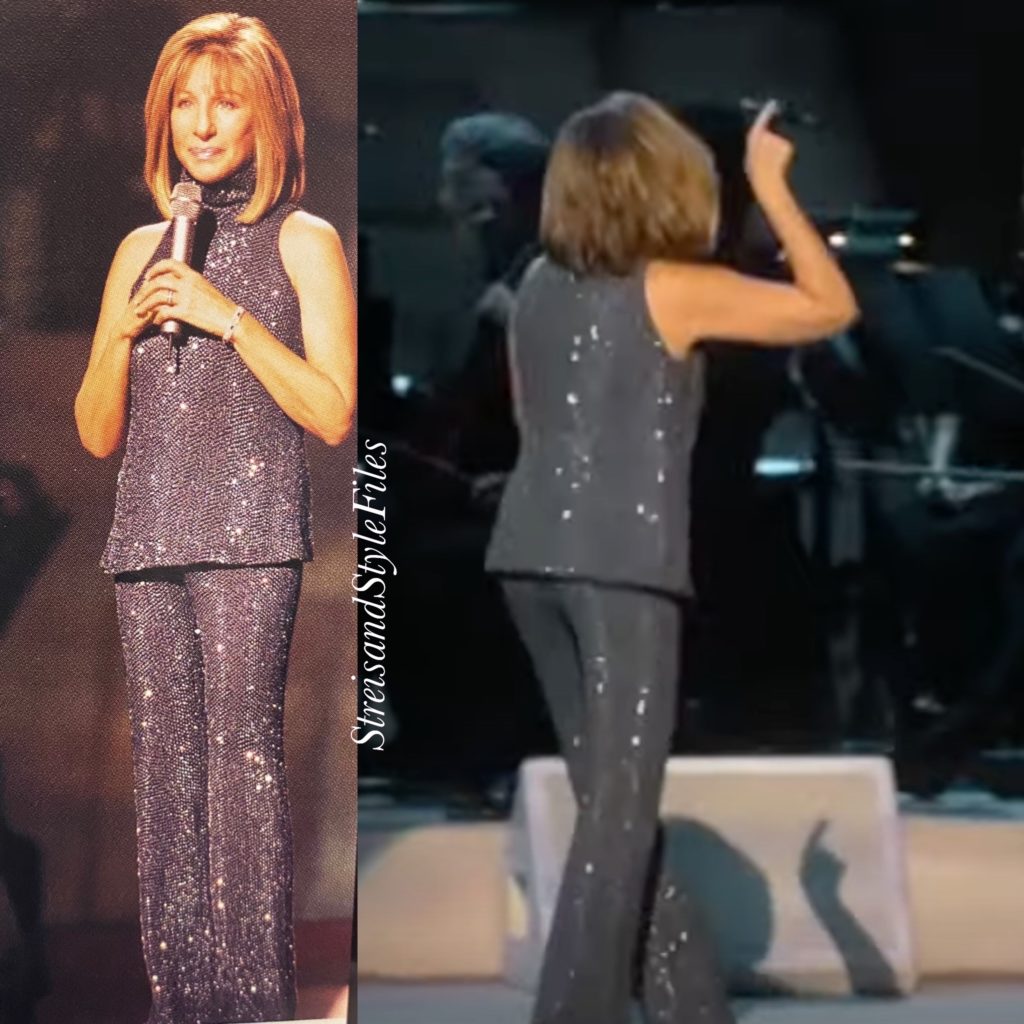 Several easy pieces were used as accessories to this outfit during act one. For Cry Me a River during the Bon Soir segment a lush velvet silver shawl was added (later changed to a copper beaded shawl to match the replacement outfit). Barbra draped this over her side table when she was finished wearing it. The copper shawl used in the latter run of the show was sold as part of a set of three at a Julien's 2009 auction for $2,500.00.
A jacket reflecting the design of the secretary dress worn in I Can Get It for You Wholesale was worn briefly while Barbra sang Miss Marmelstein.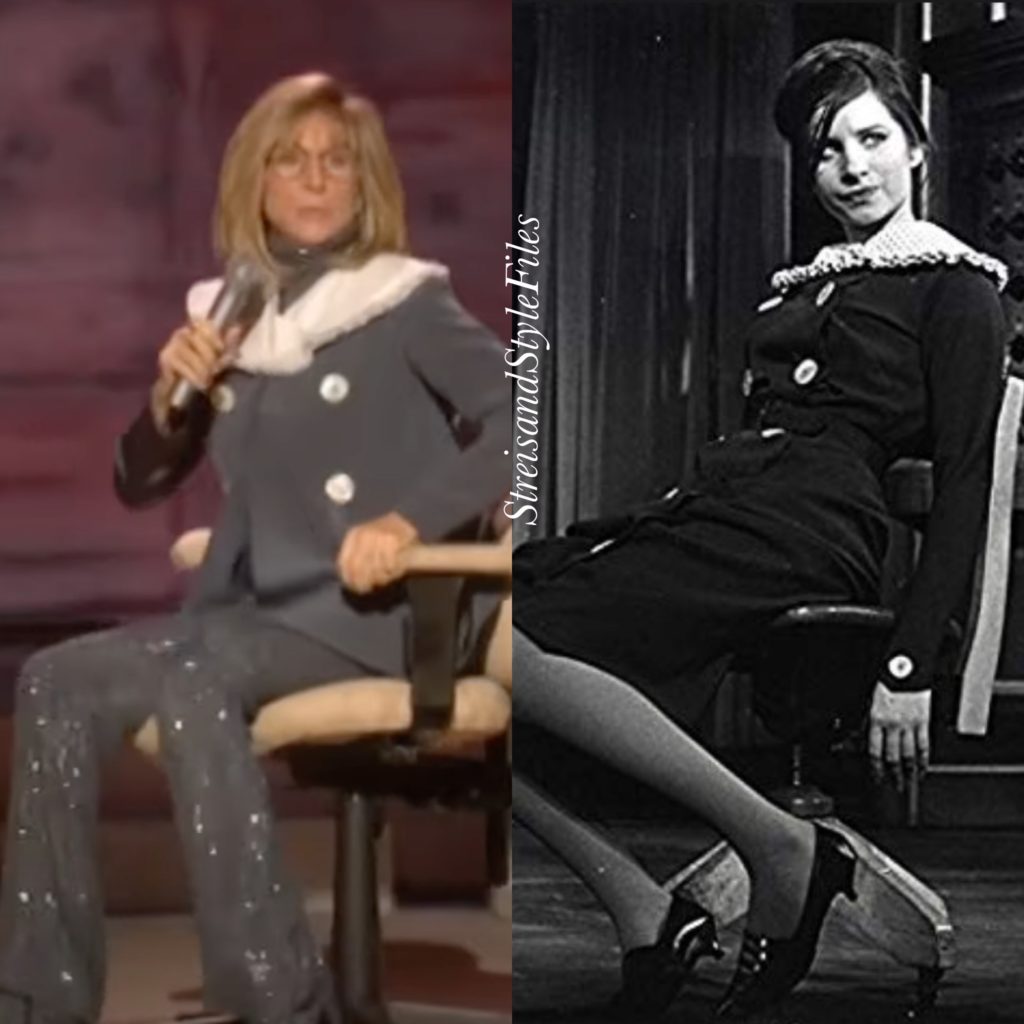 A grey fur stole was also worn to add a playful touch to the Second Hand Rose number. It is clear that these accessories, in addition to Lauren Frost's costume as young Barbra were all color-coordinated to match the initial grey outfit. 
Timeless was a massive success. The first two special "Millennium" shows took place on December 31, 1999 and January 1, 2000, at the MGM Grand Garden Arena in Las Vegas. These were followed by eight more shows in Australia, Los Angeles, and New York. The concerts played to over 200,000 people and grossed $70 million. The DVD release in February 2001 was equally as successful, debuting number 1 on the Billboard top music video sales chart. This retrospective production was very well done and to this day feels like a love letter to fans. While Streisand's simple streamlined outfit design for act one was a popular Y2K style, it could easily transition to current fashion. Just like the concert title, it remains timeless. 
Read more about other Timeless costumes below