"Timeless" Concert Burgundy Gown
Barbra Streisand designed all of the outfits for her Las Vegas, New Years Eve "Timeless" concerts, and the following eight show run. (Dec 31, 1999- Sept 28, 2000). This memorable flowing gown and cape appeared in a photo shoot by Firooz Zahedi, paired with a Peridot diamond necklace, and onstage in Act Two of the concert paired with a garnet teardrop choker. This gown featured Barbra's signature style elements-off the shoulder, and empire waist. The look was not worn for the entire run of Timeless. Barbra changed her Act Two costume as the shows progressed. This empire waist gown was made from Burgundy silk taffeta, which gives it a crispness and rustle as well as it's soft sheen. There is ruching on the elbow length sleeves and drape collar, with gathering at the bodice.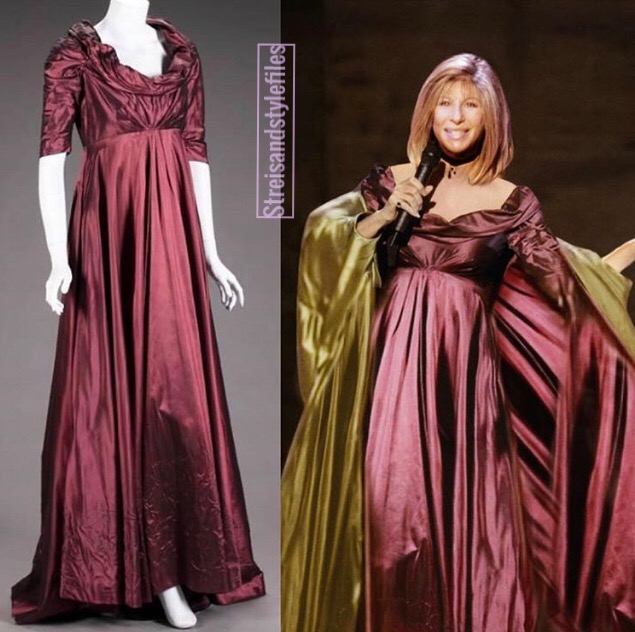 The dress has zipper, hook & eye closure. The matching, flowing gathered cape was made from silk taffeta in lime cream and was lined with burgundy taffeta to match the gown. The bottom of this gown features filigree style embossments. This texture and pattern is continued in various places on the cape. A separate crinoline hoop was worn underneath the dress to give it volume. This gown (without it's cape) sold at auction in 2004 for $6,600.00 USD.