Timeless concert gown and cape, designed by Barbra Streisand
"It's the biggest New Year's Eve of your life, spend it with someone you love" touted advertisements for Barbra Streisand's Timeless Millennium concert. As she had done so many times prior in her career, Streisand designed all of her stage outfits for her 1999/2000 Timeless concerts. This gown and cape were undoubtedly the most dramatic and eye-catching look from the Las Vegas shows. It was stunning from afar, however, what makes it truly special are the incredible embossed details throughout.
Streisand wore this exquisite ensemble during act two of her special Millennium shows at the MGM Grand in Las Vegas, but it was not worn for any of the additional eight concerts. The detail work on the cape and gown is best captured in the gorgeous photos by Firooz Zahedi that are featured in the Timeless CD booklet. The back of the booklet features a photo showcasing the versatile cape worn as a wrap to frame Streisand's stunning peridot and diamond necklace.
Threads of Streisand's style began early in her career and it is easy to see how they weaved the textiles that became her life's vibrant fashion story. This lush burgundy gown features two signature Streisand style elements; an off-the-shoulder neckline and empire waist. It was made from silk-taffeta, which helps to create its crisp appearance in addition to adding a slight sheen onstage.  The elbow-length sleeves feature ruching throughout, and the neckline's focal point is a beautifully structured and draped collar. The hem of the skirt features delicate flora embossments which climb upward about 10 inches before disappearing. There is a zipper, hook and eye closure at center back. 
Accompanying this gown was a peridot-colored silk-taffeta cape. The inside is fully lined in burgundy silk-taffeta to accentuate the gown. There are 3/4th length sleeves and a voluminous gathered cape collar with a single fabric-covered button on the upper left. The entirety of the cape is decorated with flora embossing that reflects the embossing at the bottom of the gown.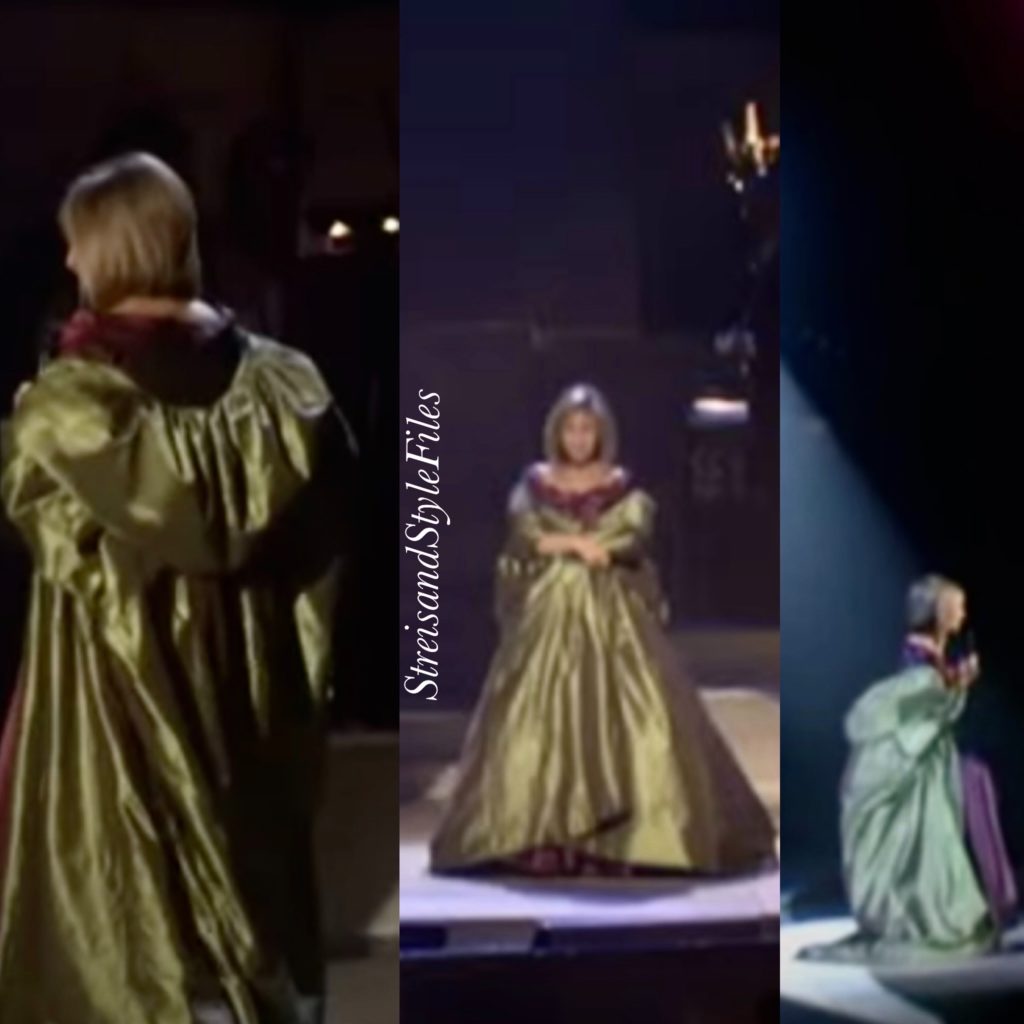 Streisand wore a matching burgundy taffeta choker for the concerts which had a centerpiece of four delicate dangling garnets.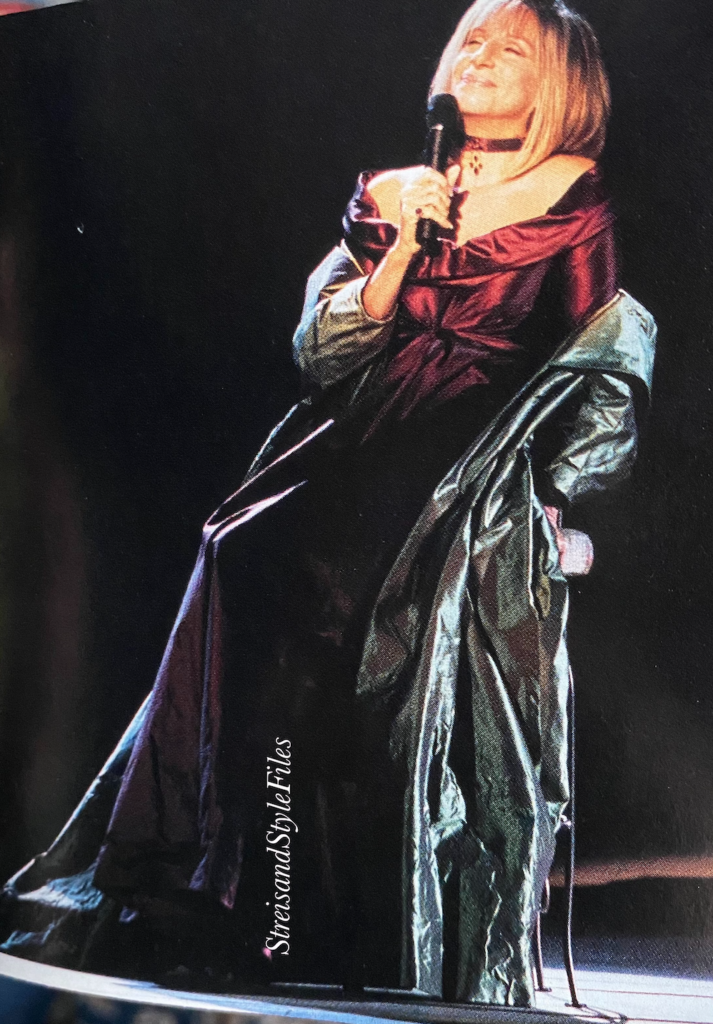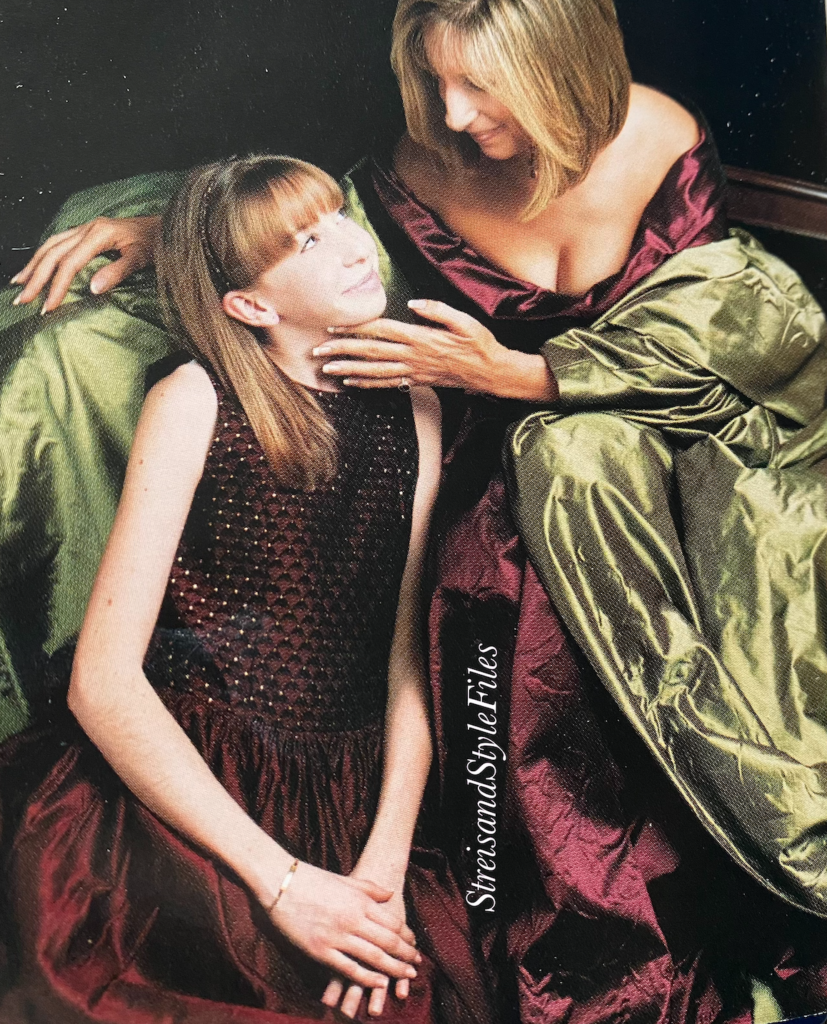 The Regency period inspirations in this outfit are very apparent, and as always, Streisand managed to blend a modern touch into her historic inspirations seamlessly.
The burgundy gown (without its cape) was sold at Julien's auction in 2009 for $6,875.00.