Timeless LA and NYC act two black sequin skirt set
Barbra Streisand replaced her ethereal, white act two gown with a black, sequin, skirt-set for her Timeless concerts in Los Angeles and New York. This last set of four shows took place from Sept 20-28th, 2000.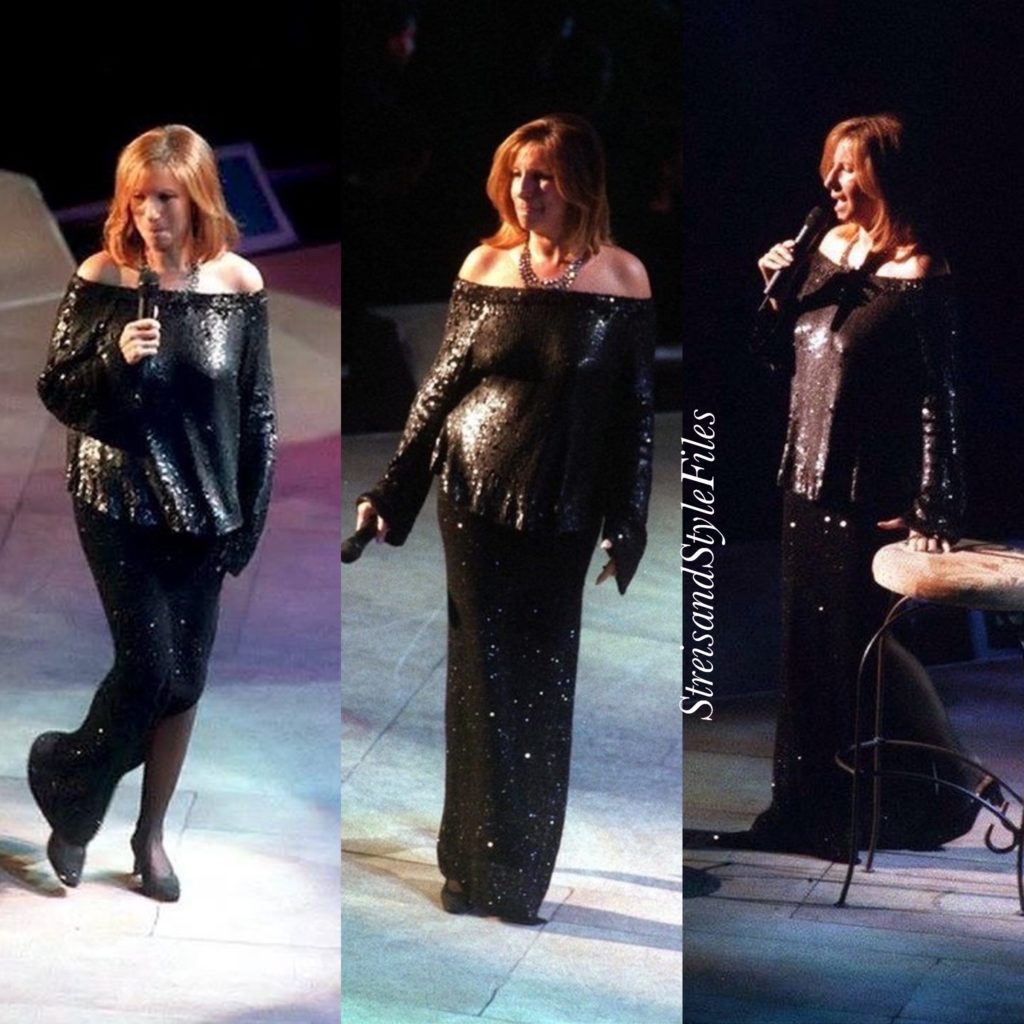 Since these concerts took place an entire six months after Timeless had been performed in Las Vegas, Sydney, and Melbourne, it is easy to see why Barbra was probably craving a fresh look. Given the outfits for the first half of the tour were designed by Streisand, it is very likely that she designed this look as well, though this is not confirmed.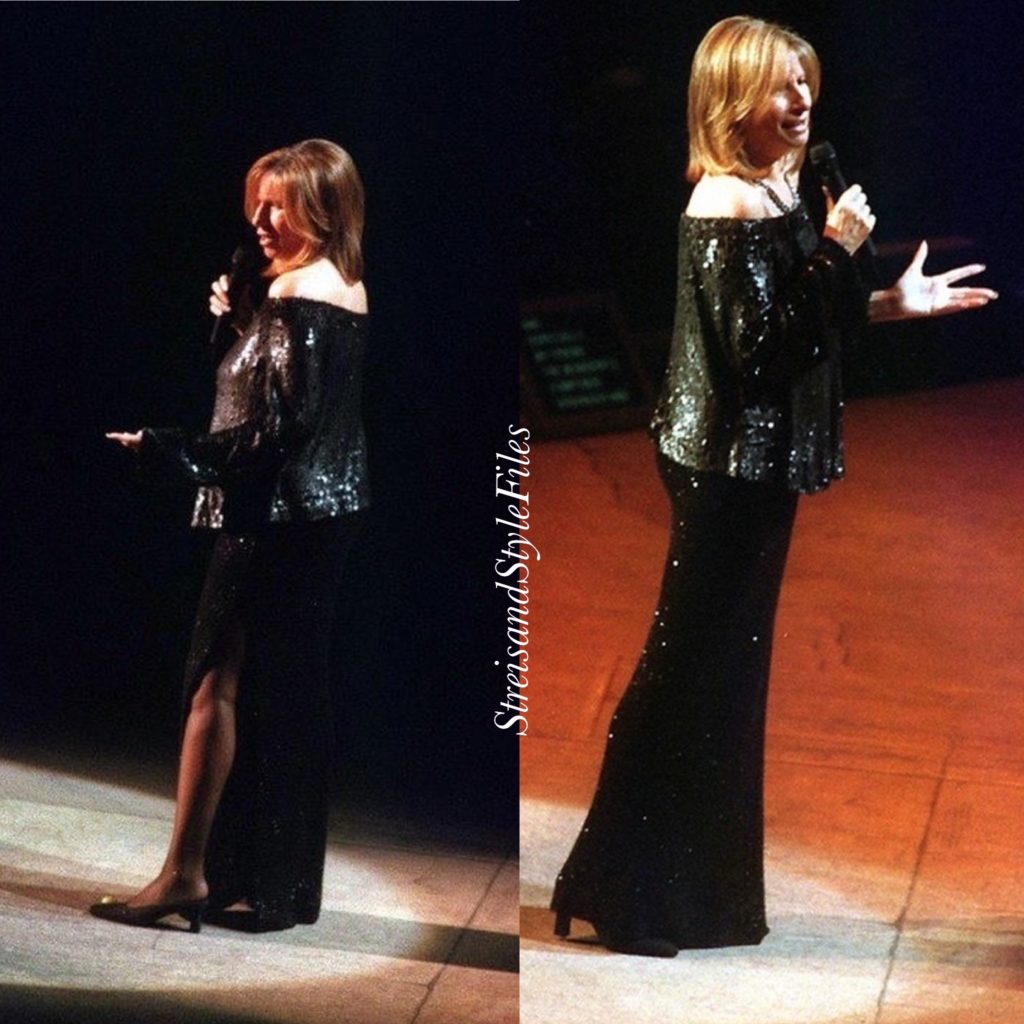 This shimmering black outfit is completely attuned with Streisand's style. It features her favorite off-the-shoulder cut, and a fitted pencil skirt with a slit up the left side, which, as fans know has been a signature element of her fashion aesthetic since the 1960's. The top features elastic trim around the shoulders and is streamlined in the back with much looser, longer cascading fabric at the front. There is noticeable ribbing at the hem that creates a pretty, ruffled appearance and ads some texture. The sleeves are very long and bell out slightly at the wrist, with the hem touching well past Streisand's knuckles.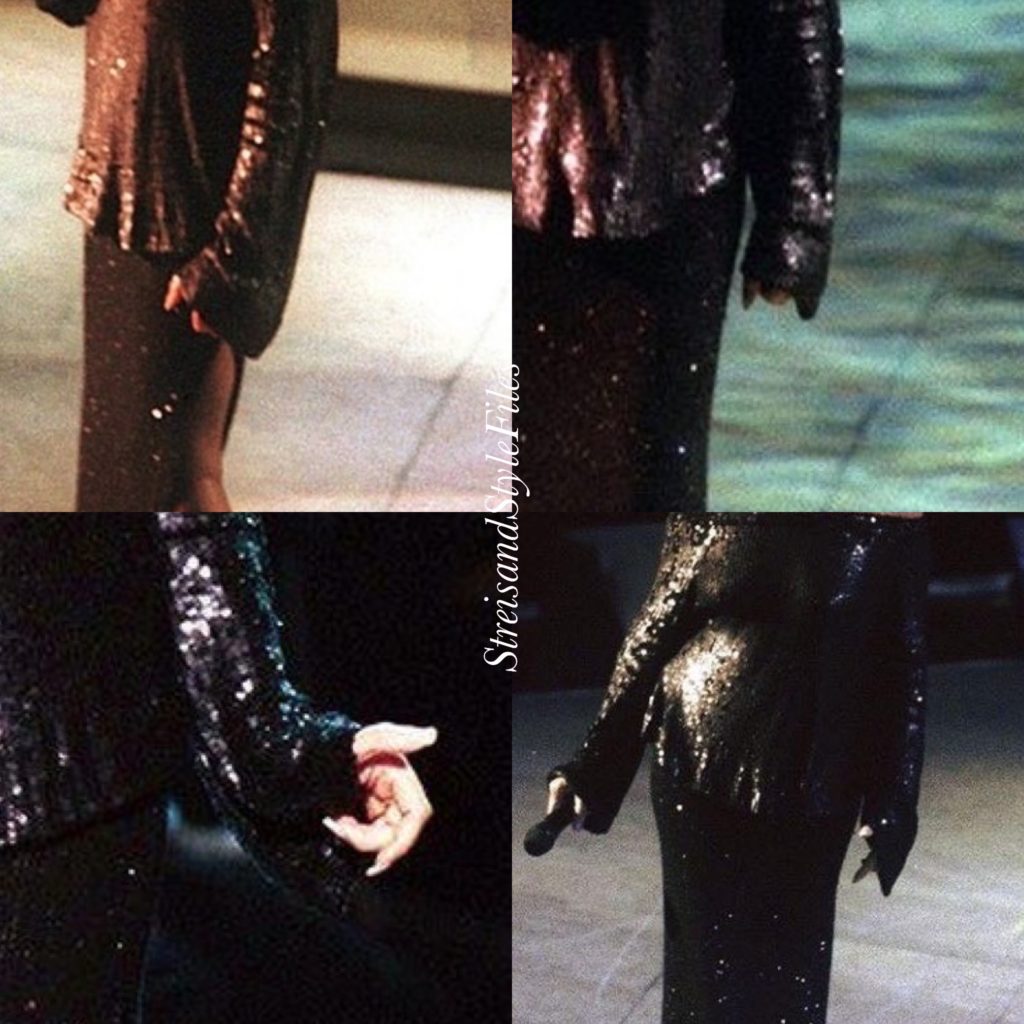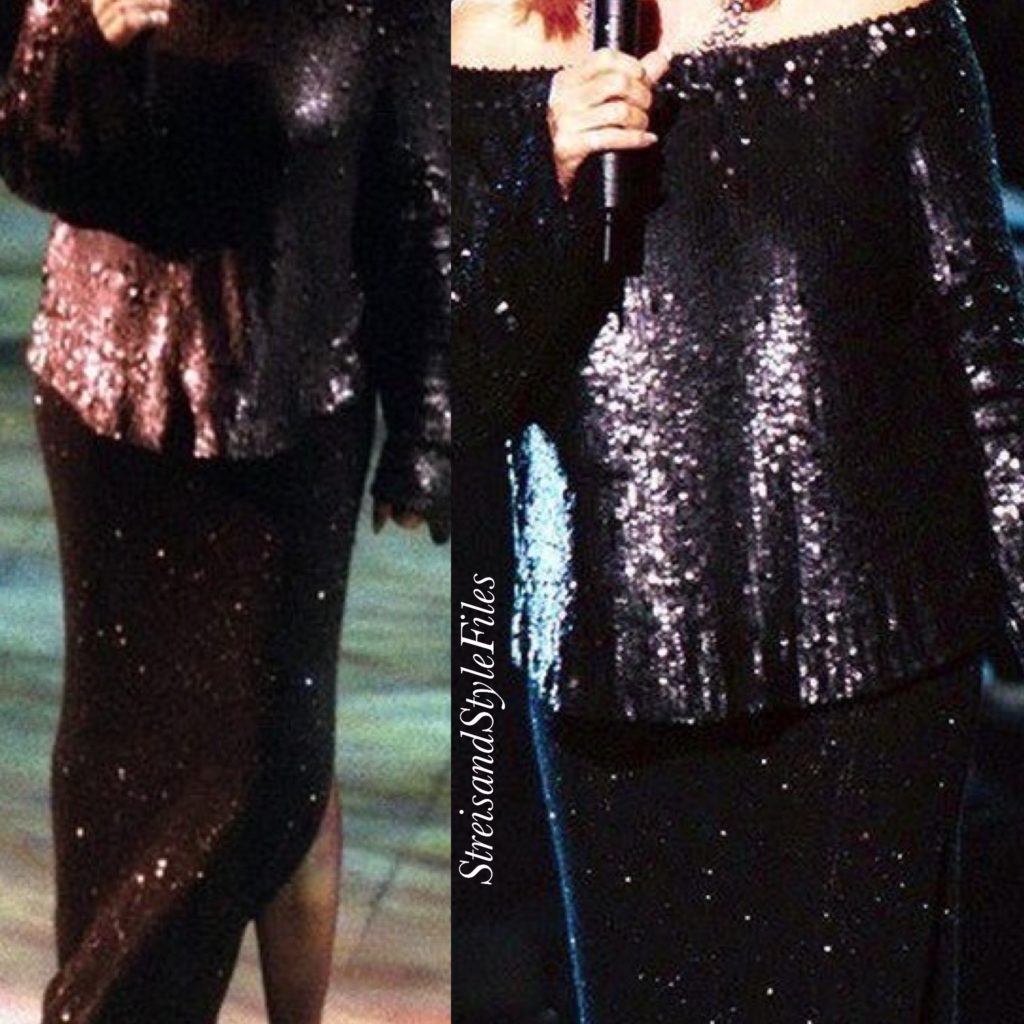 Streisand accessorized this look with simple black block heels and her exquisite three-strand, Georgian, collet diamond necklace. If this piece looks familiar it is because Streisand has worn it in The Prince of Tides, while performing at Bill Clinton's Inaugural Gala in 1993, to the 2018 Golden Globe Awards, and to a state dinner at the White House in 2011.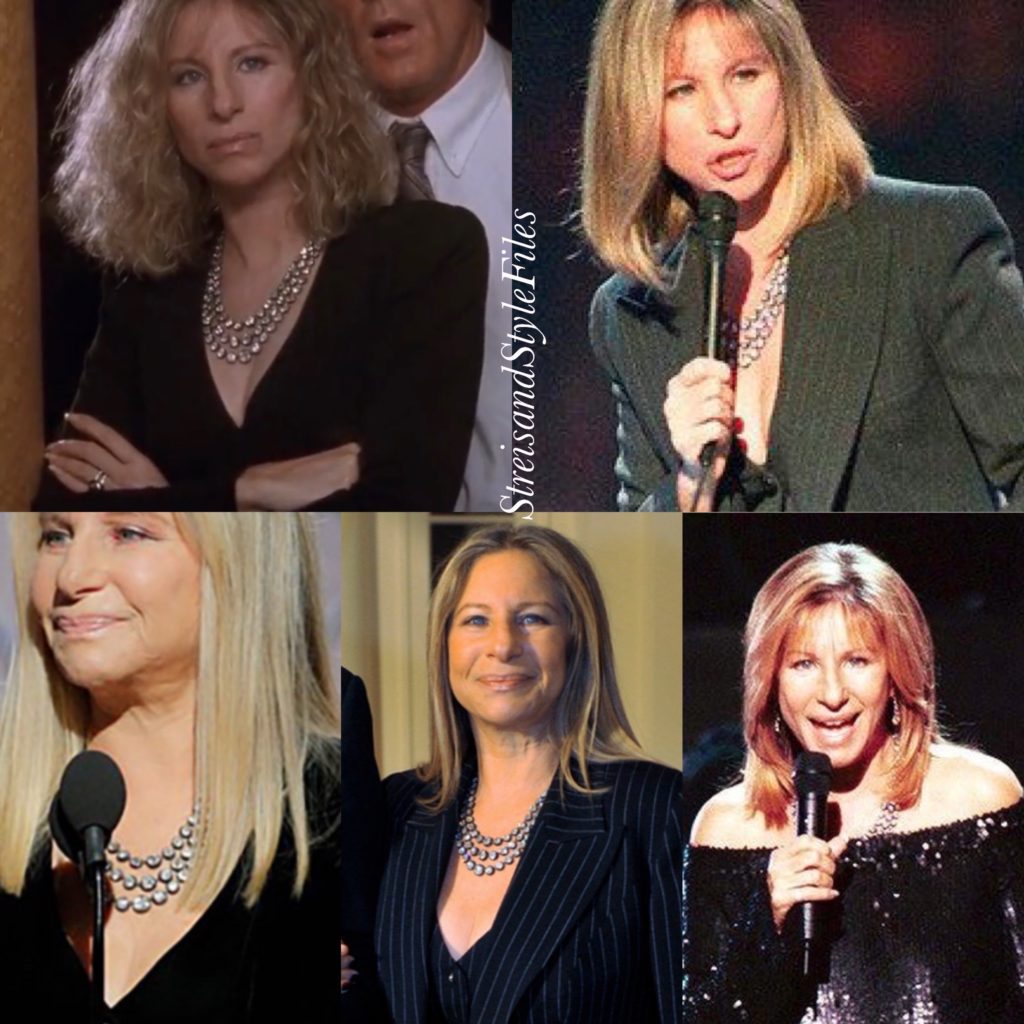 Christian Dior is often credited with making the pencil skirt famous through his 1954 H collection (though streamlined figure-hugging skirts had certainly been worn prior.) In earlier years, Dior was experimenting with creating new shapes for women, and the pencil skirt was a complete 180 from his iconic full-skirted "New Look". Dior streamlined his skirts with a focus on drawing the eye to the hips instead of the waist, and this fresh silhouette was universally flattering on women of all body types. The skirt's hemline fell just below the knee and forced women to walk with a sort of wiggle, leading to the name "wiggle skirt." The pencil skirt exploded in popularity when it was worn by Marilyn Monroe, Audrey Hepburn, and Grace Kelly. Eventually, slits were incorporated to make the skirt more wearable and walkable. Today the pencil skirt remains a wardrobe staple, and is one of the few pieces of fashion that can walk the line between sexy and business wear.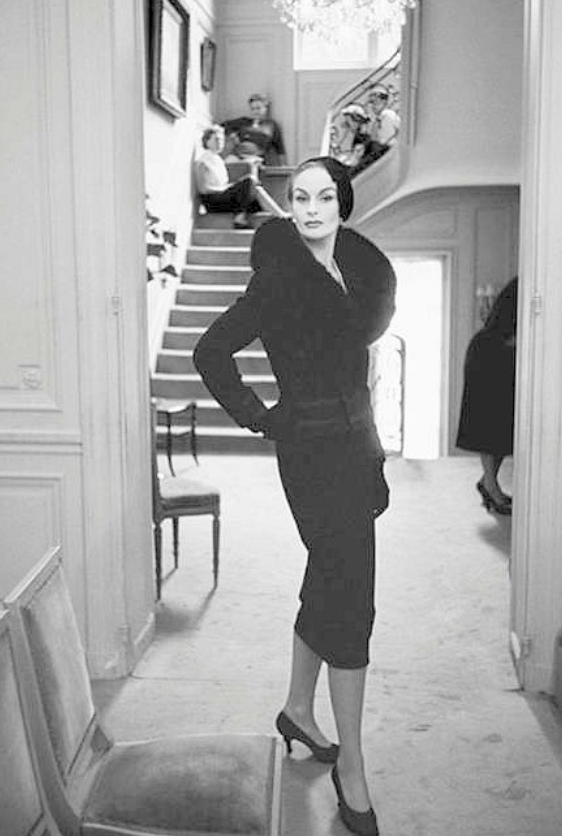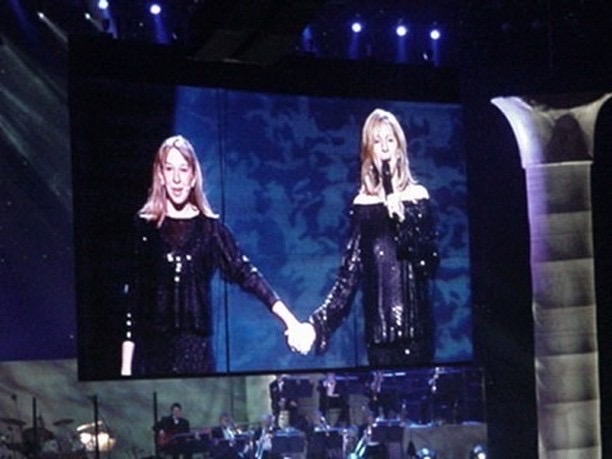 Streisand's black sequined ensemble was certainly elevated by having a fitted pencil skirt in contrast to the cozy, baggy top. This look feels like she was trying to go for personal comfort while also trying to give the fans a pop of something showy. Though it is fairly simple, the outfit still undeniably has Streisand written all over it.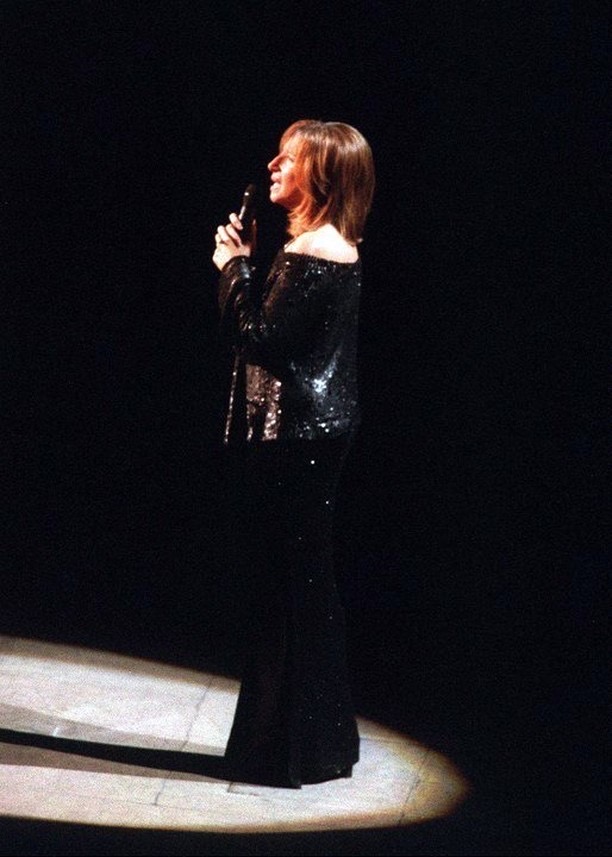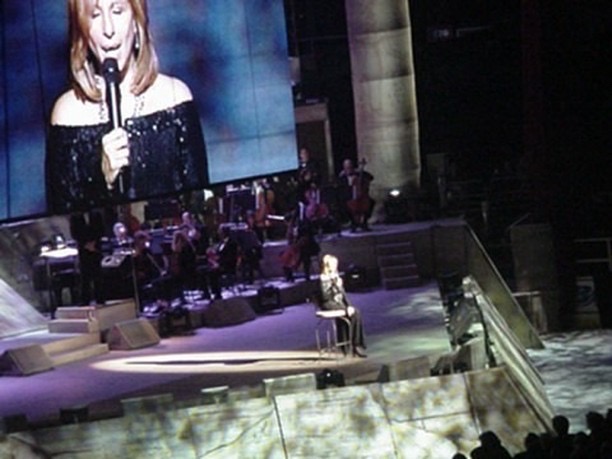 Read about more Timeless fashion: