Timeless Sydney, Australia show in Akubra and Driza-Bone
Barbra Streisand was forced to switch up her Timeless act two gown due to rainy weather during her March 10, 2000 concert at Sydney Football Stadium. Though her first show had been postponed by one day due to inclement weather, this one went on as planned with Streisand and her audience getting rained on throughout. Practicality was a priority with a potentially slippery stage, so this look featured comfy rubber black sneakers with simple boot-cut black pants and a matching sleeveless turtleneck. This style was a favorite of Streisand's around this time period. She wore a silver sparkling version of this look in act one of Timeless and has also worn the style on screen, both in 1970's The Owl and the Pussycat and 2004's Meet the Fockers.
In a lovely nod to her local audience, Barbra topped off her look with a brown Driza-Bone rain jacket and Akubra hat. These are two very famous and classic Australian brands. She made sure to roll her cuffs and slouch the coat off her shoulders during the show to give it a more fitted and fashionable aesthetic. This created the perfect "cold shoulder" effect, which is a Streisand trademark look.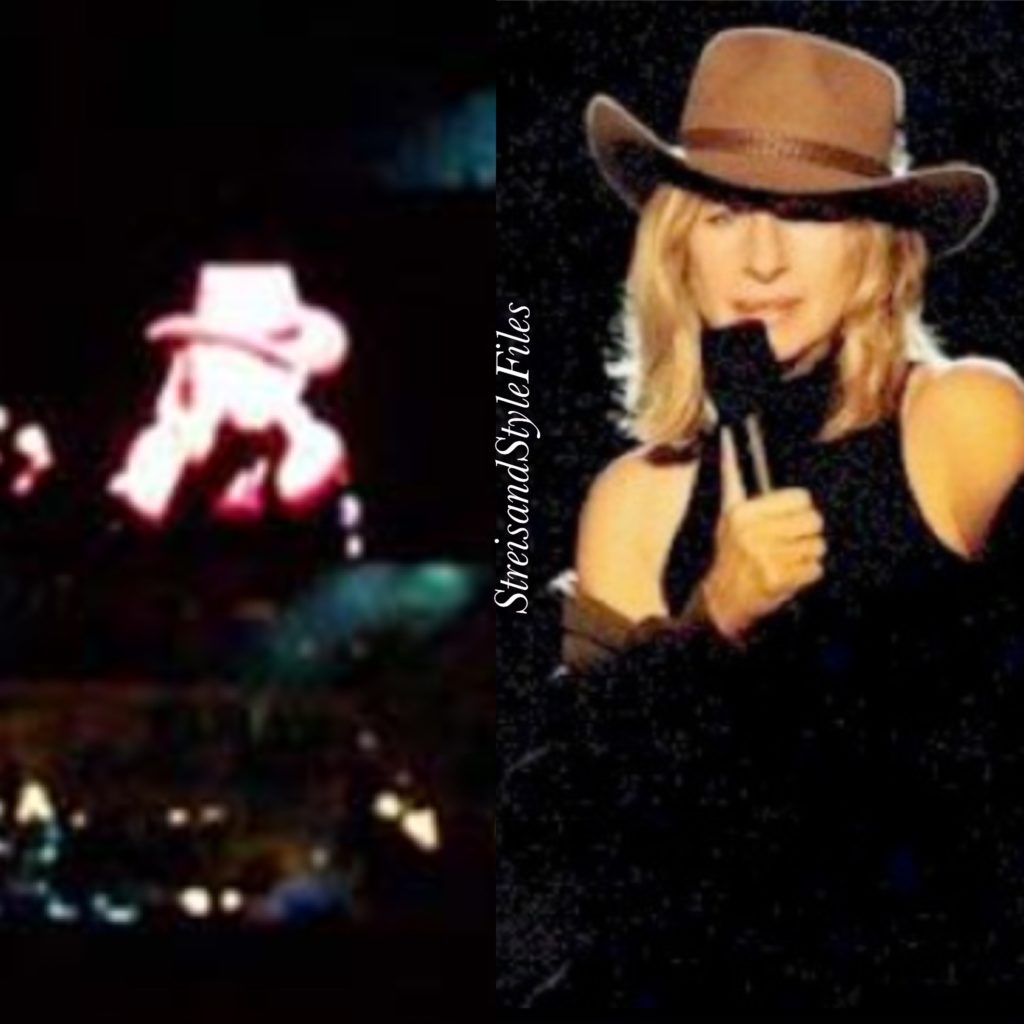 A photo of Barbra in this outfit appears on the back of the special promotional Timeless CD single "Come Rain or Come Shine", which was appropriately recorded during the rainy March 10, 2000, Sydney concert. In a note next to this photo Streisand recalled how weather interfered with her shows, stating "When I arrived in Sydney, Australia, it was raining. The next night I was supposed to perform, but it was raining, so we canceled the show. Even though it was still raining the next night…I had to go come rain or shine, hence, this song seemed so appropriate. It was a sight to see the Prime Minister of Australia and 26,000 people in the audience, sitting in the open football stadium, wearing plastic raincoats! I wore an Akubra hat, rain gear, and rubber sneakers…dressed for the weather! I really was surprised and appreciative that everyone stayed for this final encore. G-day!, Barbra."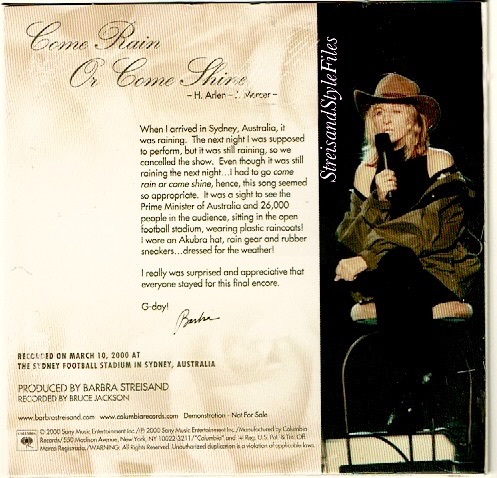 The history of Akubra hats goes all the way back to 1874 when a man named Benjamin Dunkerly moved to Tasmania from England to pursue hat making. Dunkerly was also a talented machinery inventor and aided his pursuit by creating the first-ever machine to have the technology to remove the hair tip from rabbit fur so the underfur could be used in felt hat making.
By 1911, Dunkerly moved his hat business to Sydney and began using the name Akubra a year later. Akubra hats became a part of Australian history when they were contracted to produce military slouch hats during WWI. This military contract continued ever since and armed forces slouch hats account for 80% of hats produced. Akubra hats have been made in a vast variety of styles over the years. Akubra has made hats for the Australian Olympic team numerous times since 1984. After Crocodile Dundee was released in 1986 the "the Croc" style accounted for 70% of sales.
Akubra hats are still made in Australia. Out of the current Akubra hat styles available, the ones that closest resemble the one Barbra wore onstage are the Avalon style in Hazelnut ($230) and the Leisure Time in Regency Fawn. ($210).
The Driza-Bone company has an equally interesting history. It began in 1849 when Emilius Le Roy moved from England to New Zealand, where several years later he established a sail-making business called E. Le Roy Limited. His sails were coated with innovative materials including beeswax and linseed oil which gave them incredible waterproofing. By the 20th Century, the business had been passed down to Edward Le Roy, who expanded it to make oilskin clothing for sailors. It was around this time that Le Roy met Thomas Pearson who had an idea to expand the business to a shop in Sydney, Australia. Because their clothing products were so durable they began to build a clientele of people who worked and lived in the Australian outback. In 1933 Pearson and Le Roy trademarked their "Driza-Bone" coat, which was adapted in design to accommodate horseback riding and harsh, dry, brush conditions. Today, the Driza-Bone website touts that "Driza-Bone has contributed to many key moments in Australian history, from moments of peril to moments of celebration. Oilskin tents made by the company sheltered the Anzacs at Gallipoli in 1915, while in 2007 George Bush, Vladimir Putin, and the leaders of 19 other APEC nations wore Driza-Bone when they gathered in Sydney."
While going through the current jacket selections, I did not find the exact jacket that Streisand wore in Sydney, however, a very similar current unisex style is The Whaler Jacket ($399.)
I love that Barbra incorporated these two local pieces into her impromptu look. She looked fabulous in her Outback style, and as always, proved that her voice can outshine any bad weather.
Read about other Timeless fashions below