Barbra Streisand's Top Ten Fashion Moments Of The Decade
Barbra has been going strong as a fashion icon since the 1960's. The 2010's proved to be no different. Here are my top ten favorite looks that Barbra served up this decade.
#10: 2010 In Kaat Tilley For Les Habitudes In Harpers Bazaar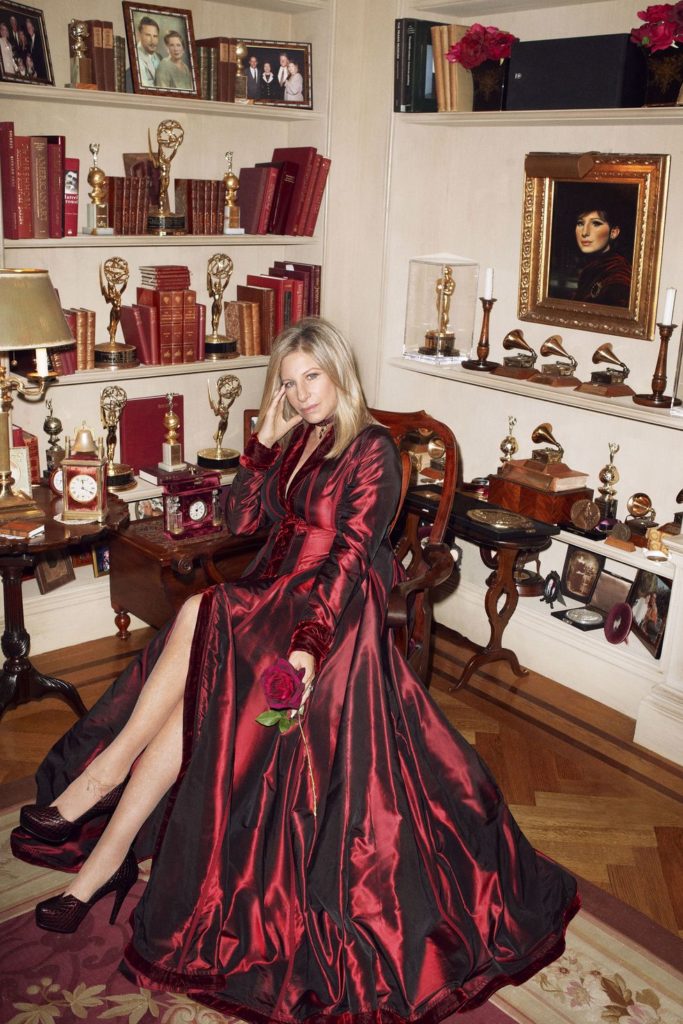 Barbra Streisand looked like a Queen in this garnet riding dress by Kaat Tilley for Les Habitudes for a Harpers Bazaar piece titled "Dream House" in Nov, 2010. This look was dramatic, classic and fresh, exuding so many of Barbra's favorite fashion elements. The way the color of the dress compliments the colors of the decor in her awards room makes this look unforgettable. Read more about this look here.
#9: December, 2016 In Michael Kors On The Cover Of W Magazine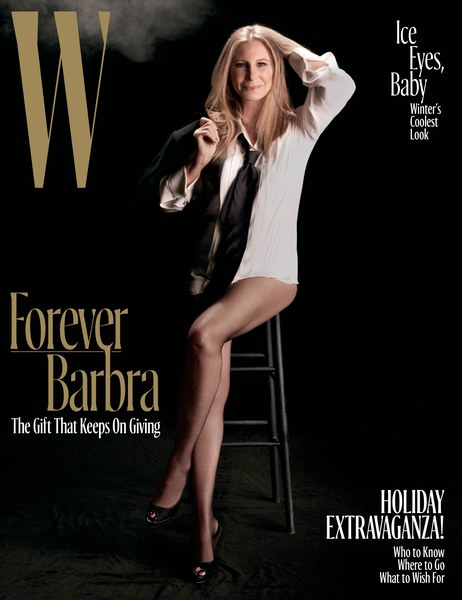 So, I know this look doesn't consist of a whole lot of clothing but hear me out. With the ageism and sexism that runs rampant in Hollywood it is a rarity to see a woman over the age of sixty in a skin baring look that oozes sex appeal on the cover of a magazine. This sassy cover broke boundaries and showed women everywhere age is just a state of mind. This look consisted of an Anne Fontaine black jacket thrown over Barbra's right shoulder, a Michael Kors Collection pleated French cuff blouse, a Georgio Armani black tie, Falke fishnet tights and Jimmy Choo peep toe pumps from Barbra's own collection. Notably, the shoot was styled by Edward Enninful who went on to become the Editor-in-chief of British Vogue. Read more about this look here.
#8: At The 2019 91st Academy Awards In Chanel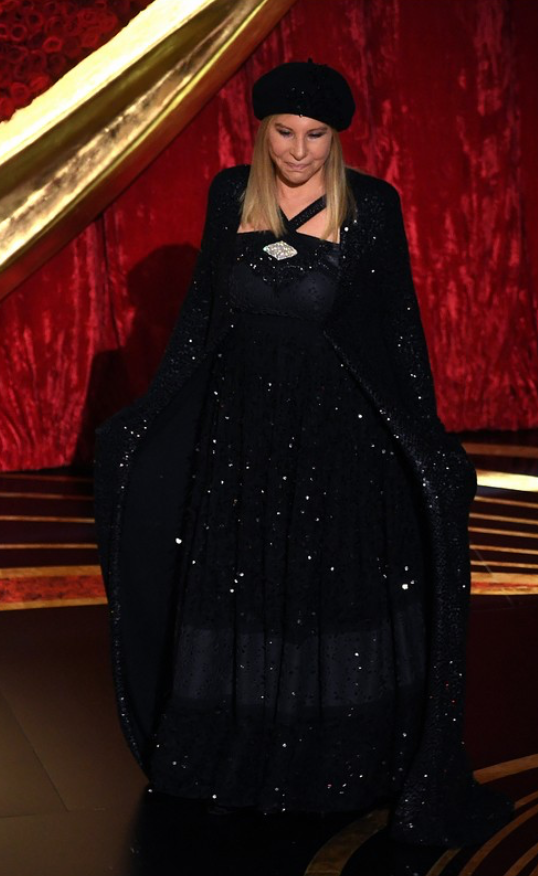 Barbra Streisand was draped in glistening Chanel and Donna Karan as she appeared to present the nominated film "BlacKkKlansman" at the 91st Academy Awards on Feb. 21, 2019.
This stunning gown made its debut in the Chanel 2011 Cruise collection show in Saint-Tropez, France. True to her personal style, Barbra had the bodice of this dress altered and added a fabulous brooch, a Donna Karan sweater and quintessentially Streisand beret. Read more about this look here.
#7: July, 2019 – British Summer Time Hyde Park Music Festival In Custom Zandra Rhodes
Barbra wore custom Zandra Rhodes for act one of her British Summertime show in Hyde Park for over 65,000 people, on July 7th, 2019. Barbra worked personally with Rhodes to co-design this vibrant look. Wearing this was a wonderful nod to one of London's most celebrated fashion icons. This look was whimsical, fun, and gave us 70's Barbra and Roz Focker vibes which were the perfect fit for this outdoor music festival. Read more about this look here.
#6: At The Tony Awards In June, 2016
Barbra looked the part as she presented the Best New Musical Tony Award to Hamilton on June 12, 2016. This momentous occasion marked the first time in 46 years that she had appeared on the award show. Her slit pencil skirt, vest and jacket combined with a vintage ruffled cravat and scalloped edge lace cuffs gave us classic Barbra with a Colonial twist.
#5: Back To Brooklyn And Barbra Live Tours (2012-2013) In Donna Karan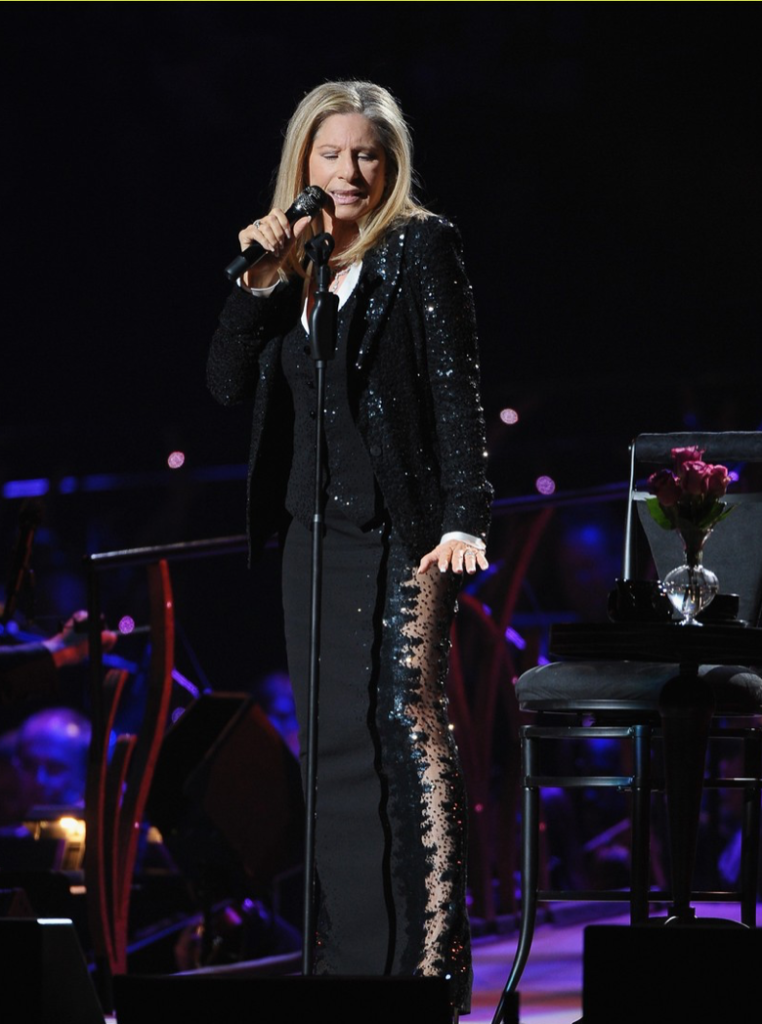 In another take on her favorite tailored three-piece suit, Barbra wore this striking black sequined Donna Karan ensemble during act one of her Back To Brooklyn and Barbra Live tours. This menswear inspired look and sexy burnout skirt along with a peek of a white top at the plunging neckline were perfection.
#4: In Thea Porter in 2013 And 2015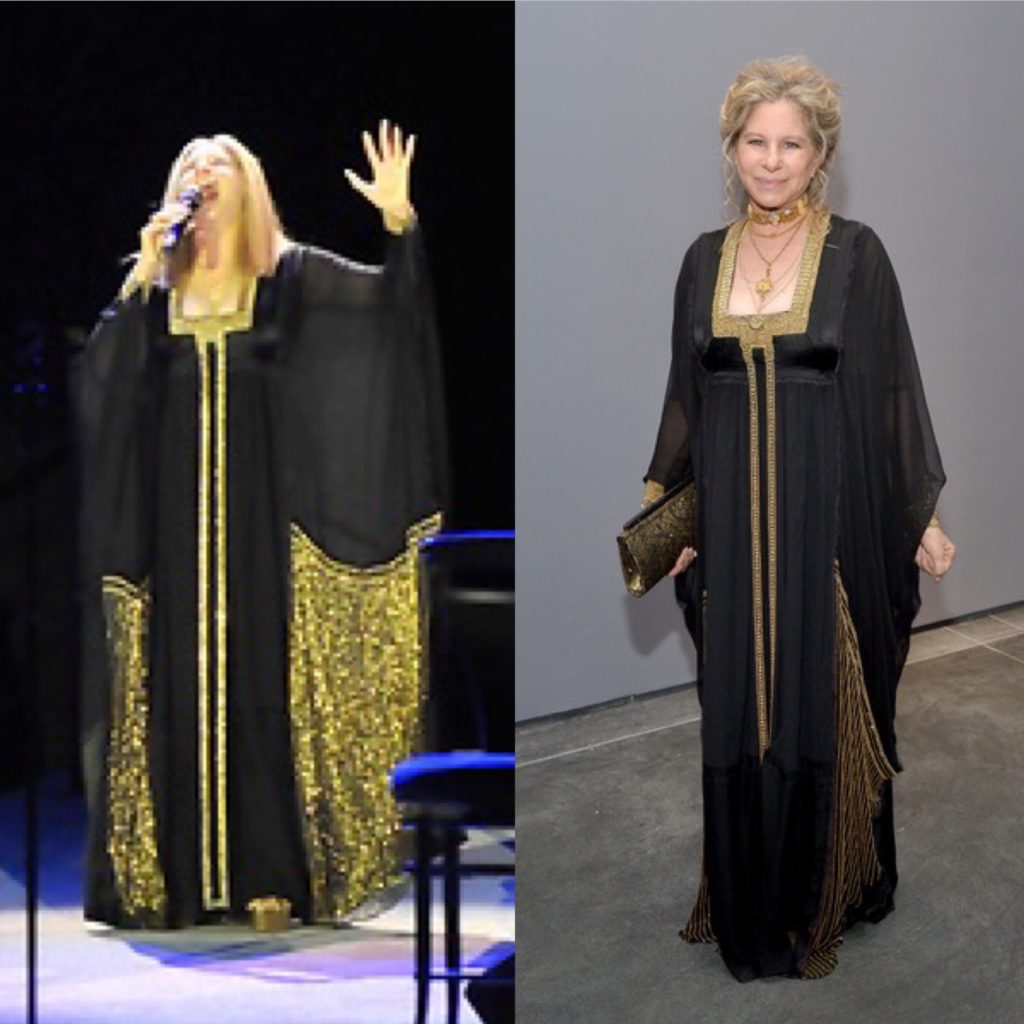 Back in the early 70's when Barbra was renovating her house in Malibu, she had gotten in touch with Thea Porter (who was dubbed the godmother of bohemian chic) and explained what every room was going to be like, and that she needed a different outfit to match each room. There is a good chance this stunning kaftan was one of these creations. Barbra wore this stunning black and gold ensemble during the last two performances of her Barbra Live tour in Tel Aviv, Israel in 2013 and again in 2015 at LACMA's 50th Anniversary Gala sponsored by Christies. Read about Barbra and Thea Porter's history here.
#3: The 2010 Academy Awards In Randolf Duke Couture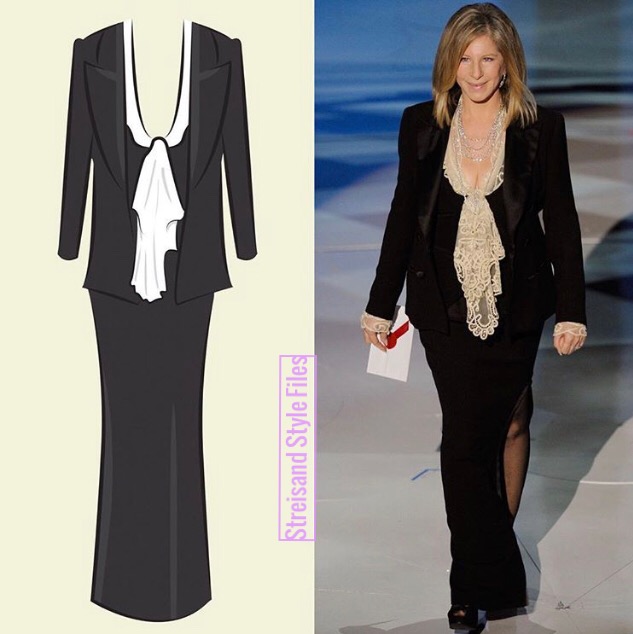 On March 7, 2010, Barbra Streisand wore this Randolf Duke couture tuxedo, paired with her own antique lace top as she presented the Oscar for Best Director to the first female ever to win this award-Kathyrn Bigelow. This elegant and powerful look was perfect for such a historic moment. Read more about it here.
#2: The Music…The Mem'ries…The Magic Tour In Custom Marchesa
Barbra Streisand wore this ethereal custom Marchesa gown for Act Two of "Barbra: The Music…The Mem'ries…The Magic". The tour ran from Aug 2, 2015 to May 6, 2017. 
Barbra co-designed this look with the help of Marchesa designers Georgina Chapman and Keren Craig. Regarding its creation, Barbra stated "For the second act, I redesigned a dress I saw on the runway. I know my own body and that's why I know what to show and what to disguise." This gown was absolutely stunning onstage and felt like the best of Barbra's past concert looks all rolled into one. Read more details about the look here.
#1: The 2013 Academy Awards In Donna Karan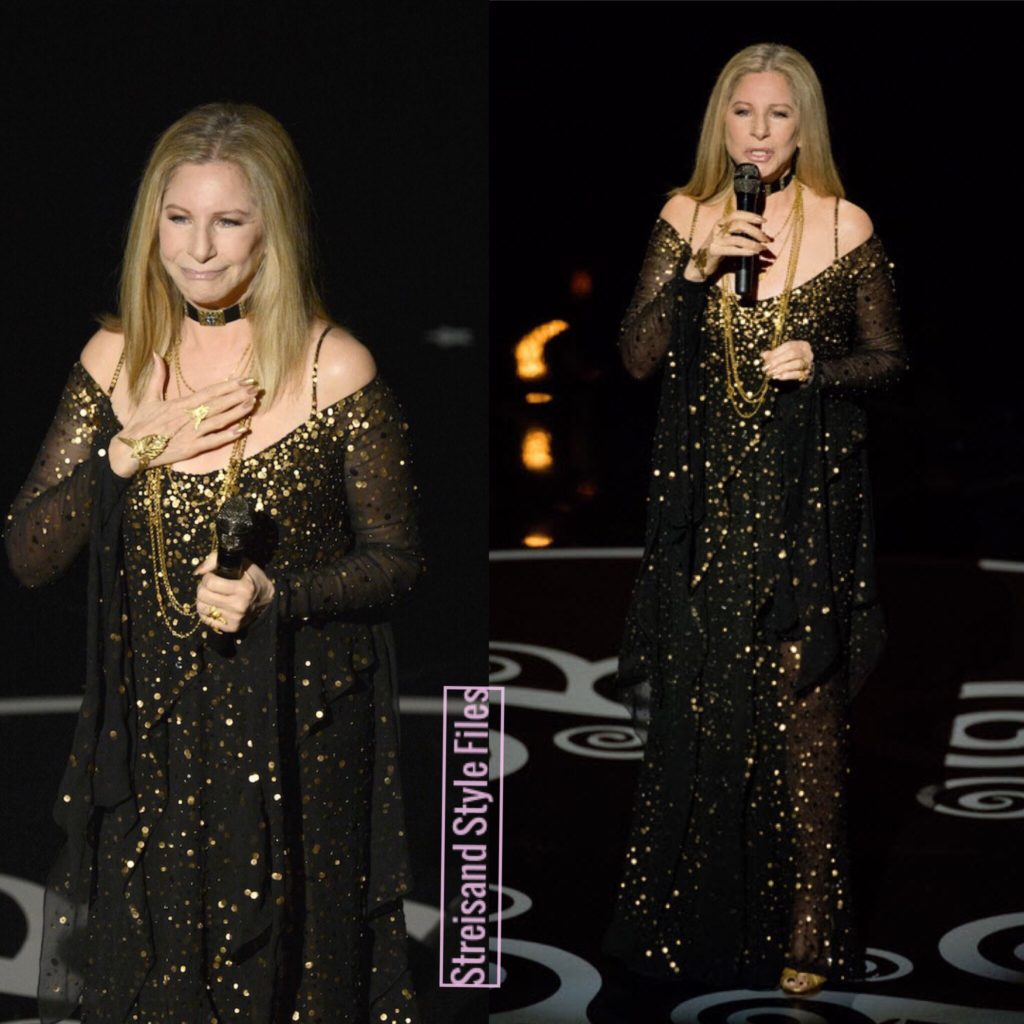 Barbra looked like a golden goddess in this custom Donna Karan gown which she wore to the 85th Academy Awards on February 24th, 2013. This marked the first time in 36 years that Barbra performed on the award show. The stunning, sheer, cold-shoulder gown not only showed off Barbra's amazing legs, but perfectly complimented her hair color and skin tone. The hand chain and layered gold strand necklace which completed this look added a youthful and edgy vibe. This asymmetrical gown was a design collaboration between Karan and Barbra. Karan stated "It was really a collaboration to celebrate her shining star. her lightness. That's why it's black and gold. And then when we saw the set, it was one of those things that rarely happen in life, it's very rare that you get that pull. And she just radiated." Karan named this gown "City Lights". Read all the details on this look here.
Honorable Mentions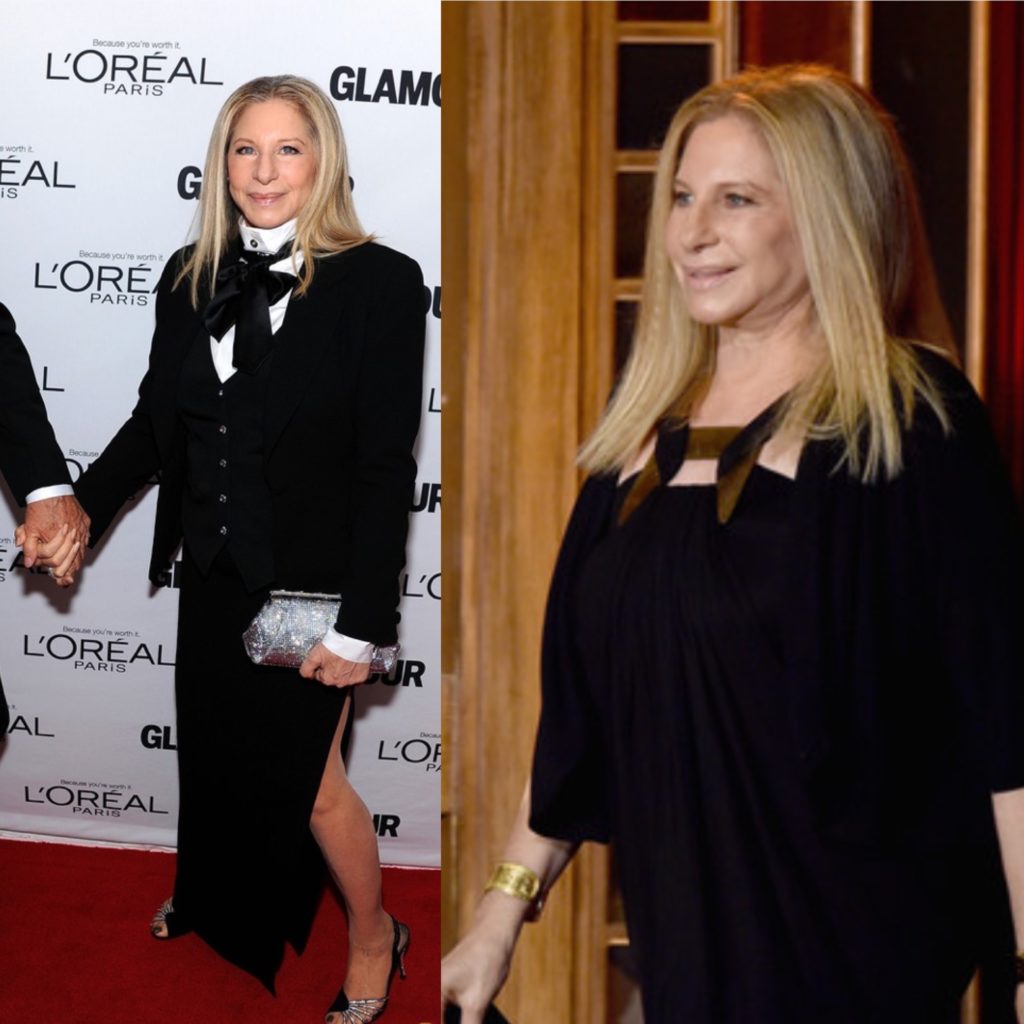 Two other looks worth nothing were Barbra's 2013 Glamour Magazine Woman Of The Year Awards suit which touted an eye catching pussy-bow, and her 2015 67th Annual DGA Awards streamlined black and gold ensemble.
Few stars have had as much decade-spanning staying power as Barbra Streisand. I can't wait to see what she has in store for us as we enter the 2020's.