Vogue August, 1965 in Rudi Gernreich
Barbra Streisand modeled this geometric knit Rudi Gernreich dress and matching stockings in the Vogue August 1, 1965 issue.
This issue featured the cover headline "The Young Chicerino, Her Kind Of Fashion, 75 Looks That Have The Knack" and featured British Actress Samantha Eggar on the cover. Inside, many young singers and actresses modeled the trendiest looks of the time, some of which included Claudia Cardinale, Geraldine Chaplin, Francoise Hardy, Julie Christie, Catherine Spaak. The women were photographed by a variety of photographers including Gordon Parks, David Bailey, Dennis Hopper, Bruce Davidson, Bert Stern and Franco Rubartelli. Barbra's three mod looks were shot by Irving Penn.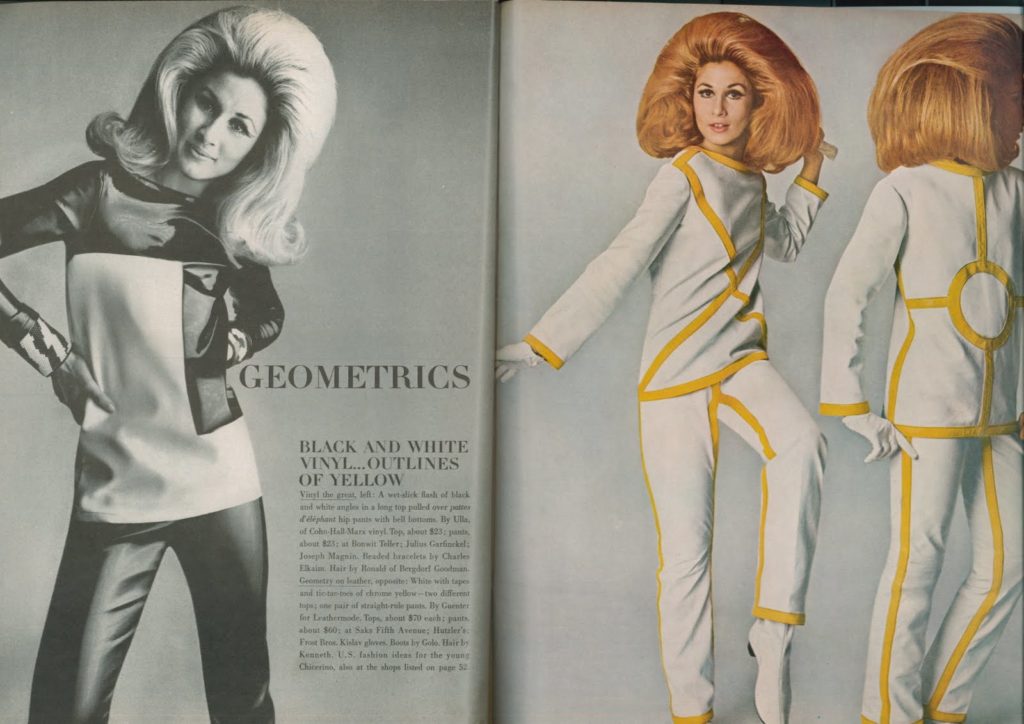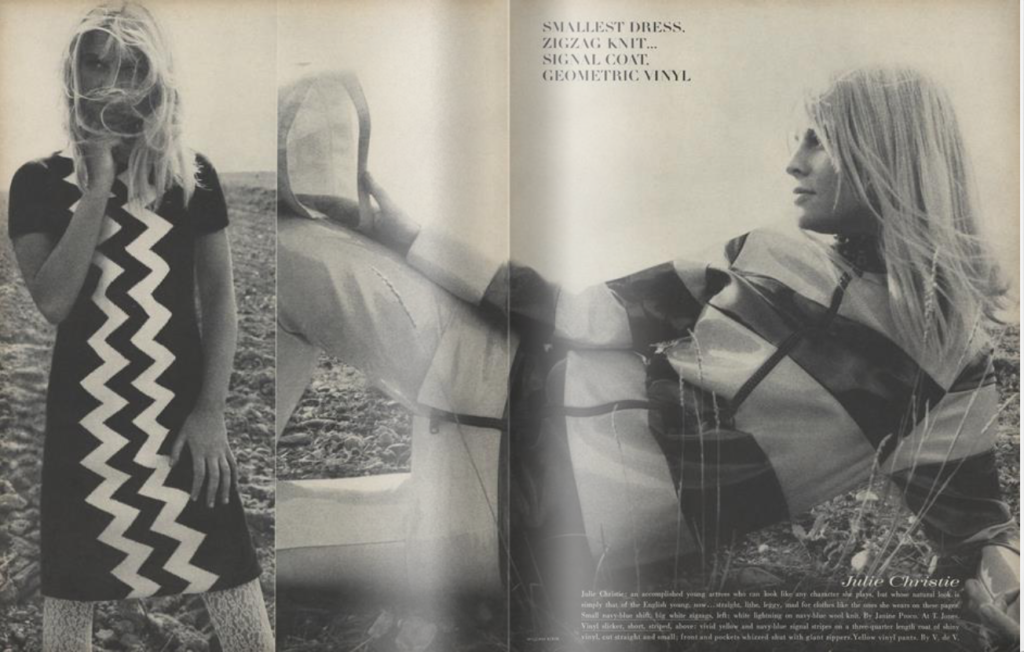 This was the second time Barbra was photographed by Irving Penn to appear in Vogue, following the December, 1964 issue. By this time her stardom was exploding and women everywhere wanted to emulate her evolving style. Barbra's four page spread began at page 66 with a dramatic profile shot in a white fur collar & white gloves, titled "Barbra-plus."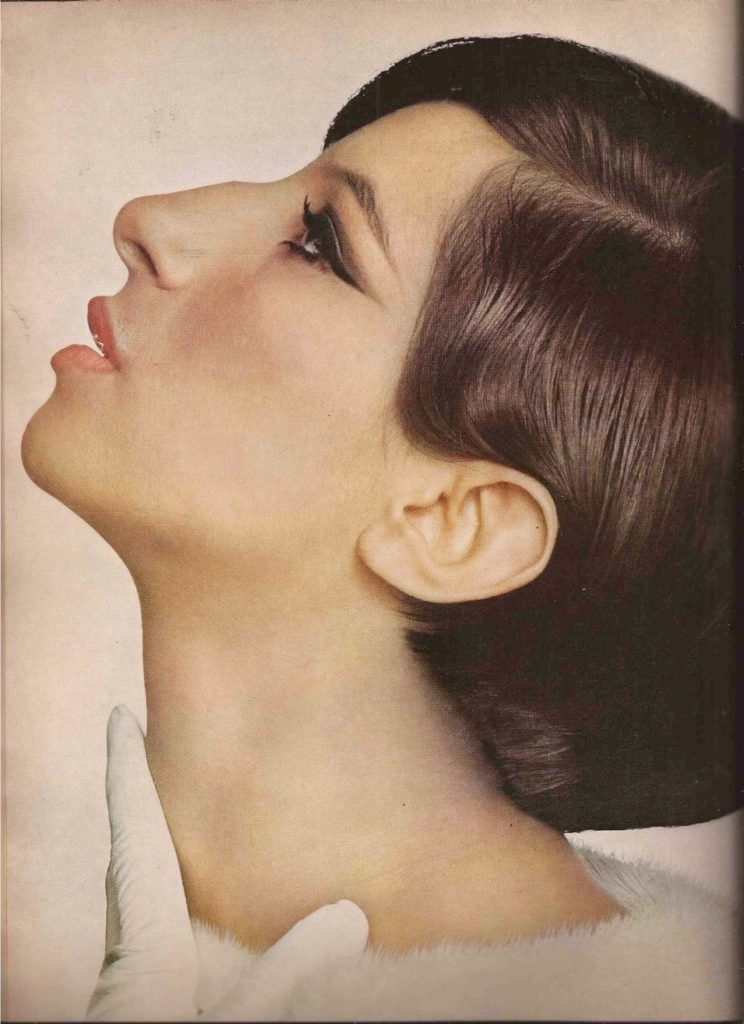 This striking green and black look appeared on the following page.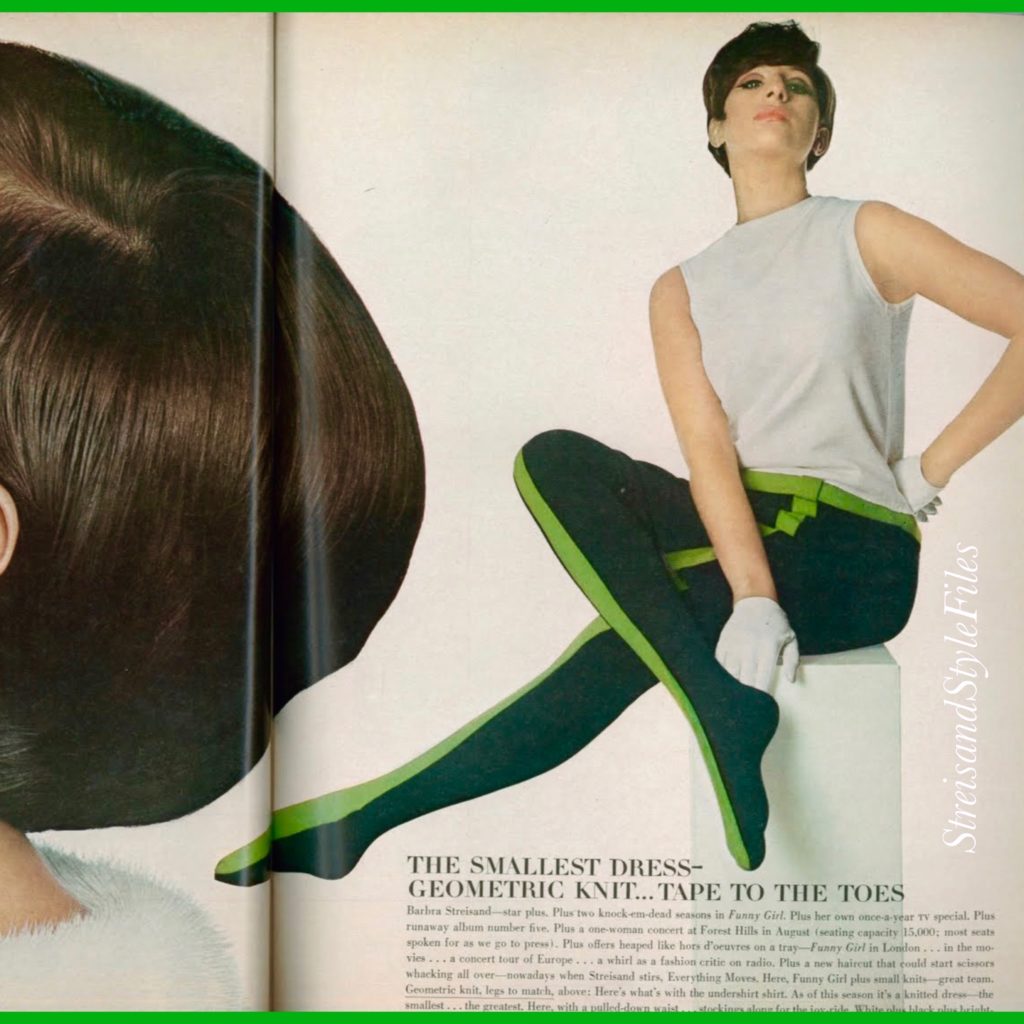 Beneath the photo, a caption read "Barbra Streisand-star plus. Plus two knock-em-dead seasons in Funny Girl, Plus her own once-a-year TV special. Plus runaway abum number five. Plus a one-woman concert at Forest Hills in August (seating capacity 15,000; most seats spoken for as we go to press). Plus offers heaped like hors d'oeuvres on a tray-Funny Girl in London..in them movies..a concert tour of Europe..a whirl as a fashion critic on radio. Plus a new haircut that could start scissors whacking all over-nowadays Streisand stirs. Everything moves. Here, Funny Girl plus small knits-great team."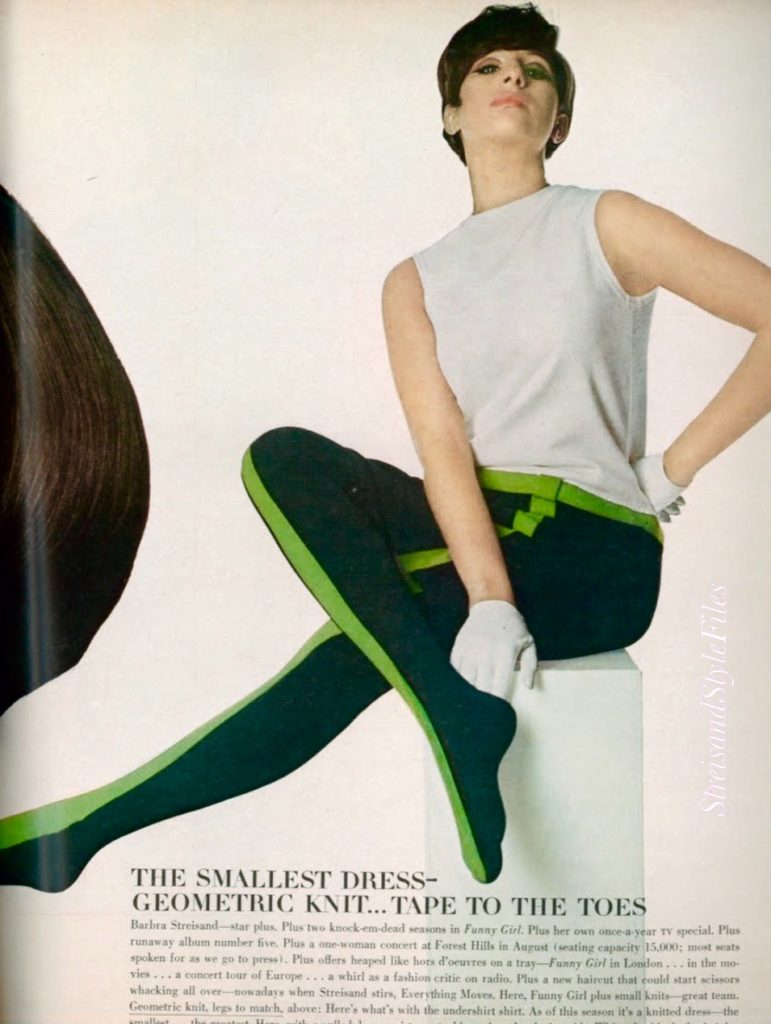 Vogue described the outfit worn in the above photo as: "Geometric knit, legs to match: Here's what's with the undershirt shirt. As of this season it's knitted dresses-the smallest..the greatest. Here with a pulled down waist…stockings along for the joy-ride. White plus black plus bright green laid on like boxers' tapes. By Rudi Gernreich for Harmon Knitwear, of double-knitted wool; dress about $40, stockings about $18. All:Lord& Taylor; Dayton's; J.W.Robinson. Grandoe gloves. Barber-shop cut: Frederick Glaser.
I love how in this pose the green and black stripes from the dress and stockings align perfectly giving the illusion of pants vs a dress. The third and fourth pages of this spread featured four photos of a youthful Barbra posing in green and purple color blocked, jewel neck shift dresses accessorized with adorable white gloves and short go-go boots. (Read about these looks by Kimberly here).  These were extremely trendy looks at the time. The Op Art and Pop Art movement of the 60's influenced both fashion and accessories. For women, it represented a sense of modern independence and fashion freedom. Colors during this decade were loud and bold. Fashion and accessory colors were designed to clash on purpose and create shock.
Barbra had first modeled Rudi Gernreich's designs in a September 1964 issue of Show Magazine. William Claxton who shot the photos fondly recalled in his memoir Photographic Memory how his wife (model Peggy Moffitt) helped Barbra learn how to pose on set by striking a pose beside the camera for her to copy. "We had a lot of fun, and Barbra was brilliant; she was like a sponge." he recalled. Moffitt was a muse of Gernreich and modeled many of his iconic designs. She was seen modeling this exact outfit as she posed with Rudi Gernreich for LOOK magazine in 1965.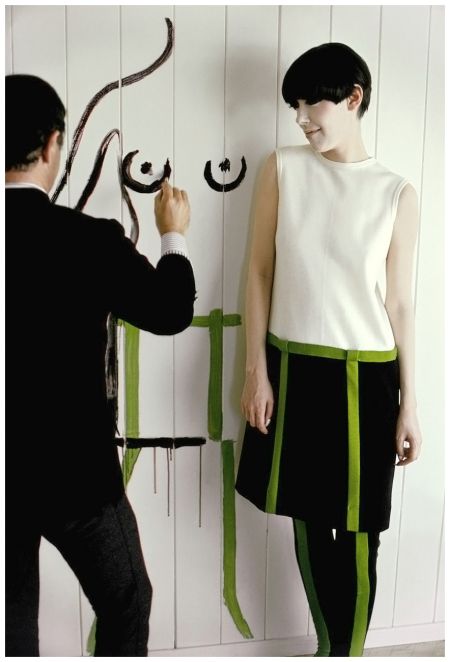 Barbra would appear in Rudi Gernreich once again in the January 1970 edition of LIFE Magazine. She had recently made the transition from her famous bob hairdo to a chic short cut envisioned by Frederick Glaser who also styled her hair for this shoot. Her bangs, always parted to the right, had a bit more body and curl to them here in contrast to the sleek straight way she often wore them during this period.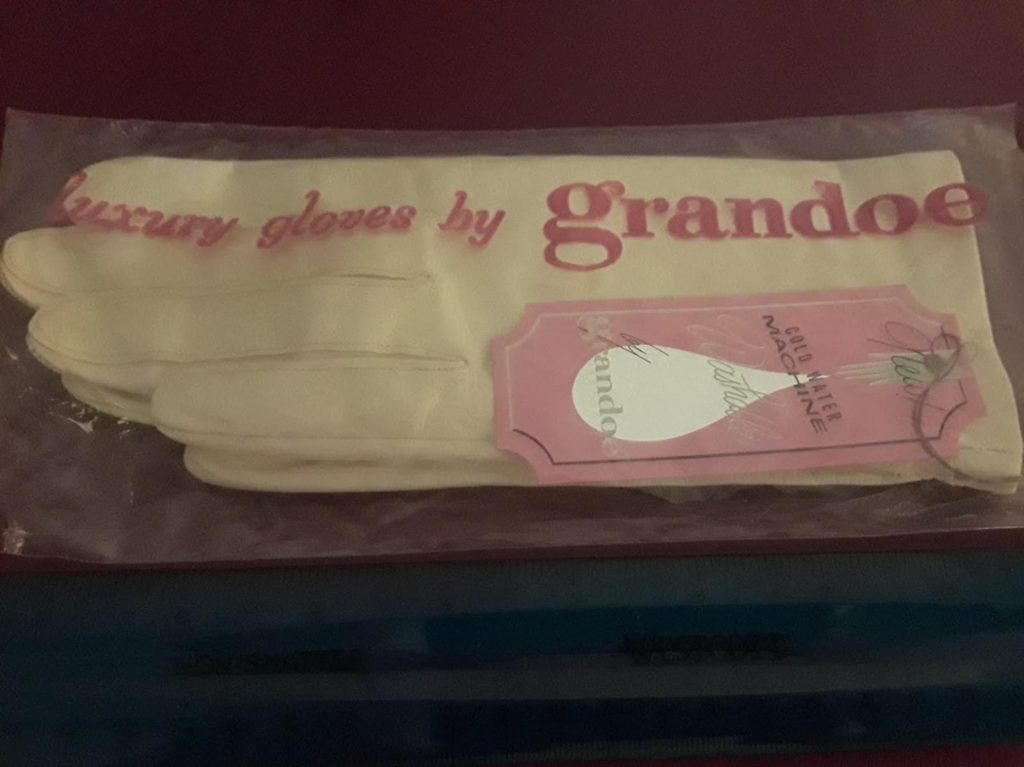 Barbra also modeled short white Grandoe cotton gloves, which were an essential accessory for mod looks during the time. In the 1950's short white gloves had been worn with nearly every dress, but by the 60's gloves had fallen out of fashion. When the mod look arrived on the scene gloves came back in style, but with a modern twist that included colorful trims and cutouts to represent a more progressive youthful look. By the late 60's gloves were no longer trendy and by the 1970's, like today they were worn mainly for warmth. Grandoe is a very well known glove company which was founded in 1897 and still produced gloves today.
Rudi Gernreich (1922-1985) was one of the most fearless & Avant-Garde designers to emerge in the twentieth century. Far ahead of his time, his vision for the future of fashion was "unisex." He introduced the iconic topless "monokini" swimsuit in 1964 and it became a sensation, making him an international fashion star.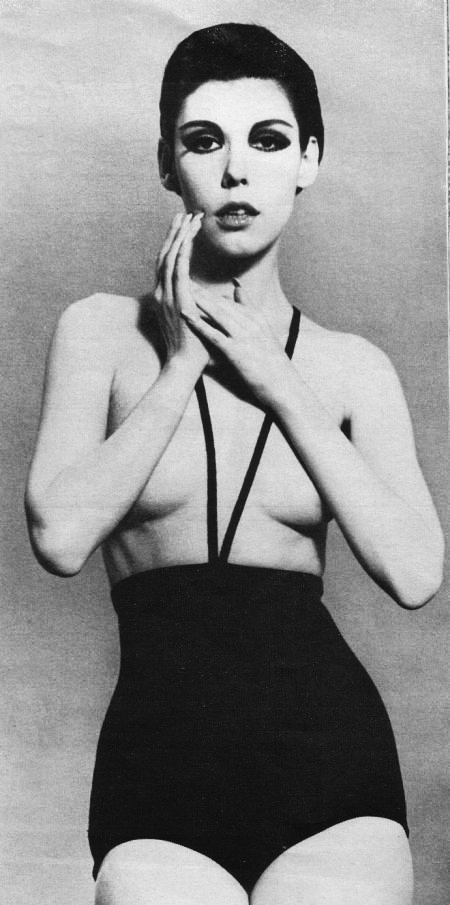 His contributions to fashion are endless. Knit tank suits, vibrant stockings and transparent tops were among his trademarks. He was the first to use cutouts and create vinyl and plastic clothing. As a former dancer, Gernreich was interested in liberating the body from the limitations of clothing and desexualizing it. Flat feet were also a design feature Gernreich emphasized, often dressing his models barefoot or in sensible short-heeled or flat shoes. As a child Gernreich he had learned about fashion from his aunt who owned a dress shop. Here he learned how to sketch and about fabrics. His father was a stocking manufacturer and World War I veteran who committed suicide when Gernreich was eight years old. In 1938 at just sixteen years old, he and his mother were forced to flee Nazi Austria and immigrate to Los Angeles, California. To support themselves his mother baked pastries which he sold door to door. He also picked up an additional job washing bodies in the morgue at Cedars of Lebanon Hospital. He spoke of that early job later in life saying "I grew up overnight. I do smile sometimes when people tell me my clothes are so body-conscious [that] I must have studied anatomy. You bet I studied anatomy."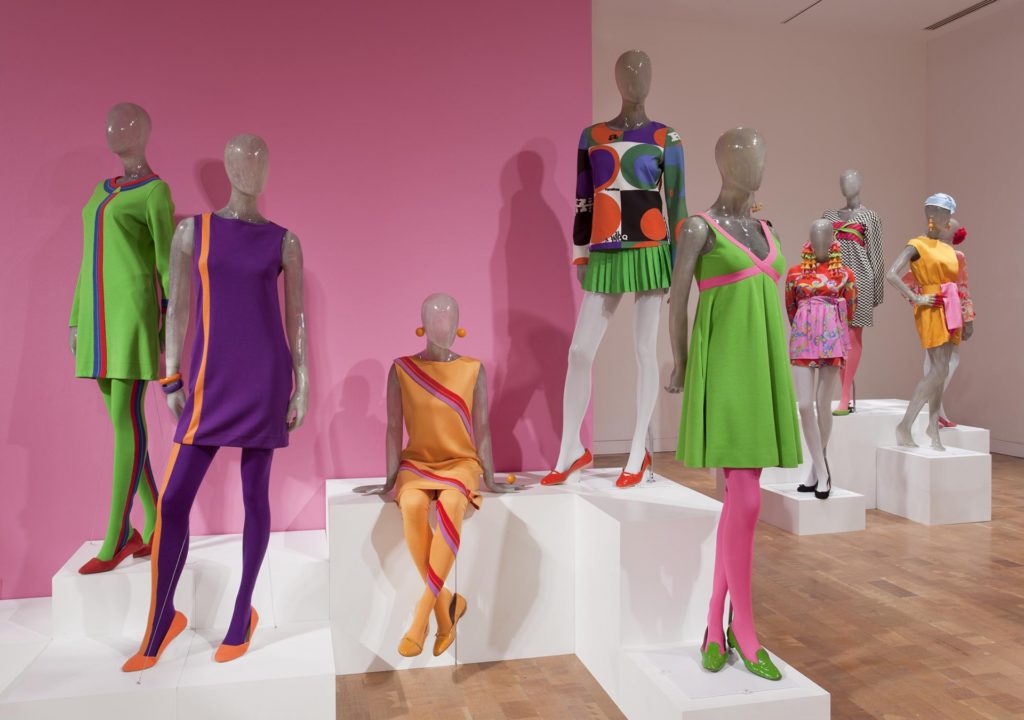 Gernreich attended Los Angeles City College where he studied art from 1938-1941. After a stint in Hollywood costume design he joined Lester Horton's modern dance company as both a designer and dancer. He admitted that he had very little dance talent but loved it anyway. In 1948 he joined Hoffman Company as a fabric salesman and then moved into fashion design full time.
In 1951 Gernreich began designing for Walter Bass and, in 1953, Westwood Knitting Mills. He produced knitwear that was comfortable and unstructured. He designed under both labels until his seven year contract expired in 1960. Afterward, he left to start his own label (Rudi Gernreich Incorporated) and began to design for Harmon Knits. Gernreich also worked as a costume designer for various film productions including 1960's Exodus. He was the first name designer to sell his lines to chain stores, making his designs accessible to normal consumers and not just the very wealthy. He closed his company in 1968 but continued to design through the early 1980's. Over the course of his career Gernreich won four Coty American Fashion Critics awards. After Gernreich died, Peggy Moffitt retained the trademark to his name. In 2003 his designs were recreated and sold in collaboration with Rei Kawakubo under the Comme des Garcons label. Today his unique creations remain collectors items and are showcased in museums worldwide.