Wearing Malcolm Starr and Fiorentina in the August 1, 1964 edition of Vogue
Barbra Streisand looked trendy and elegant as she posed in a Malcolm Starr dress for photographer Bert Stern. This photo appeared in the August 1, 1964 issue of Vogue Magazine. In the spread, Streisand is seen modeling multiple outfits featuring the latest trends. Vogue's caption alongside this look was "Shirt-and-skirt luxe, glitter and satin." They note that Streisand loved the combination of the pink-satin gown layered under a pale gold glittering blouse and exclaimed "The sporty look with a sexy infiltration—great, yeah?"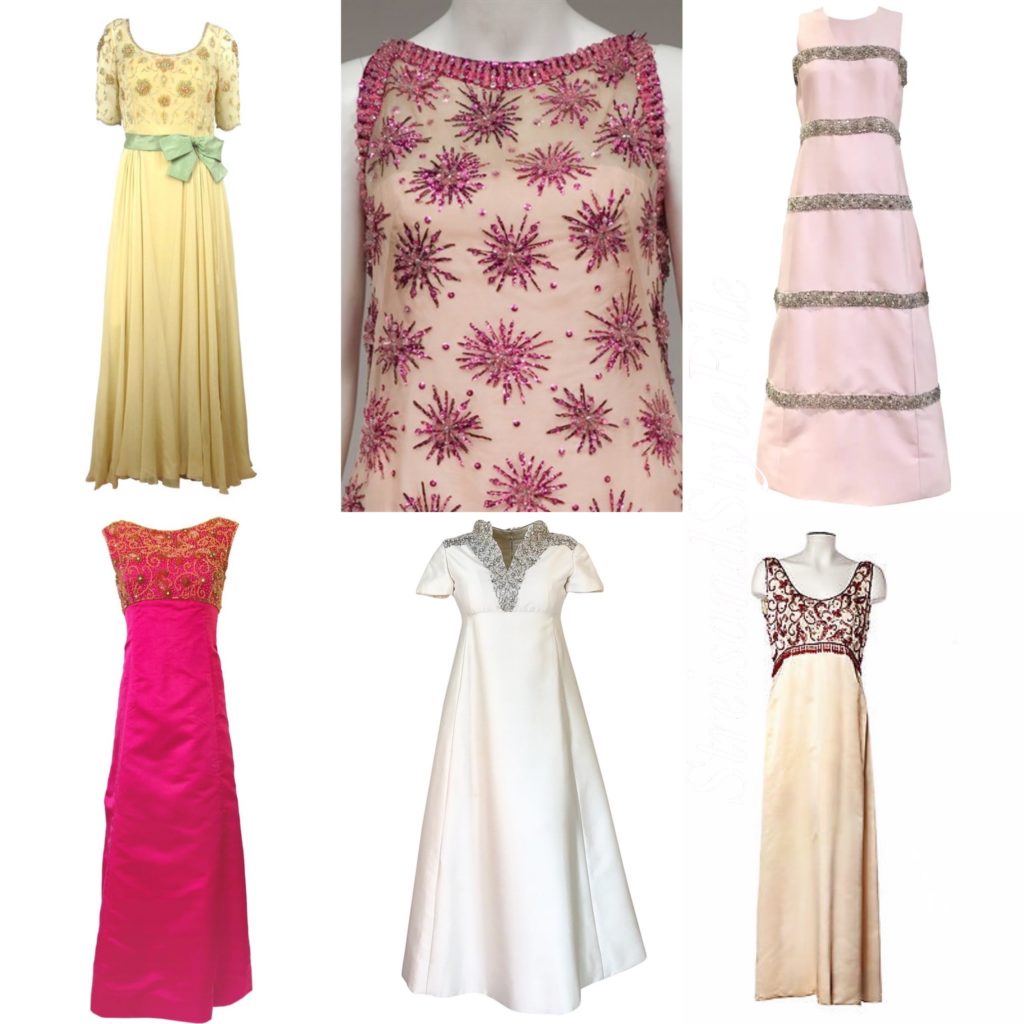 Malcolm Starr dresses were extremely popular in 1964. They are known for their ornate beading, so it is likely that the top portion of this dress that is hidden by the blouse was quite ornate. Vogue told its readers that the dress could be purchased for $125.00 at the Lord and Taylor, Famous-Barr, Hudson's, and I. Magnin. The shirt is not credited to any specific designer, but was noted to have been made from Acetate and metallic threads, silk and Avisco rayon by William Rose fabric. Streisand's pose in this photo draws the eye downward. She looks like she has just put her shoe on…or perhaps is about to take it off, which adds a bit of mystery. These elegant flats were designed by Silvia Sappia Baldi (1926-2020), professionally know by the name Silvia Fiorentina, who started the Fiorentina line in 1957. Fiorentina shoes were made in Italy and became very popular in America once they reached the market. Signature design elements of Fiorentina shoes are low backs, contrasting materials and high vamps.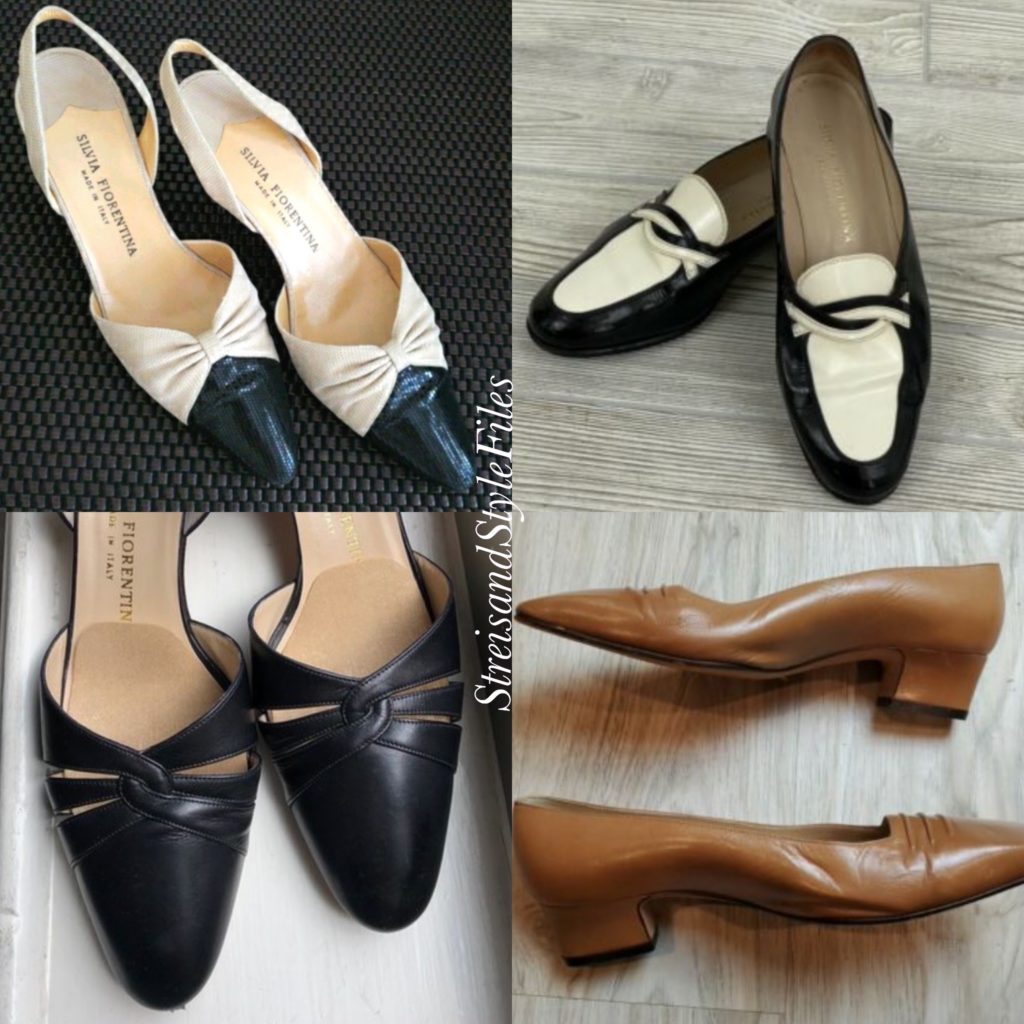 Dress manufacturing company Malcolm Starr was started in the 1940's by Frank Starr. WWD notes that Starr was one of the very first people to "lease factories in India and China for manufacturing, and also operated boutiques in Hong Kong and Japan." The brand hired several in-house designers during its existence. Elinor Rizkallah Simmons was the designer through the 1960's and designed the dress seen on Streisand in Vogue. Malcolm Starr dresses from the 1960's were streamlined and beautiful, often with extremely ornate beaded details.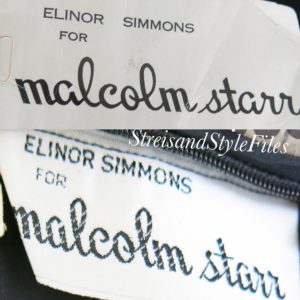 In 1969 Frank Starr passed away and the business was taken over by his son Malcolm (the company's namesake). At this point Youssef Rizkallah came on board as the primary designer and produced some really incredible fun fashion. Starr's sister, Gloria Starr Kins told WWD that "Even members of the royal family in Japan wore his fashions. They were the number-one country club set dresses. You would always see at least 30 percent of the women in any elite country club wearing a Malcolm Starr." Malcolm Starr operated in Manhattan's garment district through 1976 when it was sold for $7 million.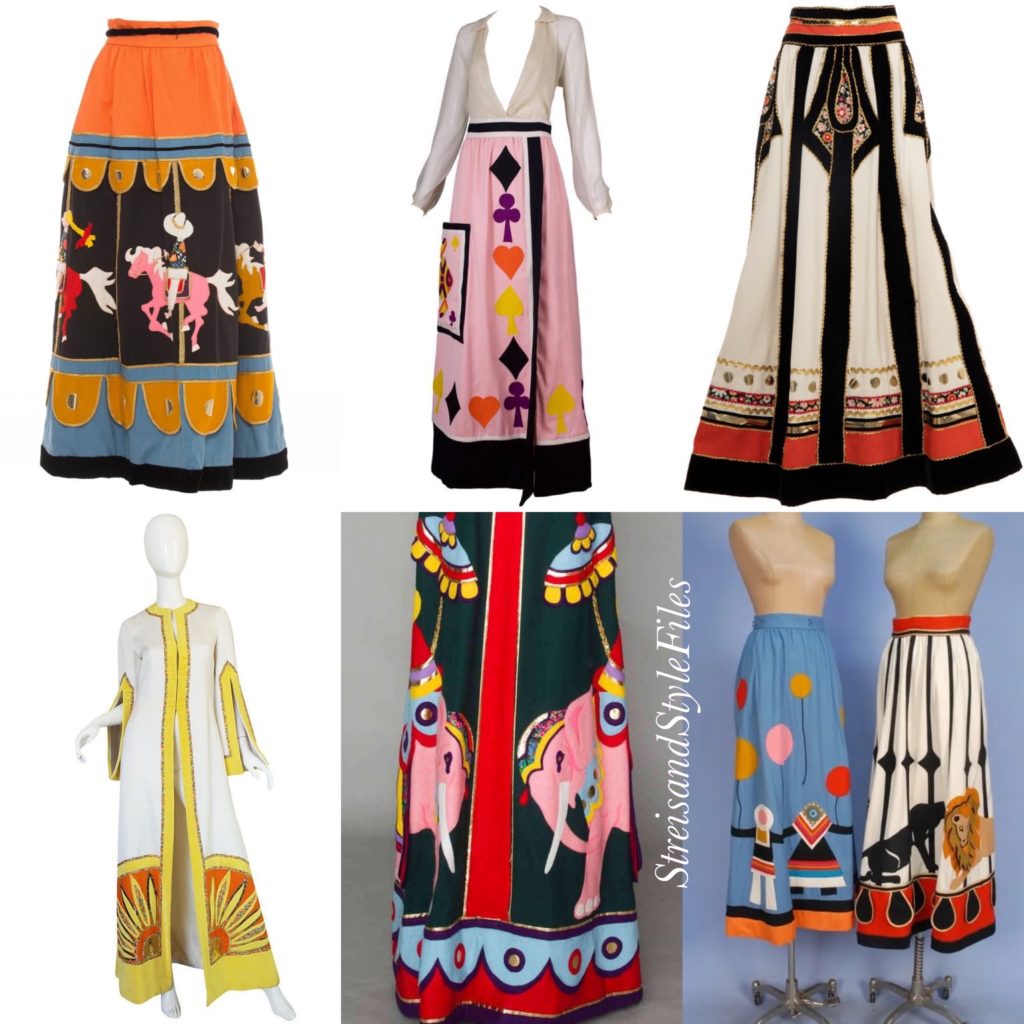 By 1964, Streisand was already making her mark as a style icon. Alongside the photos of Streisand in this spread Vogue wrote "Barbra Streisand, girl phenomenon, has eyes like tilted blue almonds, long elegant hands and feet, and the vital star-credentials: she grips, she holds, she sells-records, prime TV time, tables at nightclubs, blocs of theatre stead. At twenty-two she is an authentic Toast Of The Town with sense to leave the crust untrimmed. She comes on exactly right-strong, slangy, a bit wistful, the familiar Brooklyn diphthongs careening through the warm, big voice like and explosion of firecrackers on the Gowanus Canal. She doesn't have the fondnesses, she has passions—"wild furs, "raw" earrings, the Italian language, dresses with décolletage ("I've got a great chest, great shoulders, I love to show them."); dresses that deliver the full impact of the heroic Streisand profile. This is no Ugly-Duckling-turned-Swan; she's improved on the fable. As revised by Barbra Streisand, Funny Girl, duckling is quite a dish in its own right."
The August 1, 1964 issue of Vogue marked the second time photos from Bert Stern and Streisand's session appeared in the magazine. A portrait of her by Stern had appeared earlier in the year in the March 1, 1964 issue, alongside a portrait of her taken by Cecil Beaton. The strong and simple headshot used for the Release Me 2 cover was taken during this session. The same photo was also seen on the Duets album cover 2002 with similar stylized art.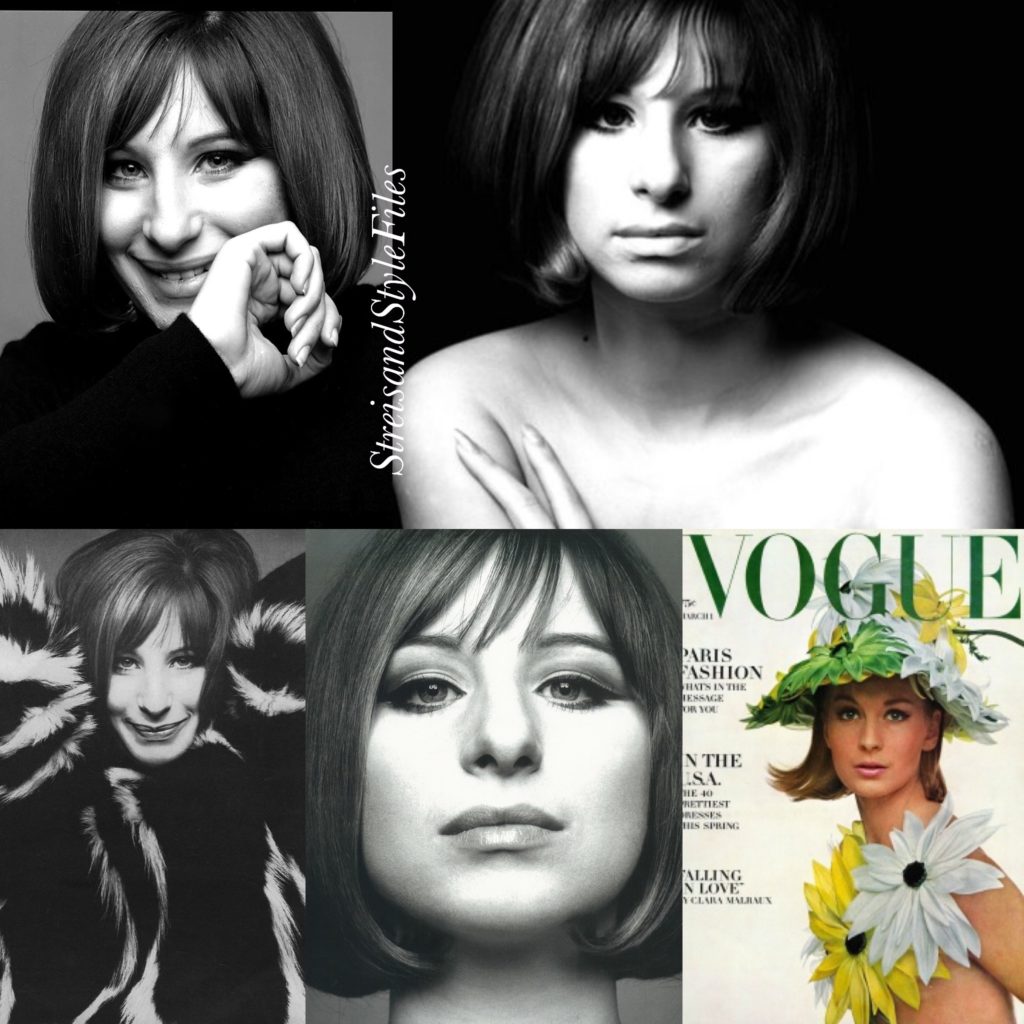 Bert Stern knew how to bring out the best in his models, which is evidenced in the many stunning portraits in his vast portfolio. He captured many of his models in elongated poses and dance moves that brought a unique sense motion to each frame. Stern was no stranger to the dance world, having been married to ballet star Allegra Kent from 1959-1975. One of his most famous sessions took place with Marilyn Monroe in 1962, just six weeks before her death. This series of 2,500 photos is know as "The Last Sitting" and were published in a book "Marilyn Monroe: The Complete Last Sitting" in 2000.
Like Streisand, Stern was also born to Jewish parents in Brooklyn, NY. Seeing Irving Penn's work sparked his interest in photography, but since he was drafted by the Army his first job as a camera man ended up happening on base in Japan during the Korean War. Once he returned home he worked in a mail room at LOOK magazine where he met director Stanley Kubrick. The two became friends which led to Stern's photos being used to several movie posters including "Lolita." One of his most famous images is that of a Giza pyramid reflected in a martini glass which was used in the 1955 Smirnoff vodka marketing campaign "Driest of Dry." Since this turned the campaign revolutionized the product advertising world, Stern is now sometimes dubbed "the original mad man." He continued to shoot some of the biggest names in Hollywood for the rest of his career, one of which was Barbra Streisand. There is no doubt that the stunning photos Stern took of Streisand for Vogue helped to seal her position as one of the biggest style influencers of the 1960's.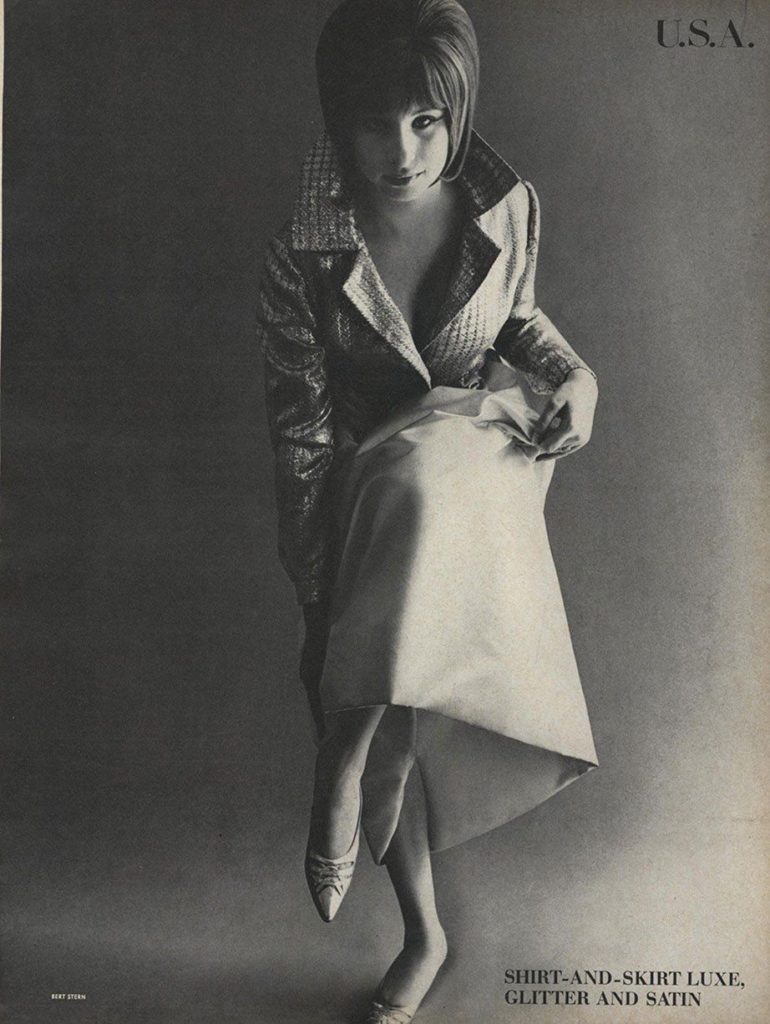 Read more about the other fashion featured on Streisand in the August 1, 1964 Vogue spread here.