1969 Academy Awards in Arnold Scaasi
Barbra Streisand wore a shimmering Arnold Scaasi, nude-illusion ensemble to the Academy Awards on April 14, 1969. To this day, this outfit remains one of the most controversial, recognizable, and iconic fashion statements in Oscars history. 
The 41st Academy Awards in 1969 broke the mold for multiple reasons. One unprecedented change was that the show was set to be broadcast worldwide, in thirty-seven nations for the first time. This meant expanding the production to the Dorothy Chandler Pavilion of the Los Angeles Music Center. It also meant that Streisand's outfit would be seen live by masses of people which certainly contributed to the explosive amount of attention it received. There was no host for the awards show that evening, which had not happened since 1911. These were noteworthy changes, but the biggest shock of the ceremony came when Ingrid Bergman announced that Barbra Streisand and Katharine Hepburn had tied for the award of Best Actress in a Leading Role. The votes had been perfectly split with 3,030 for each actress. This marked the first exact tie in a principal category and the first time there had ever been a tie for the Leading Actress award.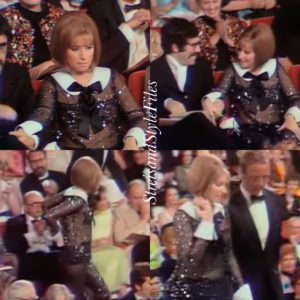 Streisand found out she was nominated for her first Academy Award while in production for On a Clear Day You Can See Forever. Though there has been some speculation as to whether or not her Oscars outfit was originally designed to be used in On a Clear Day, this is not the case. Arnold Scaasi decisively clears this rumor up in his book, Women I have Dressed and Undressed. He recalled, "We began to talk about how the star should look at the Academy Awards. I never knew whose idea it was, but I arrived to find Barbra in her dressing room on the set, wearing a voluminous black-taffeta hooded cape that not only hid her curvaceous young figure but also hid half her face. The wardrobe woman stood by, smiling encouragingly beside the producer of Clear Day, the amiable Howard Koch Sr. Grinning broadly like a cat that had just finished all the cream was Barbra's long-time maid. "What do you think Scaasi?" Streisand asked, twirling around to show me how the cape moved. "Nice," I said, "but I thought you were to be in white in the 1815 ballroom scene in the Brighton Pavilion "No, Arnold," Koch said. "This is what we thought Barbra might wear to the Academy Awards." I was visibly horrified. Never being very diplomatic early on, I got right to the point. "You must be kidding," I said. "She looks like a character out of Gone With the Wind!" Barbra laughed, but everyone else looked stony-faced. "I think," I continued, looking at Barbra, "it is very important since the world has only seen you in two films and in both all dressed up in fussy period costumes, that you appear at the awards looking like the contemporary young woman you are (she was barely twenty-five). We have to do something really modern…really of today….I think the cape thing is all wrong. Everyone but Barbra seemed disappointed. The cape vanished. I immediately started working on sketches that were in a contemporary vein."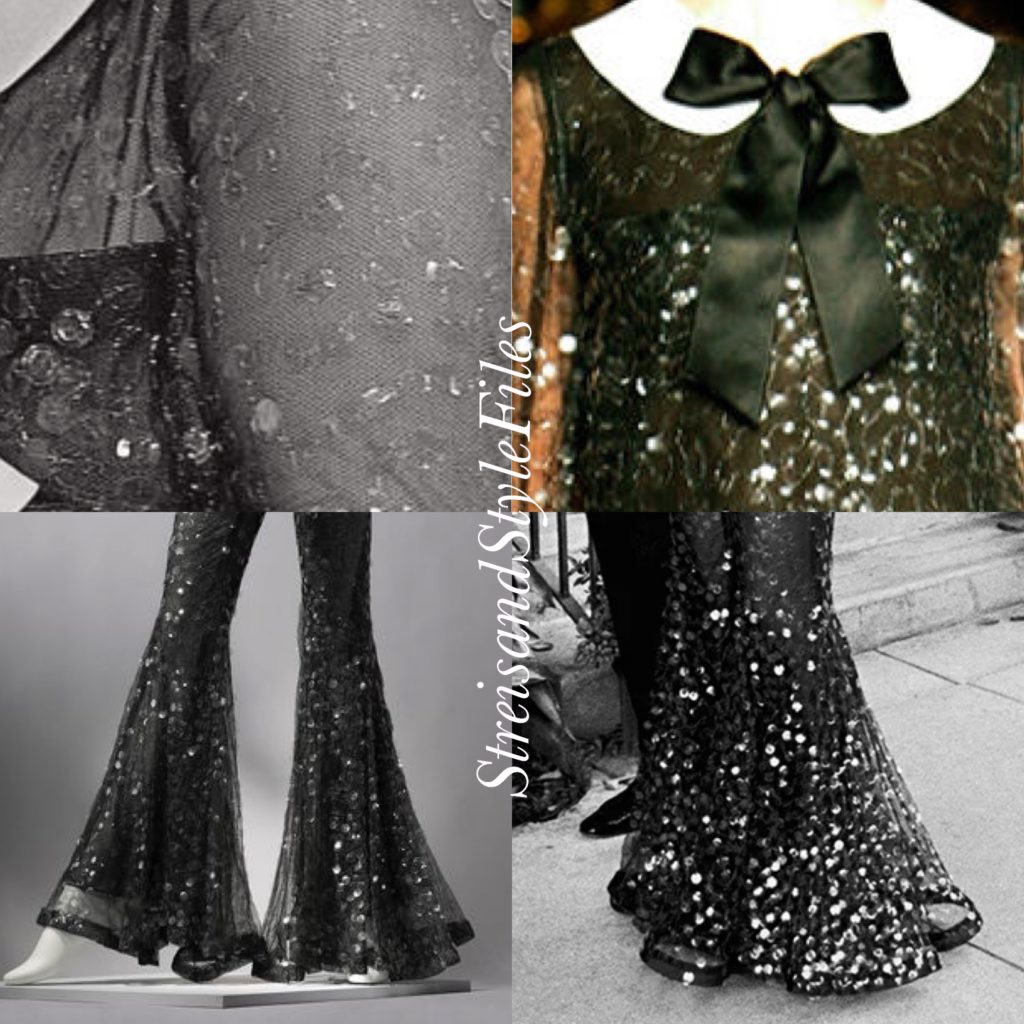 As Scaasi began to sketch ideas for what was to become the most famous design of his career, he took inspiration from a gown he had recently made for Polly Bergen's nightclub act. This had featured black bobbinet tulle, with dime-sized clear sequins over a nude silk slip. Scaasi loved the shiny black-see-through effect and thought it would be perfect for Streisand. He decided to utilize a flesh-colored marquisette to line Barbra's look. Since bell-bottom pants were incredibly popular at the time, he kept thinking about incorporating them into his design. He noted that "Barbra and I finally agreed on a sketch I had done, using the black net, clear sequined see-through fabric. The bell-bottom trousers were exaggerated and had many godets flaring out widely from the knee down, almost giving the appearance of a trumpet-shaped evening skirt when she stood still. The top was a straight overblouse of sheer embroidered fabric with two patch pockets covering her breasts. It was finished with the basic white collar and cuffs and a black satin bow at the neckline. There was nothing overtly sexual about the outfit. In fact, it was insouciant." Streisand told W Magazine is 2016 "I wanted a white collar and cuffs, which it had, and I wore my hair under my chin, because I thought to myself, I'm going to win two Oscars in my lifetime, and I'll be more conservative next time."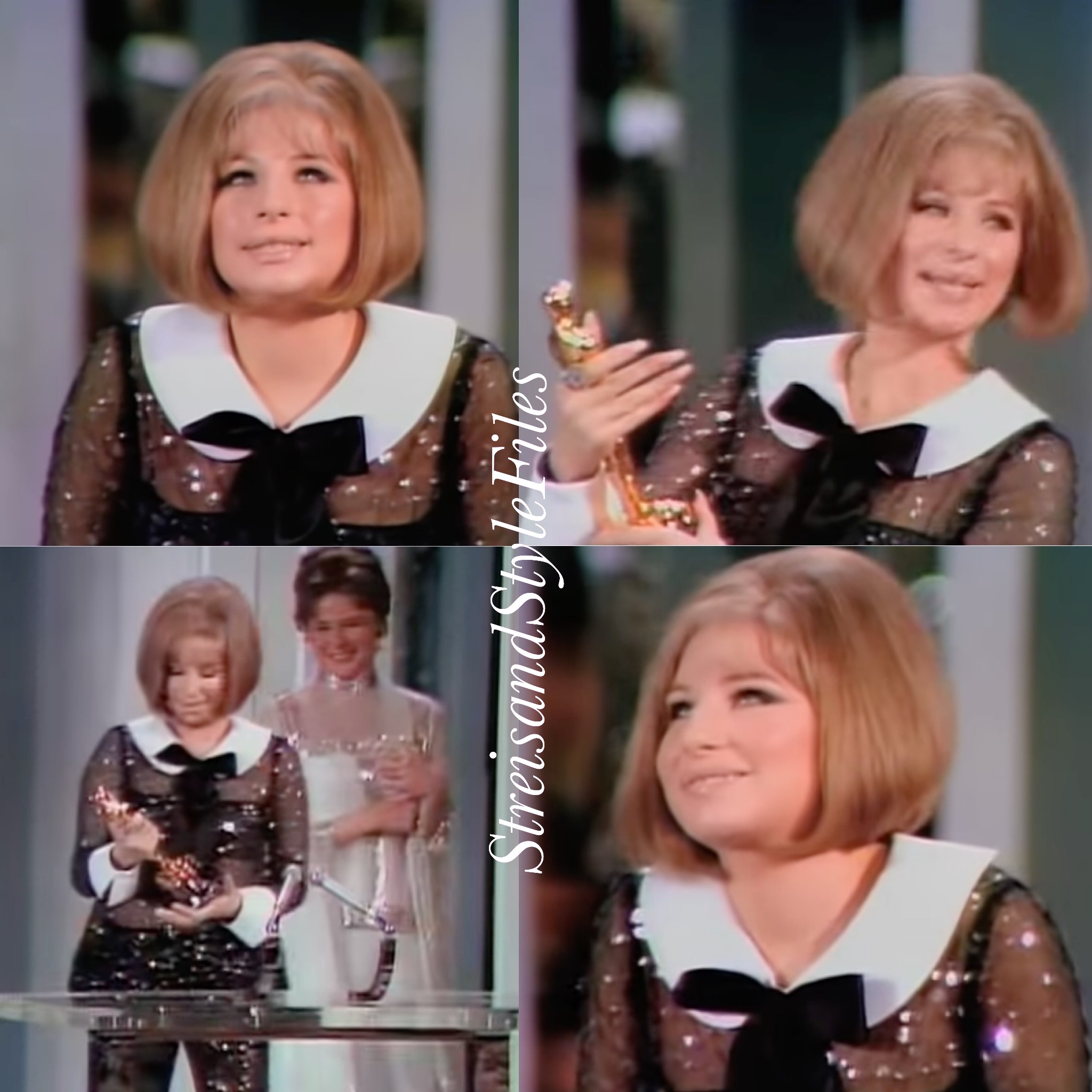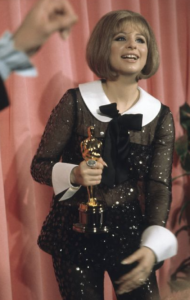 Streisand's decision to wear this outfit was extremely daring for 1969. She was about to become the first actress to ever wear pants to the Oscars, not to mention accept an award in them. But Streisand was no stranger to taking fashion risks. She was such a huge star at the time that her fashion choices were extremely influential and trend-setting. As the 1960s came to a close, women were breaking free of the many restraints they had been subjected to in previous decades and coming into their own. This outfit made a loud and clear statement that the dawn of women breaking free and taking control of their bodies had arrived. Streisand was ahead of the trend, and maybe even helped to get the ball rolling. Through the 1970s comfort, freedom and self-expression were driving forces in women's fashion. This was, in part, a reaction to the newfound freedoms that they were experiencing, like access to Ivy League education, legal birth control, and the ability to open a bank account on their own.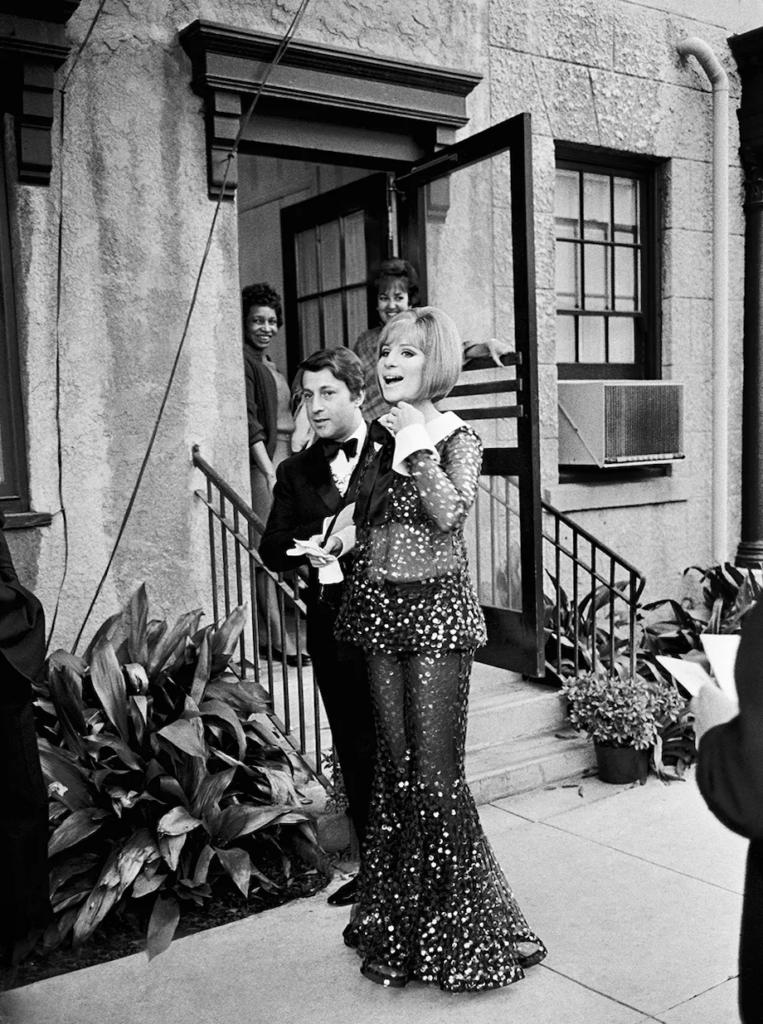 Before leaving for the Academy Awards ceremony Streisand and Scaasi attended a party thrown by Fran and Ray Stark (Fanny Brice's daughter and son-in-law, who had produced Funny Girl.) Scaasi recalled that Barbra arrived last to the party, carrying her white kid gloves and holding a black satin clutch that matched her pumps. He thought she looked like a model. Fran Stark commented on the outfit, saying "Arnold, you are brilliant. She looks ravishing." Stark would be the first of many to applaud this striking fashion statement. As Streisand arrived at the Academy Awards red carpet around 4 PM, she was greeted by hundreds of fans who cheered and gasped with excitement. Scaasi followed behind and remembered how emotional and overjoyed he felt as "a Jewish boy from Montreal, walking behind this extraordinary star." The New York Times reported the next day that "The loudest outcries greeted the arrival of Miss Streisand as she arrived wearing a black see-through pantsuit and escorted by her husband, Elliot Gould."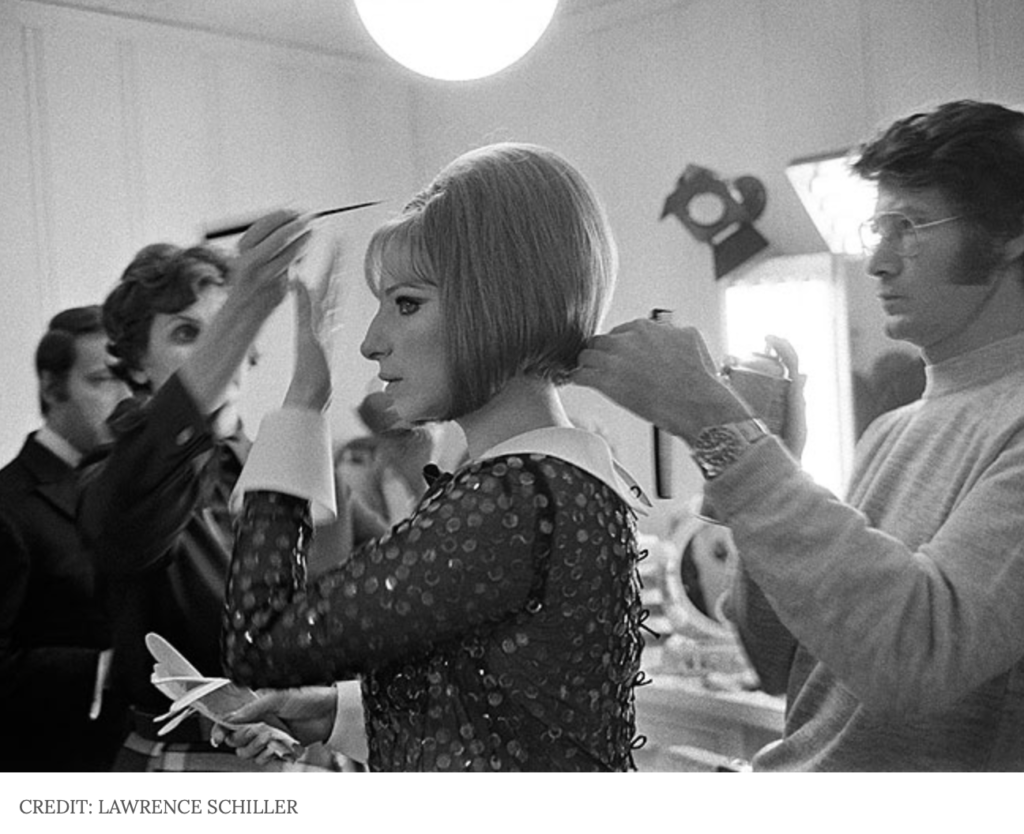 Though Streisand and Scaasi knew this outfit touted a nude illusion, they didn't quite perceive just how nude the outfit would appear when met with intense flash-bulbs from the press cameras. This was especially apparent when Streisand made her way to the stage to accept her award and tripped a bit on her dramatic bell-bottoms. As she briefly lunged forward, Scaasi remembers that "hundreds of flashbulbs went off, recording her derriere on film." Some who were present that night recall thinking that this look was already quite transparent, even without flash. Photographer Steve Schapiro noted that "From the back, the pants had a see-through effect, even though they were lined. Everyone thought they were seeing her ass, including me, and I was right next to her!"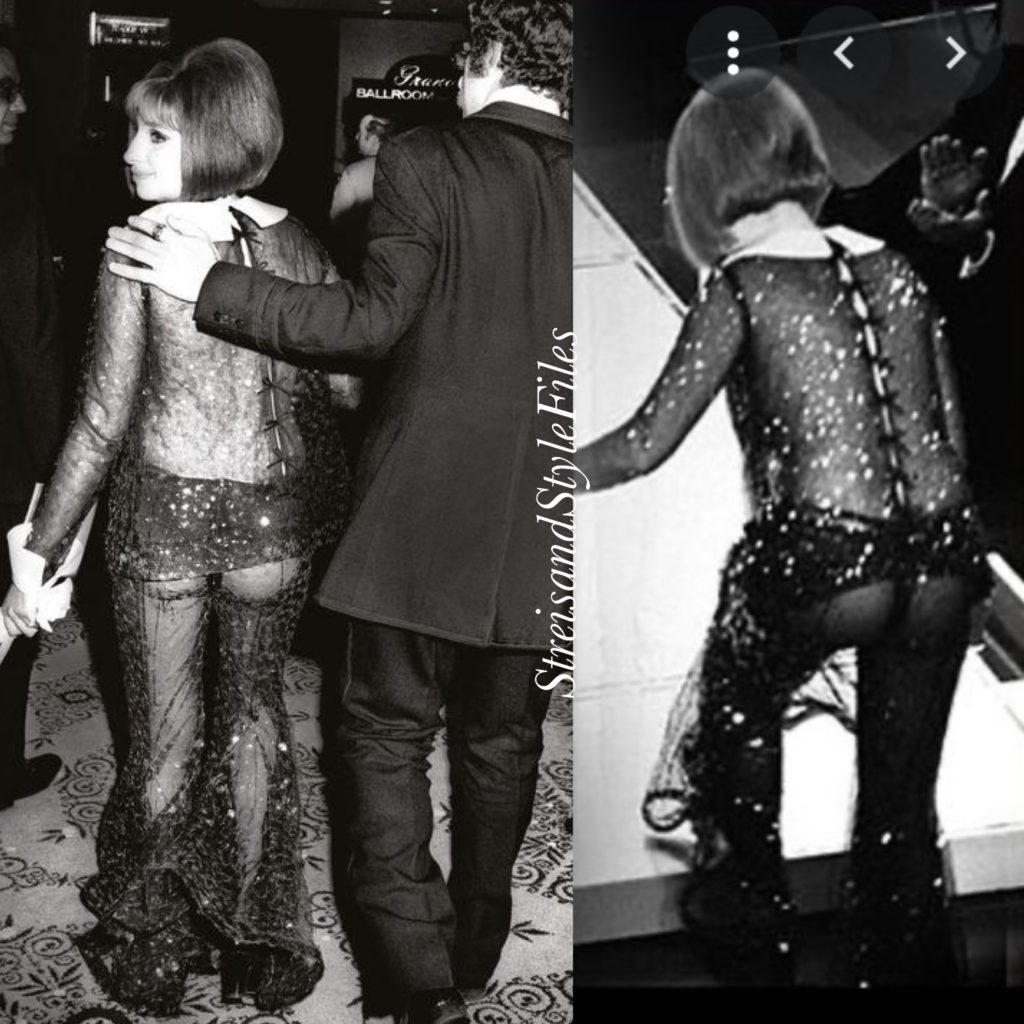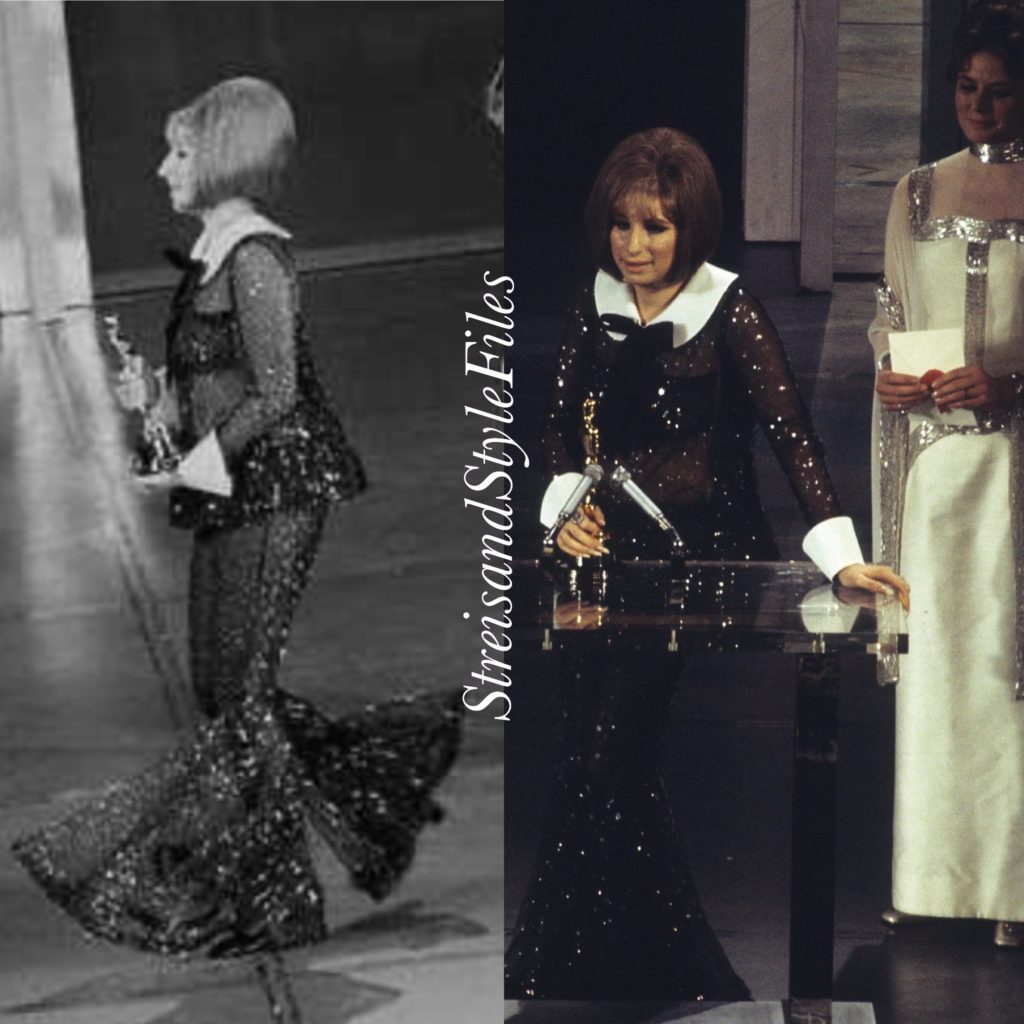 Though Streisand's win for her debut film role in Funny Girl made headlines the next day, her outfit truly stole the show. News sources and tabloids claimed that Streisand had been nude under her sheer outfit. It was truly scandalous at the time. Years later, Streisand and Scaasi maintained that they had no idea that the outfit would appear truly see-through. Scaasi claimed, "Though we had taken every aspect of the sequin outfit into consideration, we did not know the flashbulbs used by the press would wipe out the flat surface of the black net." He added, "Next morning Barbra was on the phone to me laughing about the whole episode. The headlines helped make the star's outfit the most famous Academy Award costume ever!" Scaasi probably never imagined that no matter what else he designed in his long career, he would forever be most famous for this singular outfit. Over forty years later he was still being asked about it and told the LA Times "Let's face it, all the strategic parts were covered with lining underneath."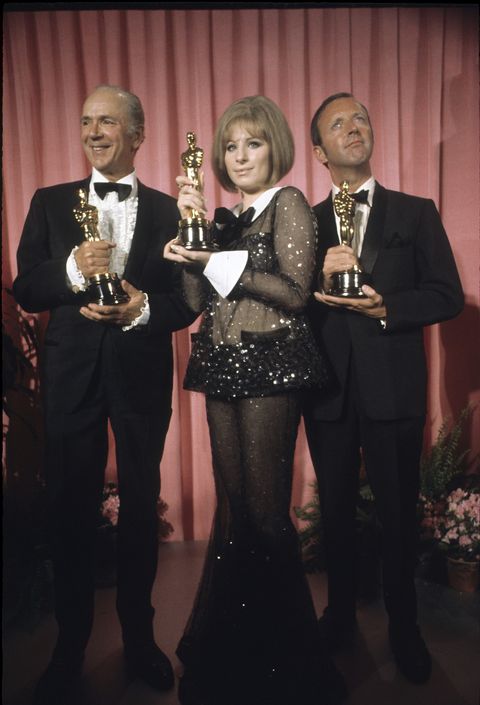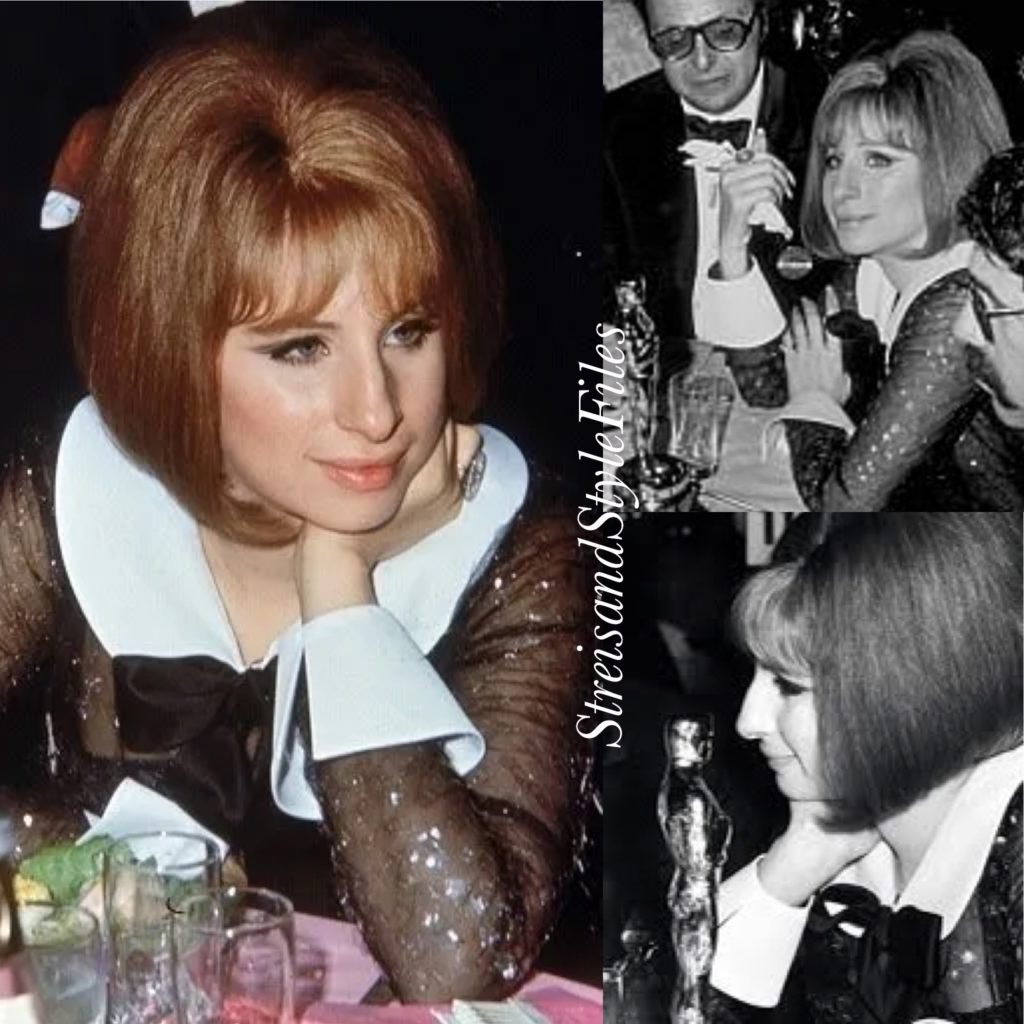 Streisand's iconic Oscar outfit remained in her possession until she decided to put it up for auction to benefit the Streisand Foundation. The winning bid was placed by Arnold Scaasi himself, who had set out to buy back many of his Streisand-worn looks for his archives. He recalled the pride he felt at having his most famous creation back in his hands, stating "For years I had asked to borrow the famous Academy Award see-through outfit to show at the many retrospectives that have been done on my career at museums across the country….I was always refused. A secretary told me often, "It's in storage somewhere and can't be found." In October 2003 Streisand auctioned many of her personal items on eBay, the money going to the Streisand Foundation. Suddenly it was "found", and after paying several thousand dollars I was able to buy it. Scented with Barbra's personal fragrance, the controversial outfit finally came home to its creator."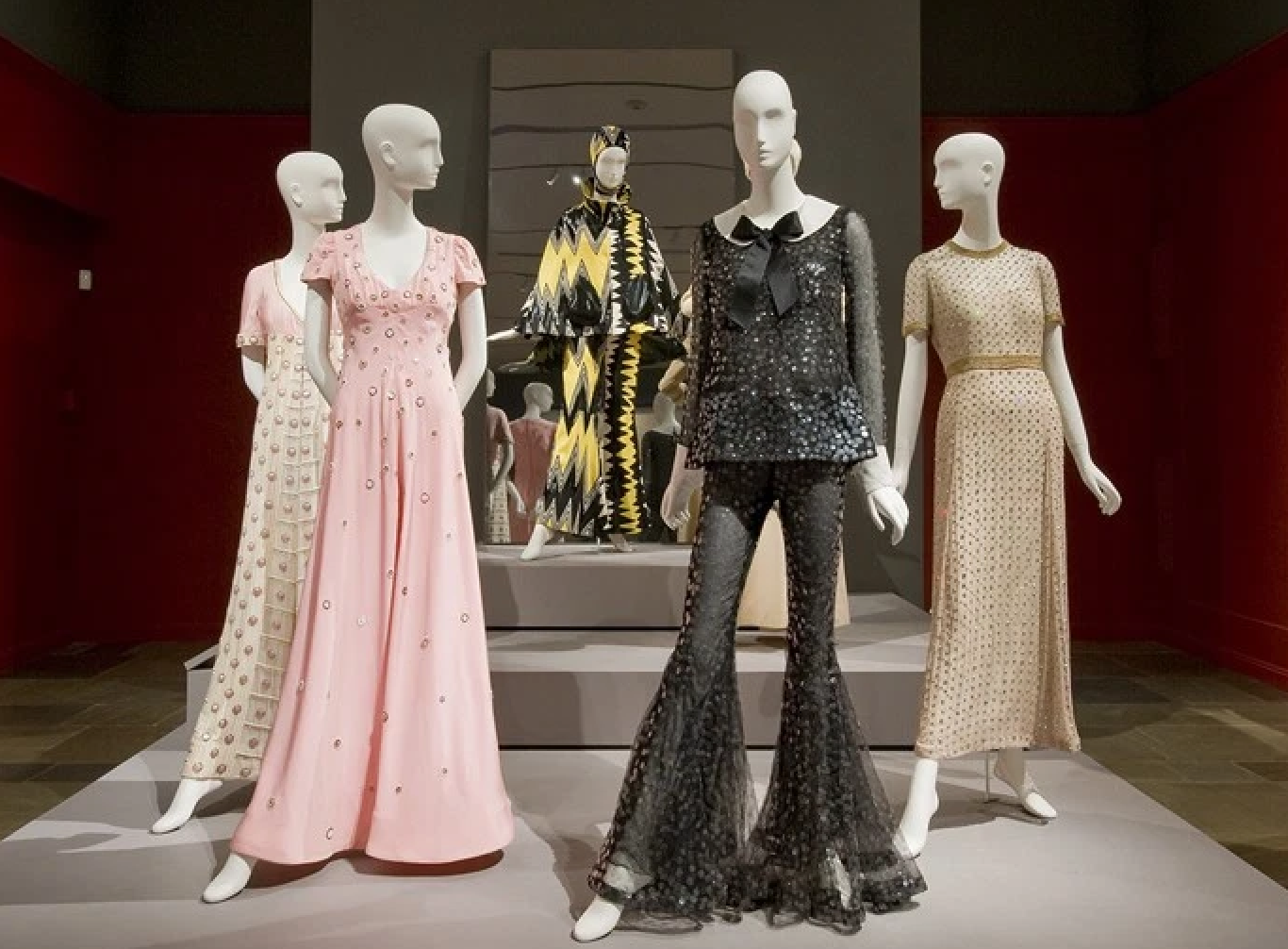 Around 2010, Scaasi gifted more than 100 of his couture designs, as well as his sketchbooks to the Museum of Fine Arts in Boston. His 1969 Oscars ensemble, as well as several other famous Streisand looks were displayed in 2011 as part of MFA's "Scaasi: American Couturier" exhibition. Upon his death in 2015, Streisand reminisced about her time with Scaasi, and their headline-making Oscars ensemble, stating, "I was very saddened to hear of Arnold Scaasi's passing. Arnold was a wonderful designer who knew how to combine fantasy and craftsmanship. He made many fabulous outfits for me over the years and unfortunately, only one of them stole the headlines. I had no idea when I wore it to receive the Academy Award that the outfit would become see-through under the lights! I was embarrassed but it sure was original at the time."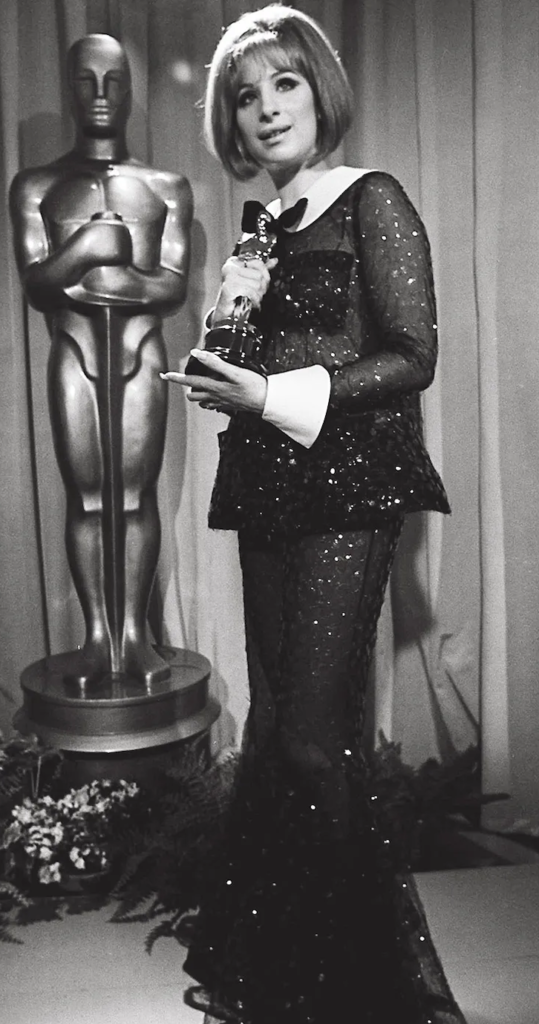 Over fifty years later, the image of twenty-six-year-old Streisand accepting the Oscar in her sheer Scaasi ensemble remains so iconic that it is used in nearly every Academy Awards fashion retrospective. The look is frozen in time, oozing eternal glamour.
Sources:
Scaasi, Arnold. Women I Have Dressed (and Undressed!). Scribner Book, 2004.
Hirschberg, Lynn. "The Eternal Star Power of Barbra Streisand." 17 November, 2016. W Magazine.com. https://www.wmagazine.com/story/barbra-streisand-interview-w-magazine-photographed-steven-meisel
The New York Times. "Hepburn and Streisand Share Top Oscars". 15 April, 1969. P. 40. https://timesmachine.nytimes.com/timesmachine/1969/04/15/90092488.html?pageNumber=40
Khan, Jessica. "Photo Flash: Barbra Streisand Remembers Designer Arnold Scaasi and Her Iconic Oscars Outfit". 4 August, 2015. Broadway World.com. https://www.broadwayworld.com/article/Photo-Flash-Barbra-Streisand-Remembers-Designer-Arnold-Scaasi-and-Her-Iconic-Oscars-Outfit-20150804