1977 Golden Globe Awards in Jean Muir
"You don't go about being in fashion in Jean Muir, you go about being in Jean Muir, which is kind of beyond fashion, you know."
-Muir's muse and model Joann Lumly
Barbra Streisand wore this dusty-rose-colored skirt and blouse set by Jean Muir to the Golden Globe Awards on January 29th, 1977. This was a huge night for her 1976 film A Star is Born which was nominated for five Golden Globes and won them all. Streisand was personally awarded Globes for Best Performance by an Actress in a Motion Picture-Musical or Comedy, and Best Original Song (Evergreen).
Streisand's choice of outfit was on point for 1977 when relaxed and flowing clothing was very in style. This ensemble stands out for its fluidity and has some really beautiful details that are much more obvious in close-up shots. I personally love how the ruffle around the jewel neckline is broken up by several decorative pin tucks at each shoulder (a Muir trademark). The tiny gathers at the neckline help to imitate a pleated texture and create a nice waterfall effect within the jersey fabric. The blouse also features belle sleeves and fabulous rounded shoulder pads that give it structure. If the necklace Streisand chose to wear with this outfit seems familiar to you, that's because it is the same one that she wore in Funny Girl and during her A Happening in Central Park Concert. She wore the necklace once again to the Academy Awards in 1992.
In one photo, we get to see the jacket Barbra paired with this look, which was a striking grey, white, and black Reiss & Fabrizio fox fur coat. She wore this coat numerous times in the 1970s so it must have been one of her favorites. Streisand completed her look with a simple updo accentuating her curls and petit round earrings. This outfit sold at the 2009 "Her Name Is Barbra" Julien's auction for $1,500.00.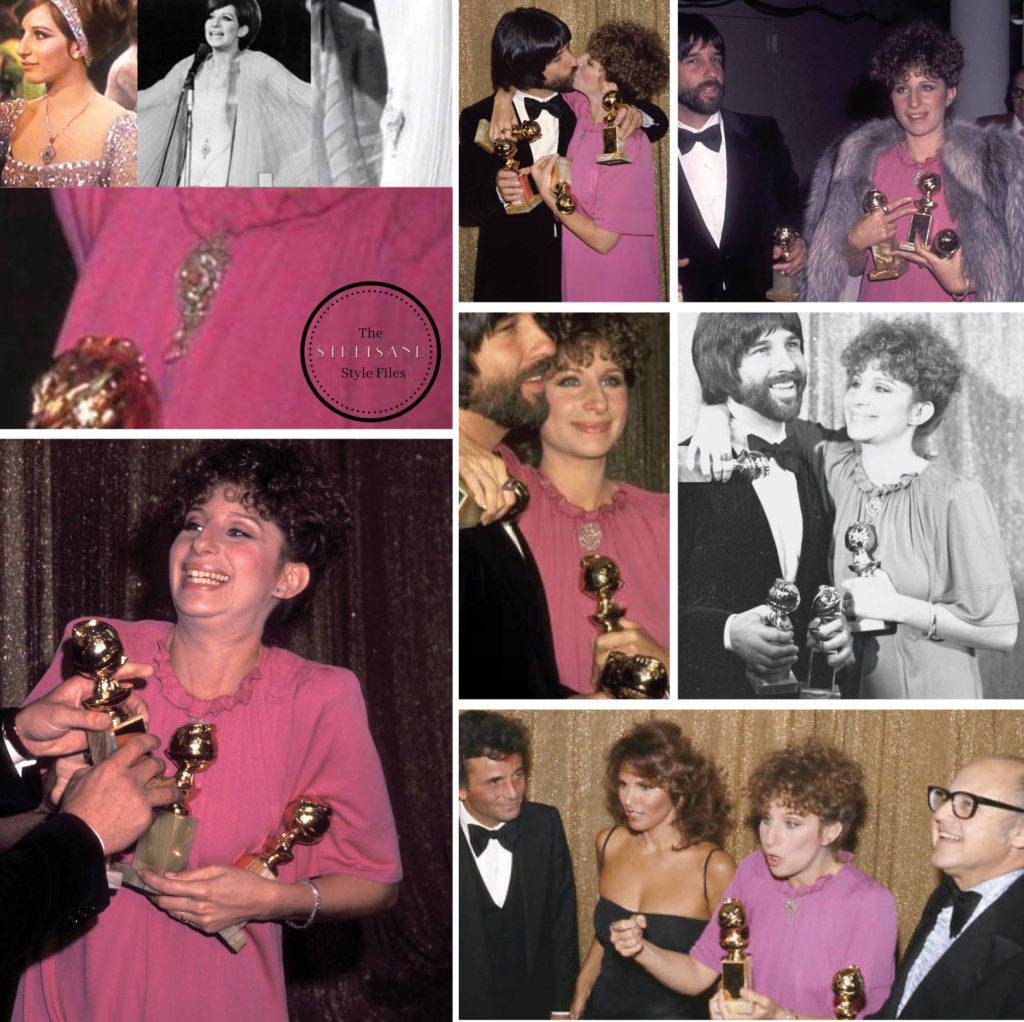 Jean Muir (1928-1995) was a British fashion designer. She claimed that she was able to knit, sew, and embroider by the age of six. At seventeen years old she took a job at Liberty & Co where she worked her way up from the stockroom to selling over the counter. Eventually, she was given the opportunity to sketch for their ready-to-wear department, which led to her becoming lead designer for Jaeger in 1956. Muir launched her own label "Jane & Jane" in 1964 to much success. 
Ten years later she sold the company and founded Jean Muir Ltd. Muir's designs are best known for their focus on form and fluidity. They are understated, elegant, and effortless. She rarely used decoration on her garments aside from some pin tucking, functional buttons, or parallel topstitching. Streisand's Golden Globe outfit is a wonderful example of Muir's aesthetic. After Muir's death, her company remained open through 2007 before closing permanently. Today her iconic designs are showcased in museums worldwide.