Bon Soir replica herringbone suit by Olivia Jondle for the "Cry Me A River" video
It is no easy task to try and re-create something as iconic as Barbra Streisand's 1962 Bon Soir recording sessions. Director Matt Amato and his team not only pulled it off, they had even the biggest Streisand fans doing a double-take. While no video footage exists from these performances, Amato brought the shows to life using artist Kristin Cassidy as a Streisand stand-in. Cassidy eerily embodied Barbra's physicality and features right down to the hands and iconic nails. By mixing new footage of actors and musicians with archival photos, this video (described as a cinematic trip back in time) brought the Bon Soir in 1962 to life.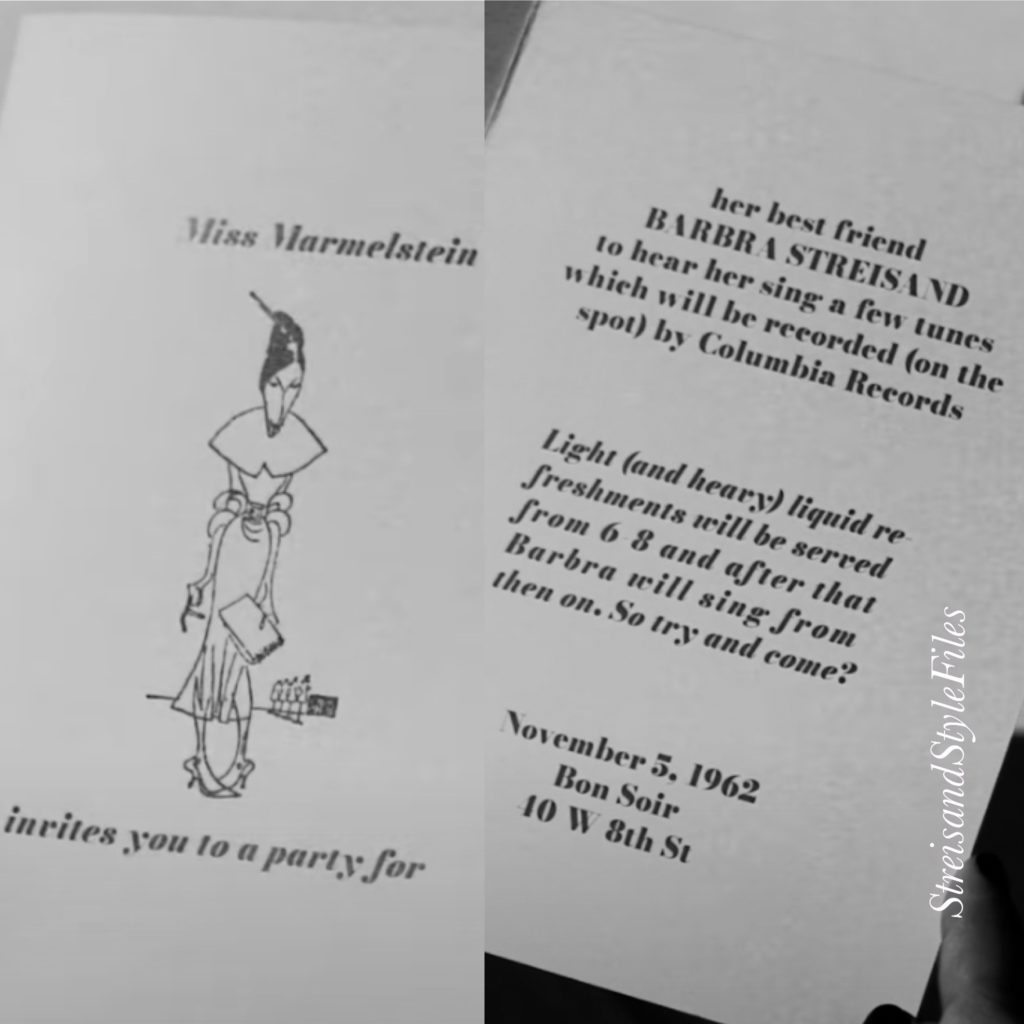 Making sure that Kristin Cassidy's silhouette and outfit perfectly matched that of Streisand's was obviously a top priority for Amato who worked with designer Olivia Jondle to perfect the herringbone look. Jondle owns a small batch clothing company called The Rusty Bolt where she specializes in making one-of-a-kind pieces from vintage textiles. I was flattered to find out that as part of her research, she referenced my 2020 story on this outfit. To create this replica with the most authenticity possible, Jondle explained that she used vintage wool. The end result is a testament to how much attention to detail was put into creating it. Every little original quirk and gather that the outfit had was duplicated to perfection, making it difficult to tell the two apart.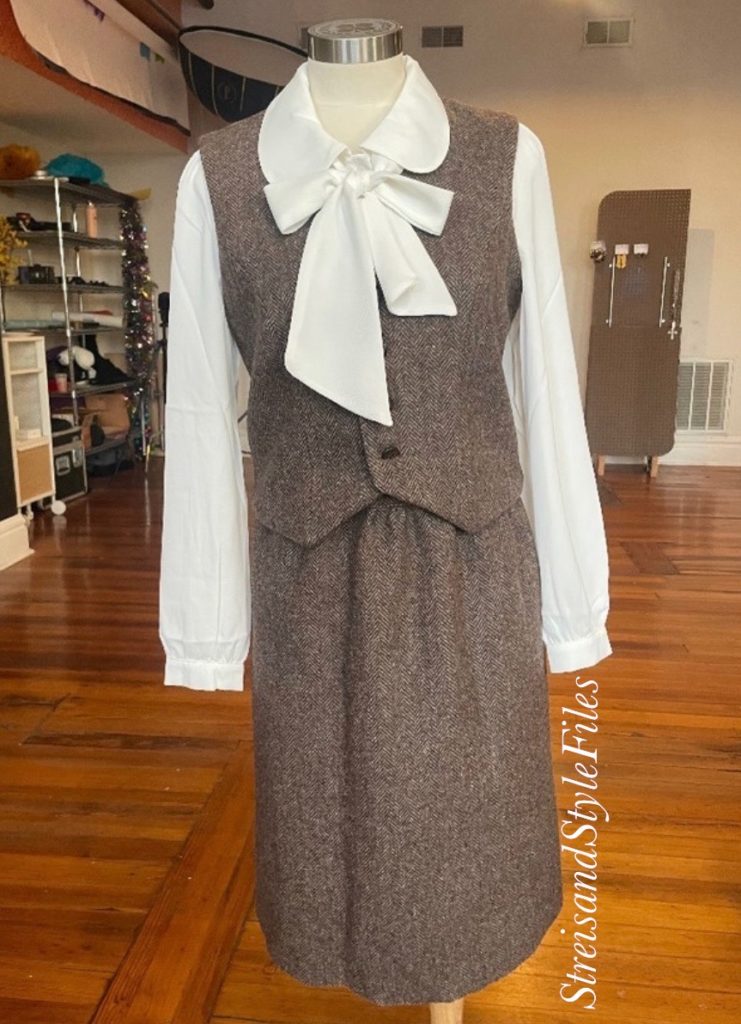 Streisand's Bon Soir original outfit was self-designed. It featured a fitted button-up herringbone vest that brings to mind a men's waistcoat. There are princess seams running up each side that add a bit of personality. The matching skirt is gathered at the elastic waistband and falls straight. The long-sleeved, white chiffon blouse features an eye-catching Peter Pan collar that is accented with a long Pussybow at the neck. These elements added a youthful and modern vibe to the look.
The sheer sleeves have a slight puff at the shoulders and there is a slit at each cuff with a button closure. The only piece of jewelry worn with this outfit was an eye-catching oval-shaped ring with a dark center stone. This ring was represented in the video with a piece that Kristin Cassidy found at the STL Rocks shop in St. Louis, MO featuring a tiger's eye stone.
In her 2010 book, My Passion For Design, Streisand recalled that at her debut Bon Soir show she wore a pair of antique shoes that she loved, but by the end of the evening the interior leather was completely burned out from the heat of her body. Vintage shoes from around the 1920s were worn by Cassidy to make this costume even more authentic to Streisand's early 1960s style.
Streisand completed her Bon Soir look with her signature side-swiped bangs and a hairpiece to help create her dramatic and voluminous beehive. Considering this video was shot from behind, Cassidy's updo needed to be as accurate to Streisand's as possible. Amato estimates that it took hair stylist Gwen Meyer around eight hours to nail this look. To achieve that famous Streisand hair volume, a foam bun was used under a hairpiece. This is precisely how Streisand used to do her own hair back in the day. There was always a slightly messy element to Streisand's hair in the early 1960s since she did it herself. I loved that Meyer was able to capture this aspect perfectly by making sure some hair was out of place.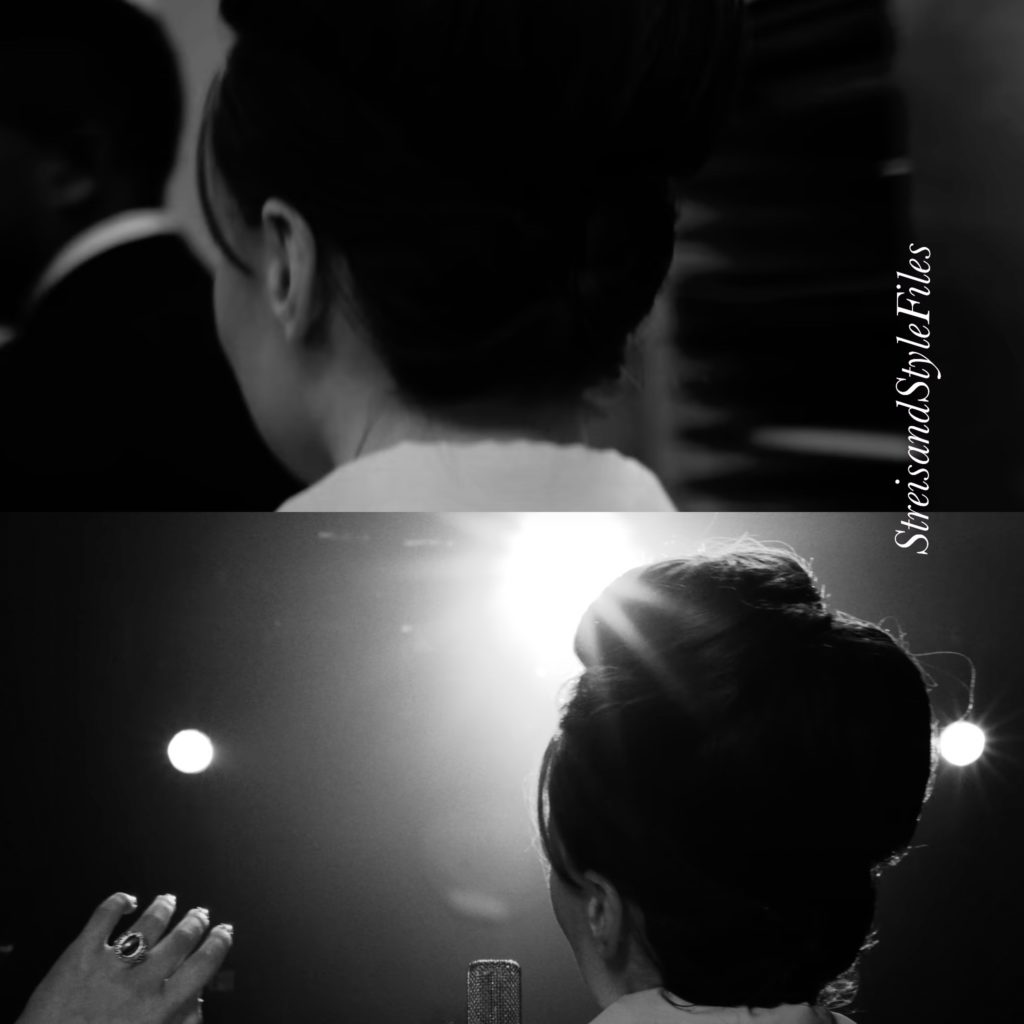 Of course, no Streisand stand-in would be complete without the fabulous long nails that Barbra is so famous for. Stylist Jacob David spent hours perfecting Cassidy's nails and the end result was so gorgeous that I'm sure even Barbra approves. Amato noted that the whole creative team loved learning about Streisand at the start of her career and added "They admired her style and confidence and everyone felt good working on it! They all wanted it to be perfect. I am blessed!" Seeing 20-year-old Streisand brought to life in such a realistic way in this video was a magical experience. Streisand's herringbone ensemble represents the unrestricted innocence and fearlessness that enveloped the early years of her career and will eternally symbolize the transition of an ambitious Brooklyn girl into superstardom.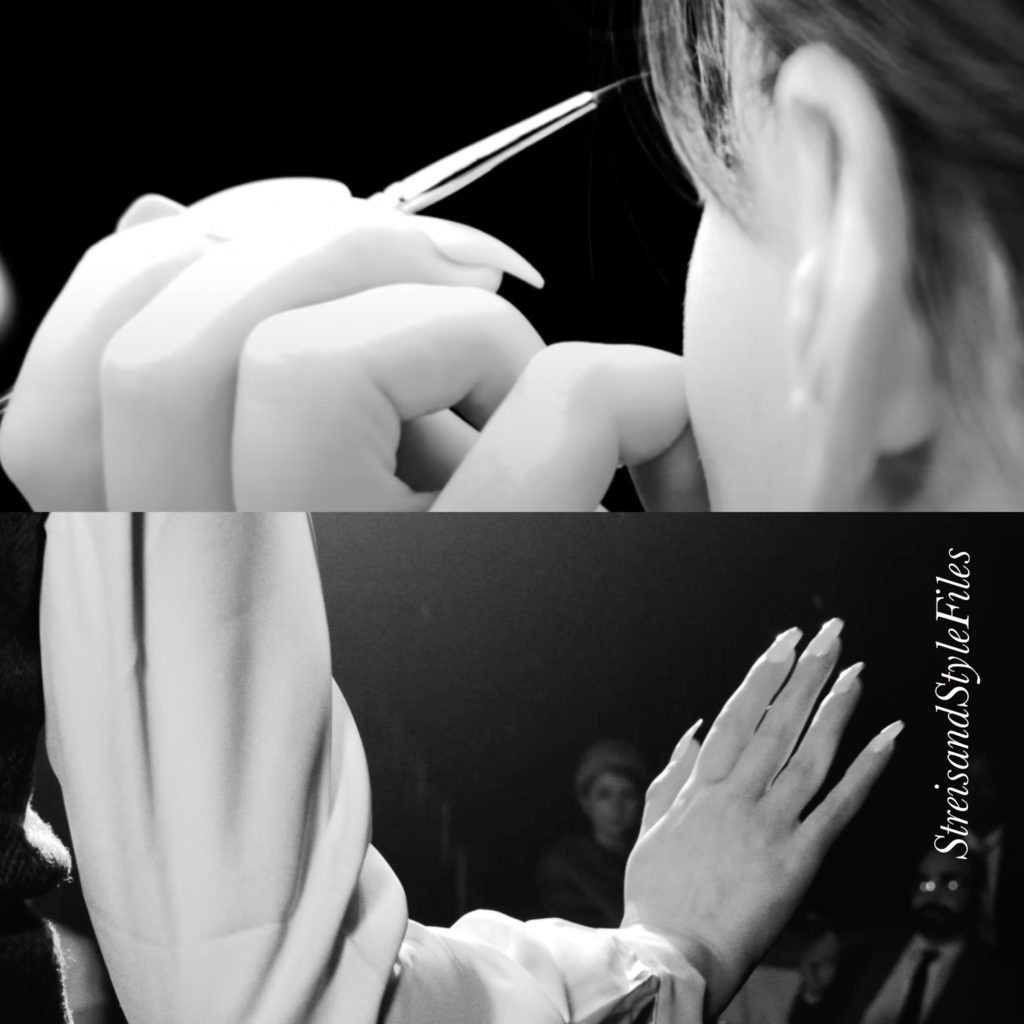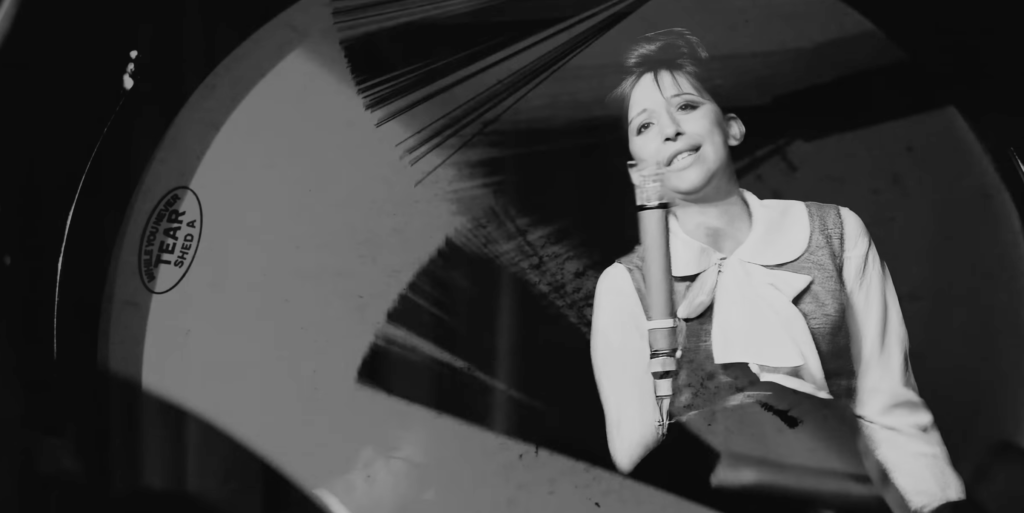 About the original look
Streisand's 1962 Bon Soir outfit featured a fearless clash of masculine and feminine that was rarely seen at the time. Similar women's vests and suits really wouldn't become popular until Yves Saint Laurent designed Le Smoking in 1966. As usual, Streisand was entirely unique in her style choices and ahead of her time. In one recording she can be heard joking with the audience that she is "wearing her boyfriend's suit." While we know this was a tongue-in-cheek comment, some stories have floated around that the herringbone fabric used to make it may actually have come from one of her boyfriend's suits. This vest and skirt combo has been worn by Streisand in many variations throughout her career and has become emblematic of her signature style. Oddly, the one that caused the most controversy (dubbed a "Peekaboo Power Suit" by Anne Taylor Fleming in a scathing Op-Ed) was worn over thirty years later for Bill Clinton's Inaugural Gala. When looking back at Barbra's Bon Soir suit, it is easy to see the very early sparks of her developing fashion aesthetic.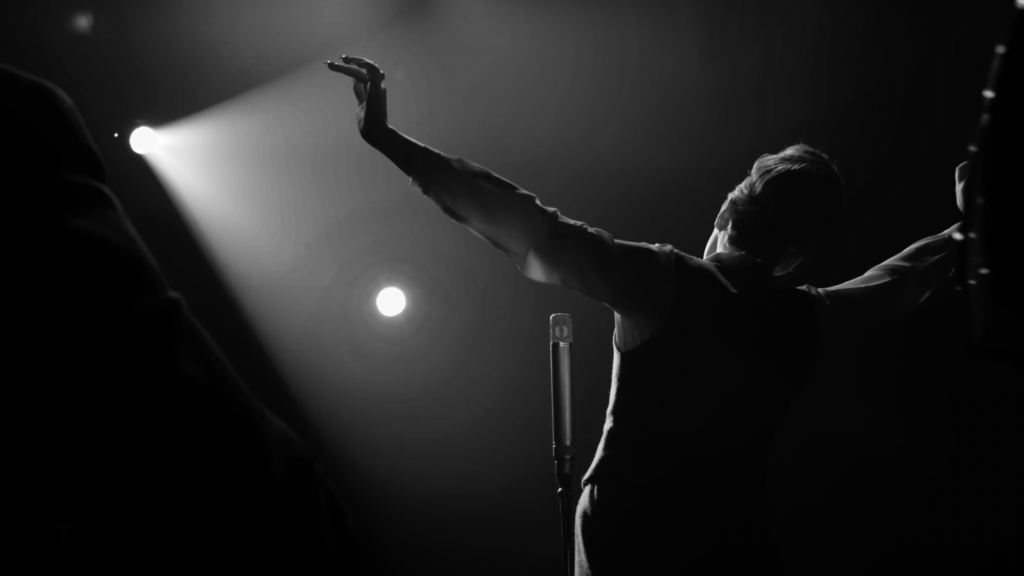 Special thanks to Matt Amato and Olivia Jondle for sharing their photos and process with me!
Read more depth about this outfit and the history of herringbone here.