Meeting Queen Elizabeth II in a Ray Aghayan cape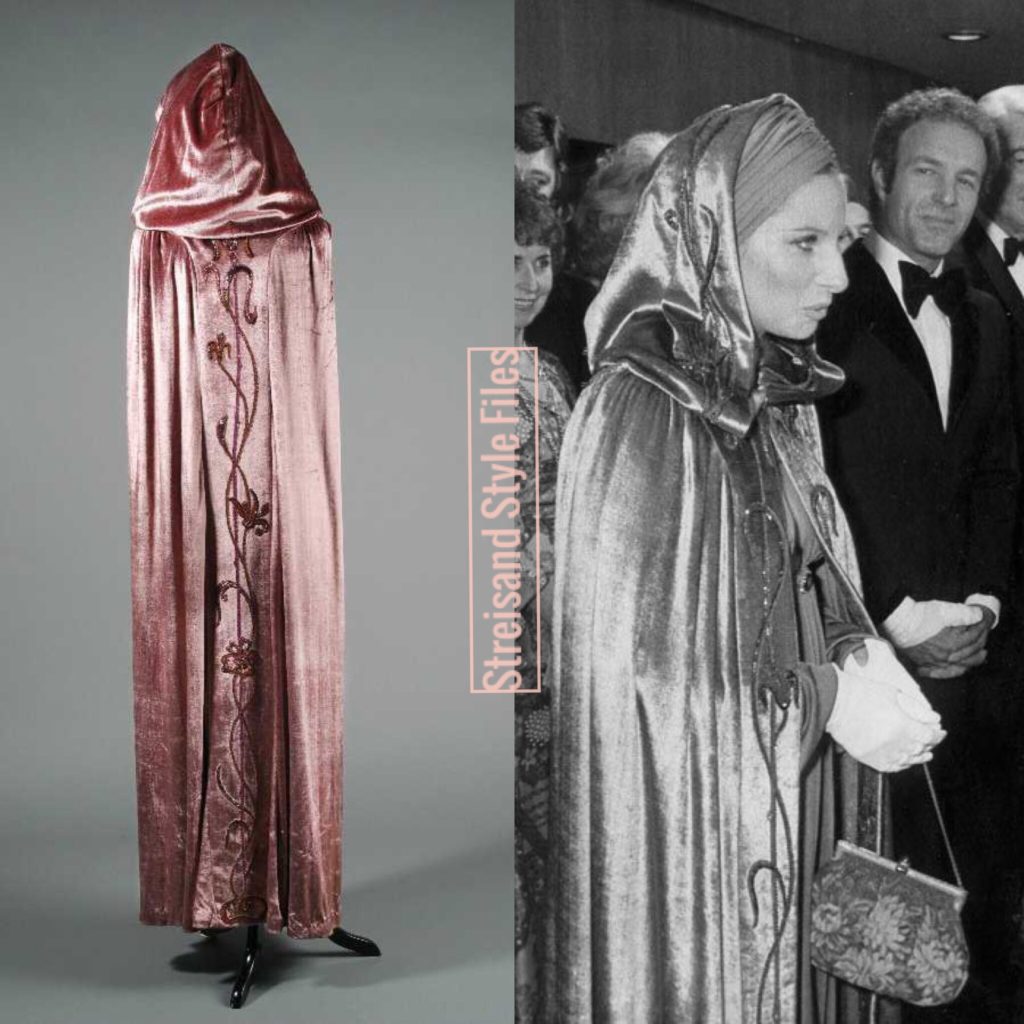 British and American royalty collided when Barbra Streisand met Queen Elizabeth II at the Royal Film Performance of "Funny Lady" on March 17, 1975. Streisand called on Ray Aghayan (1928-2011) to co-design this beautiful lavender cape. Aghayan had been designing looks for Barbra all the way back to her Judy Garland Show performance in 1963. He and his life partner and Bob Mackie had recently completed designing all of the costumes for Funny Lady, so Barbra likely knew she was in great hands.
According to Julien's Auctions, this floor-length, Medieval-style cape was made from crushed velour. It features a Scottish Widows hood and delicate pleating at the shoulders. A T-shaped panel of fabric at the back features Art Nouveau style floral embroidery featuring glass bugle beads & Swarovski crystals. This motif runs vertically to the bottom of the cape and is repeated along the outside and inside of the hood and front. The hood fastens with a hidden hook and eye closure.
Streisand paired her regal cape with a streamlined lavender turban and a matching empire waist gown with a deep-V neckline and long bell sleeves and white gloves. She also carried an antique floral needlepoint purse that ended up being quite similar to the one Queen Elizabeth II was carrying. This look was overall very much in the style of what Streisand wore during the Funny Lady film with a clear touch of royal inspiration.
Upon meeting the Her Majesty, Streisand followed royal protocols before asking asking "Your Majesty, why is it that women have to wear white gloves to meet you and men don't?" The Queen seemed unbothered by the question and replied, "I'll have to think about that one. I suppose it's tradition." Watch the video here. The royal tradition of attending Royal Film Performances dates back to 1946 when King George VI attended the premiere of "A Matter Of Life And Death." Back then the event was known as the Royal Command Performance. Elizabeth II attended her first Royal Film Performance just before her Coronation in 1952. She attended over 30 premiers before passing the duty down to other senior royals. The proceeds from these showings enable the Film & Television Charity to offer financial support to people from the film industry who are experiencing hardships. Today, Royal Film Performances are mostly attended by Prince Charles and Prince William.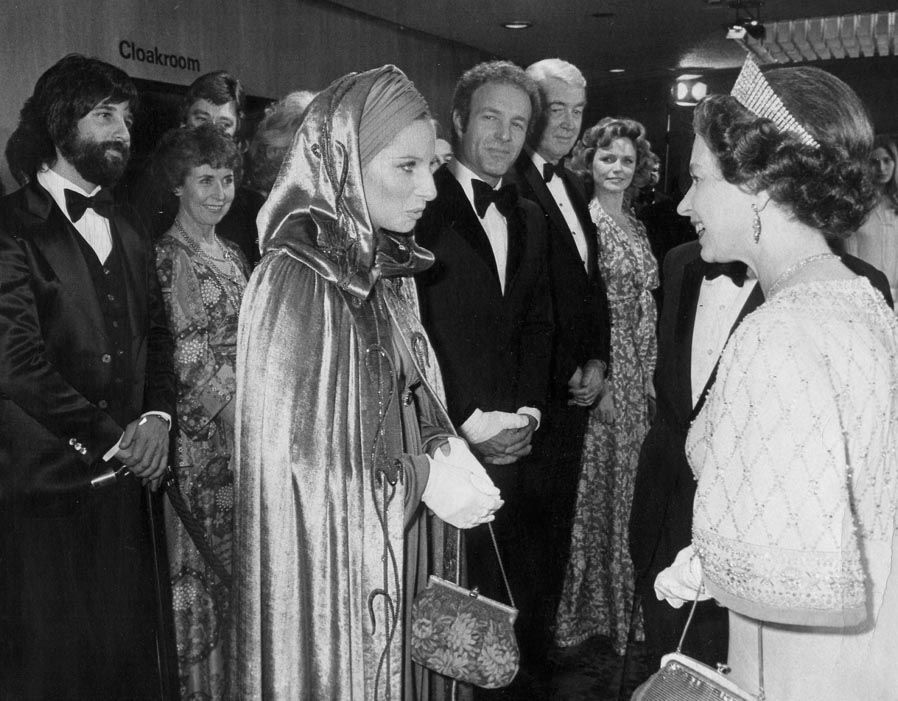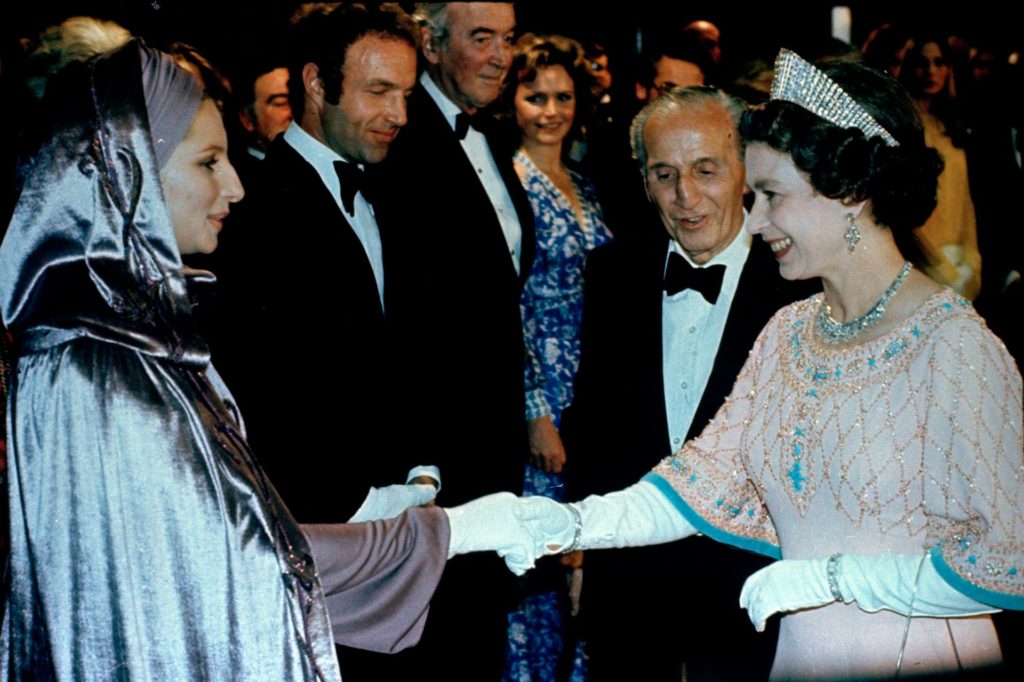 Cloaks and capes are one of the earliest garments worn by humans. In ancient times, blankets and beddings were used to create them. They reached the height of their popularity during the Renaissance period when royalty and the wealthy began to wear them. Stunning, ornate cloaks made from velvets, silks & satins indicated status in and out of the royal court. Eventually, coats came into fashion, overtaking the popularity of cloaks. Streisand's cape was auctioned in 2004, but is back in her possession today. She keeps it proudly displayed at her Malibu home alongside a photo from this momentous occasion.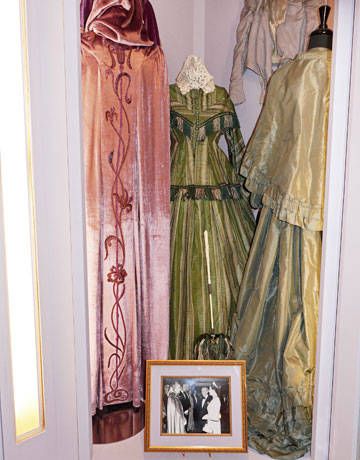 Sources:
https://filmtvcharity.org.uk/news-event/royal-film-performance/
https://www.liveauctioneers.com/item/321228_barbra-streisand-london-premiere-cape