A Happening in Central Park Fortuny Delphos replica and cape by Irene Sharaff
Barbra Streisand wore a pink Fortuny Delphos inspired gown and matching chiffon cape by Irene Sharaff during act one of her A Happening In Central Park concert. This free concert took place on June 17, 1967, as part of the second season of the Rheingold Central Park Music Festival. It was initially estimated to draw 75,000 people but over 135,000 showed up.
Over the years this outfit has become one of the most recognizable and iconic looks Streisand has ever worn and it is beloved by fans worldwide. By 1967, Streisand had already seen massive success from her first studio albums, hit TV specials, and her starring role in Funny Girl on Broadway but she was still in a chrysalis state, about to become a movie star for the first time. As she made her entrance at Central Park, raising her cape-like butterfly wings, it was clear that her metamorphosis into mega-stardom was complete.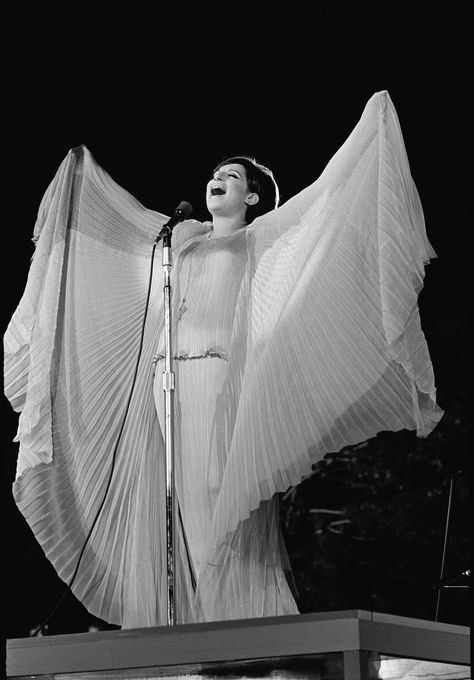 The story of how this gown came to be dates back to the production of the Funny Girl movie. During this pre-production, costume designer Irene Sharaff had procured a vintage deep red Fortuny Delphos gown and matching jacket for Barbra to wear in the film. Streisand fell in love with them and they remain in her collection today. In her 2010 book, My Passion For Design Streisand recalled "I thought the Fortuny dress was gorgeous. Utterly simple-held together by a thin silk cord at the shoulders and very complex with that infinitesimal pleating. No one has ever figured out how he did those tiny pleats. It's like Tiffany glass in a way. You can't quite duplicate it, although many people have tried." She continued to explain "I wore the original in the movie of Funny Girl and then I had Irene copy it in pink for my 1967 concert in Central Park. I asked her to make a pleated chiffon cape to wear over it that could billow in the wind. There were 150,000 people there that night and no video screens back then. At least with the cape, they could see me, even if they were way in the back."
A Happening In Central Park took place on a weekend off from the filming of Funny Girl. The pendant which accessorized Barbra's pink outfit went along for the cross-country trip as well. You can catch a glimpse of it around one hour and thirty-seven minutes into Funny Girl when Fanny proposes the idea of marriage to Nick, and in the subsequent card game scene. Streisand wore the piece again to the 1992 Academy Awards.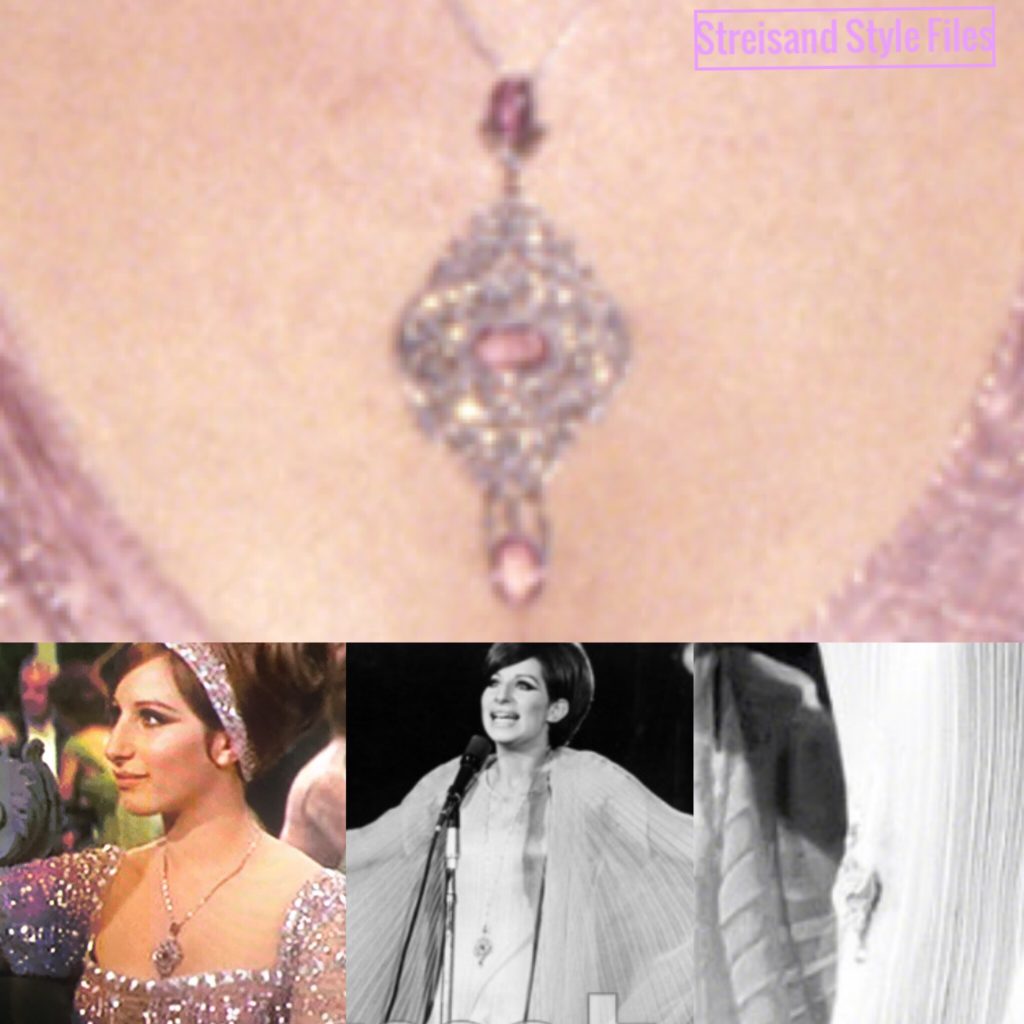 In the introduction to A Happening In Central Park DVD Barbra recalled that "In June of 1967 I remember I was in California making Funny Girl, my first movie. I finished shooting on a Friday and flew into New York to do my third television special. I remember going straight into rehearsal in Central Park, we rehearsed from about midnight till 3:30A.M. My business associate Marty Erlichman warned me that as many as 25,000 people might show up for the rehearsal, so I was prepared for a big crowd. But to my great disappointment nobody was there. And I thought oh my god, what if nobody shows up to hear me sing for the real concert the next night."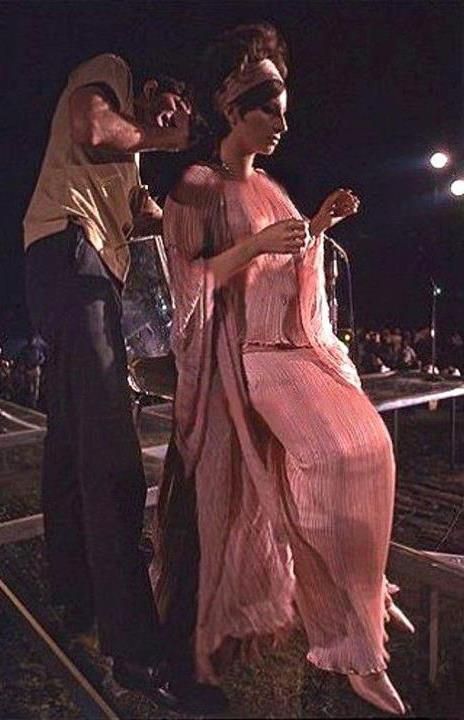 In a 1968 Redbook story, journalist Martha Weinman Lear recalled spending the night of the rehearsal with Barbra in her trailer and how Barbra was still questioning the act one look. "Close your eyes and she was totally immersed in the song; open them and she was totally preoccupied with the gown, playing with it, studying the effect in two television monitors."
Backstage while reviewing tape Barbra asked her husband Elliot Gould his opinion on her hair and outfits, which Weinman Lear documented in detail. "What about the pink gown? she asks wearily. A sticky silence. A technician spoke hesitantly. His colleagues had taken a poll and six out of eight didn't like it. Abruptly Streisand exploded. "You know what?" she said. "I'll tell you what. You guys don't understand fashion." In sticking with her gut on this look Barbra created one of the most indelible and iconic images of her career.
The next day, a small alteration to the look was made. The matching pink headband was removed and Barbra wore her short natural hair for act one as opposed to the curled updo hairpiece worn during rehearsal.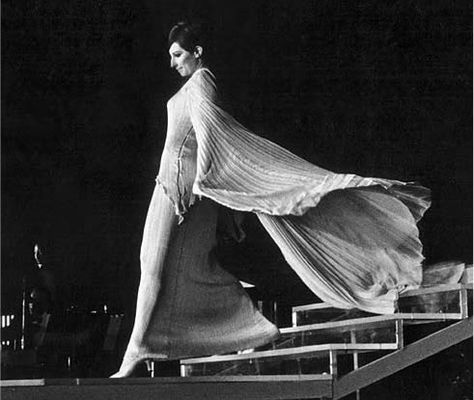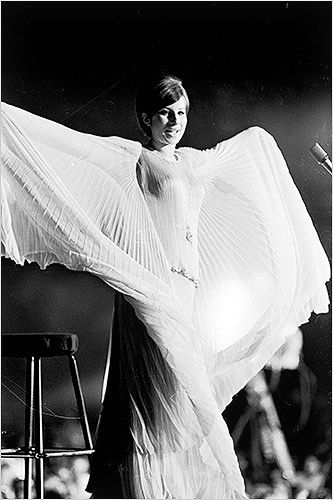 Aside from the difficult task of choosing the perfect gowns for her concert, Barbra was under incredible stress due to widespread anger which had emerged in the midst of the Israeli-Egyptian six-day war. During this tense week, a publicity still had been released showing Egyptian Omar Sharif kissing Jewish Barbra Streisand which infuriated the public and governments. Funny Girl was to be banned in Egypt and Barbra was petrified that someone would try to shoot her while she was on stage. She recalled "I started walking around the stage fast. And I forgot my words, which is an actor's nightmare. And that frightened me-that absolute lack of control."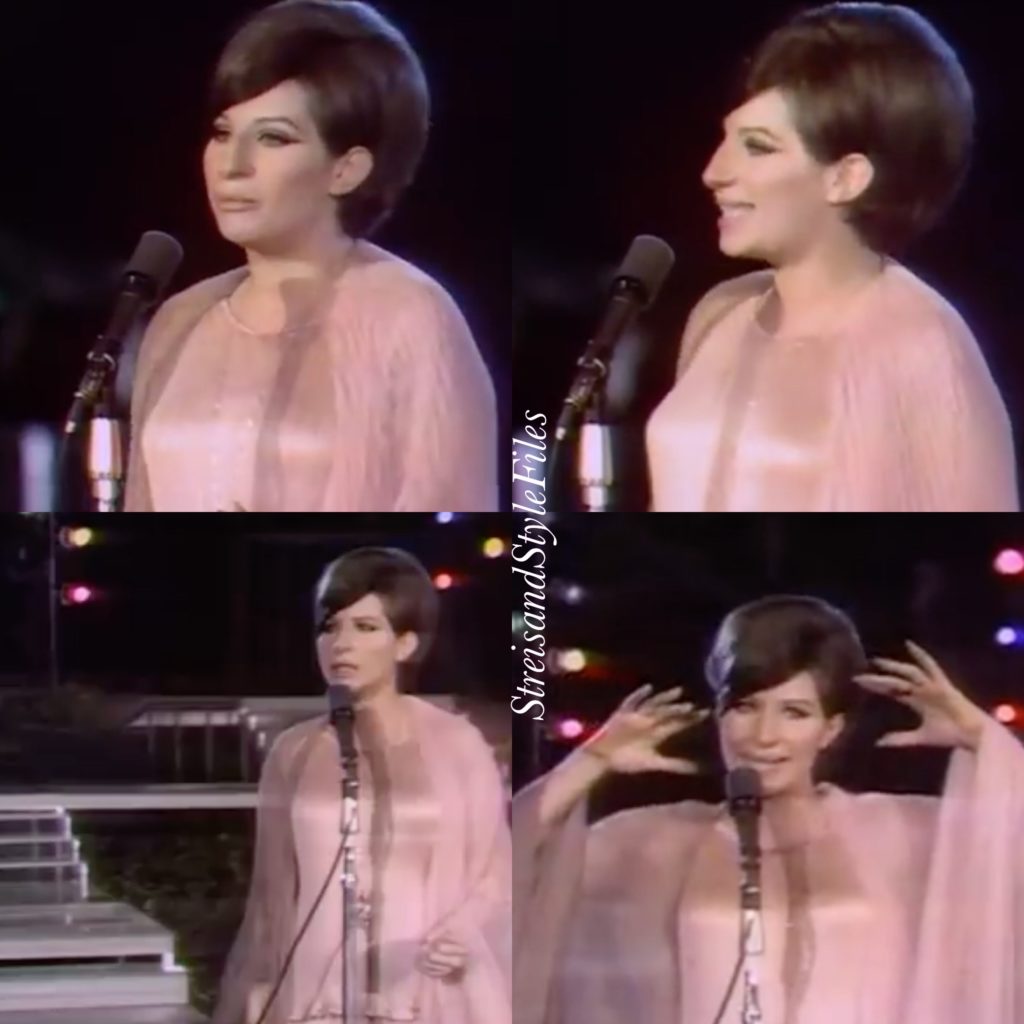 Barbra was terrified and was supposed to have a very large NYPD presence to help ensure her safety. But everything that could go wrong started going wrong. In her DVD introduction she talked about all of the craziness that ensued prior to the concert.
"Another worry was that the weather forecast predicted rain. As it was the humidity in the air made the strings ago terribly out of tune. And Marty said "What's worse than the rain is the mud. How are people gonna sit down?" So we tried to get mud insurance from Llyod's of London, but no one could define mud. They could define rain by inches, but mud…I guess that was too murky an area. And then Phil Ramone who did our sound also reported his cables had been cut by accident and he didn't know if anybody would hear me past the first ten rows. Then to top it all, two hundred and sixty out of the three hundred cops assigned to the concert were given to Soviet Premier Kosygin who unexpectedly happened to come to town that weekend. We thought, what else could go wrong? Well the next day, when I went back to the park for sound check, I was relieved to find sixty-thousand people there. And what we discovered was that the park closed at midnight and that's why there wasn't anybody there at rehearsal the night before. By the time the concert started, all ninety-nine acres were filled with people. In front of me, behind me, and even a few were hanging out of their windows on Central Park West which made me feel right at home because it reminded me of Brooklyn. We escaped the rain by about forty-five minutes, I remember, and it turned out we didn't need any cops at all…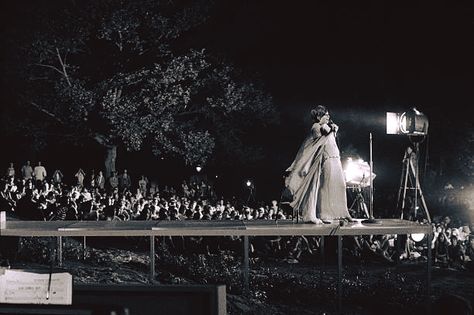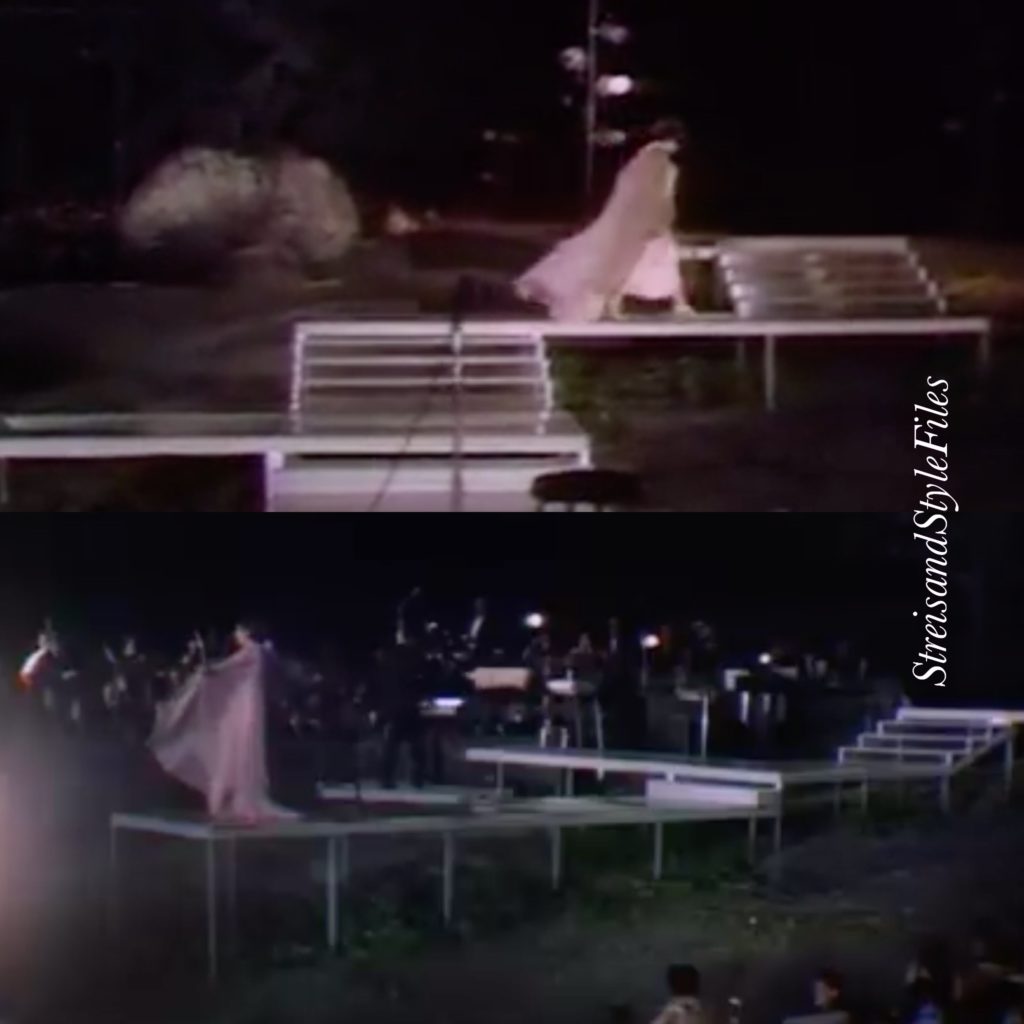 Because of all the people who made the happening happen there were no disturbances, no arrests, no problems. Just five tons of debris the New York Times reported, including items like a black merry widow (not the spider)…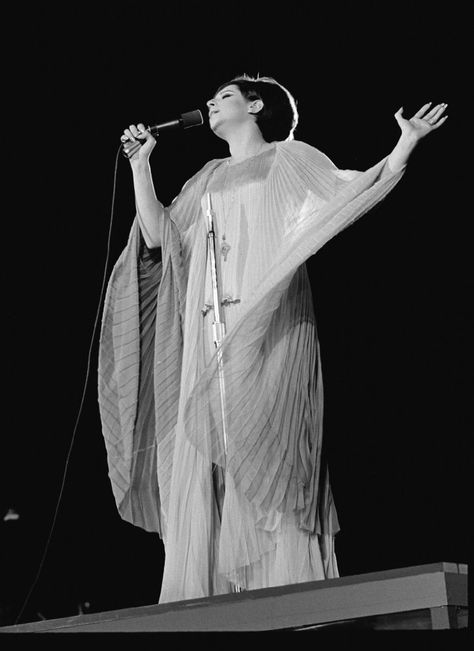 …But mother nature was on our side. And if you look closely while i'm singing the song Natural Sounds, the wind comes up out of no where as I sing the line "the rushing sound of wind in the trees." It was really quite magical. Even though I sang the wrong lyrics at the beginning of the song it didn't much matter. Because it was a special evening that i'll never forget. And i'm glad to have this opportunity to share it with you now and for always."
This stunning Fortuny replica gown was crafted by perfection by Irene Sharaff (1910-1993) who was known for her attention to historic detail. The vintage version she worked from is estimated to be circa 1934 and features a "tunic" attached along the neckline to a sleeveless underdress, bringing to mind a Greek peplos.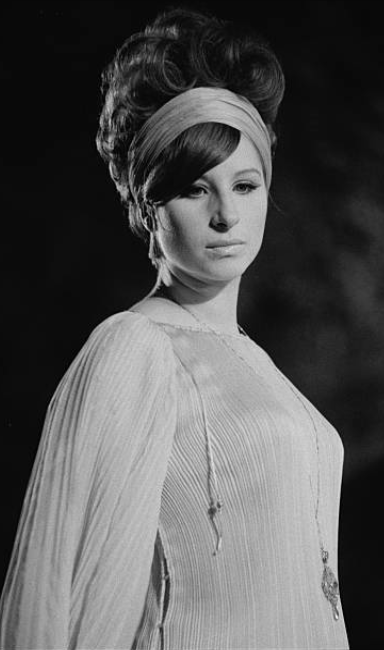 Regarding this design, curators at The Met note "This (peplos) effect is further emphasized by the handkerchief points at either hip, which would have been seen on the sides of an authentic apoptygma. In the ancient Grecian peplos, the arm openings were positioned along the neckline edge rather than the sideseam edges. This resulted in a dipping hemline at either side of the garment when worn. Fortuny took this structural attribute and achieved the similar, purely decorative effect by cutting away at the tunic's front and back hem.
Further, he interpreted the buttoned or pinned closings characteristic of a chiton's shoulder seams by connecting the topline seam of the tunic's sleeves with Venetian glass beads interlaced with silk "rat tail" cording. Fortuny was noted for his antiquarian intentions and scholarly treatment of classical dress, yet in the end, he invented rather than replicated a Hellenic style."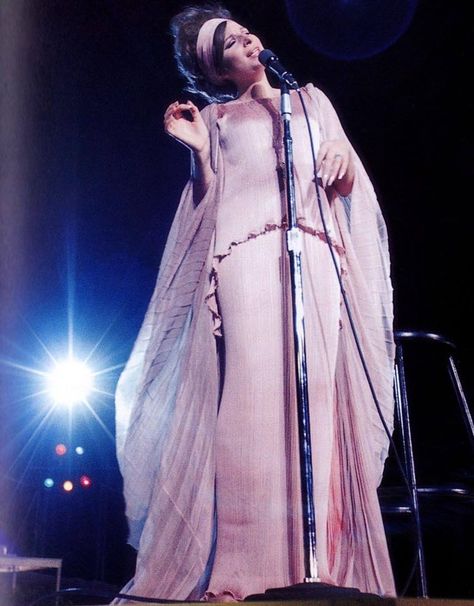 Delphos dresses all featured glass Murano beads strung on silk cord along each side seam. These beads are decorative but also serve the purpose of weighing down the silk for a smooth fit. These dresses began to be distributed in the USA in 1928 and were made until Fortuny's death in 1949. Today, his gowns are extremely valued and collectible, selling for upwards of $10,000. Mariano Fortuny (1871-1949) was born into a renowned family of artists in Grenada, Spain. At 18 he moved to Venice where he established his career. He began working in many areas of the arts including theatrical lighting where he invented cutting-edge techniques like the cyclorama dome. He opened his couture house in 1906, and the first Delphos gown was created in 1907 as a collaboration between Fortuny and his wife & muse Henriette Negrin. The "Delphos" (named after the Greek statue Charioteer Of Delphi) was a direct reference to the chiton of ancient Greece and could be worn without undergarments. It was originally intended as informal clothing to be worn solely around the home. These finely pleated silk dresses eventually became evening wear and remain Fortuny's most famous design. His method of pleating was a closely guarded secret involving applying heat to wet fabric. He patented this method in 1909 under the name "Genre d'étoffe plissé. This pleating technique has recently been unlocked by the House Of Fortuny who have recently revived the famous look.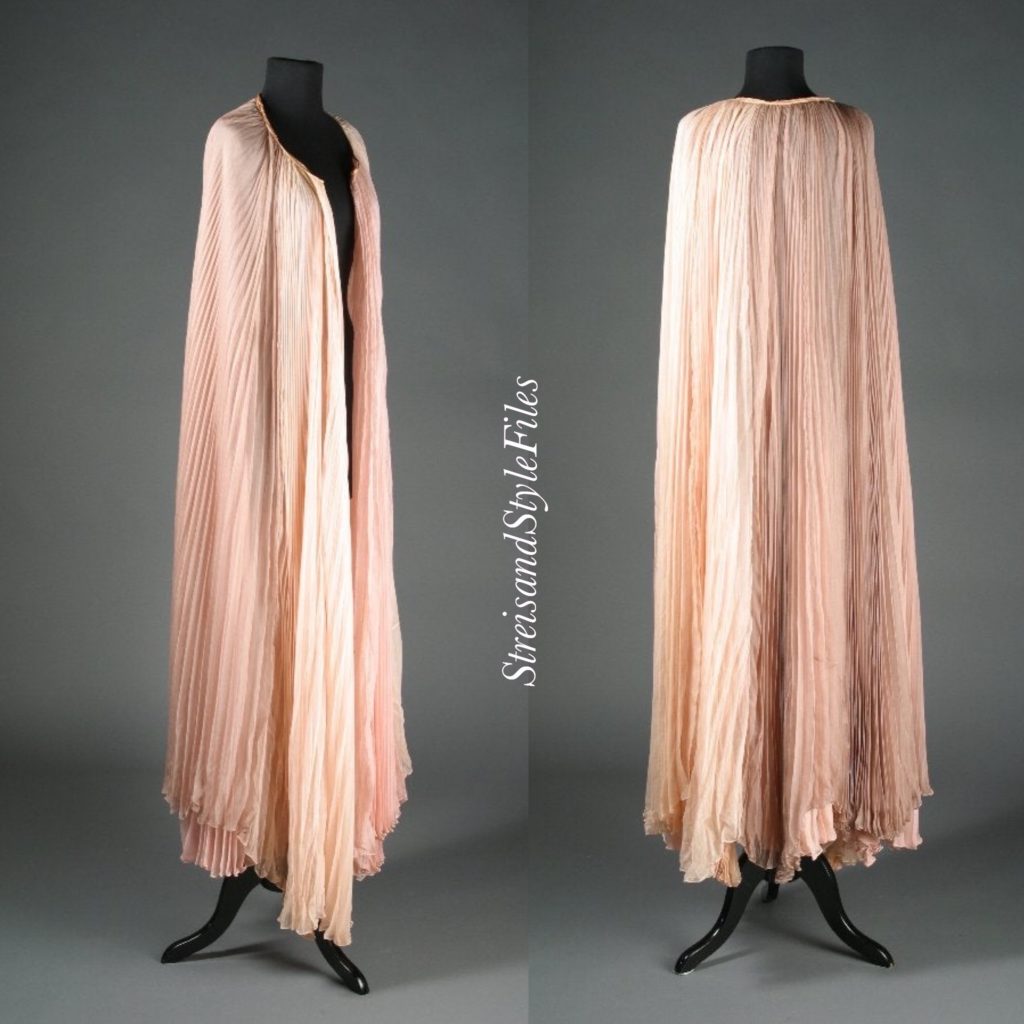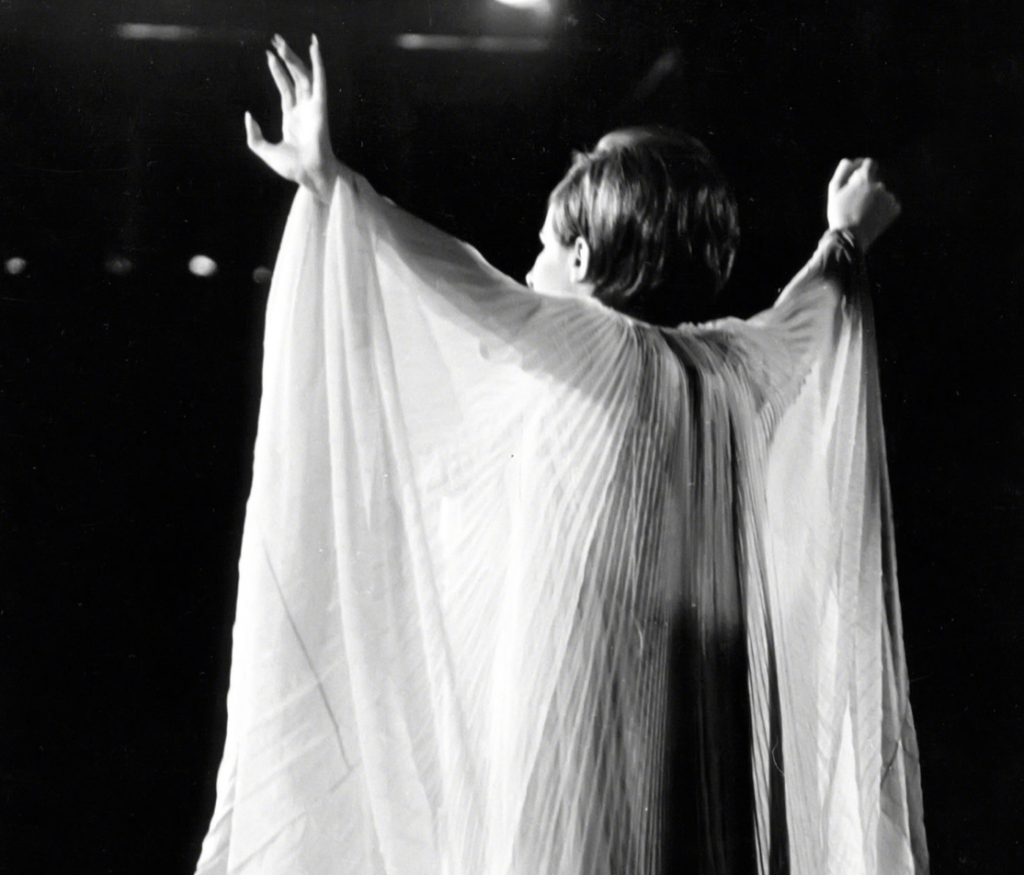 The matching accordion-pleated chiffon cape was simple, yet true to Streisand's vision and added an incredibly dramatic effect to her dress. This consisted of two layers of chiffon, which flowed from a satin-edged, rounded neckline ending in a rolled lettuce hem. This piece was sold at auction in 2004 for $3,400.00.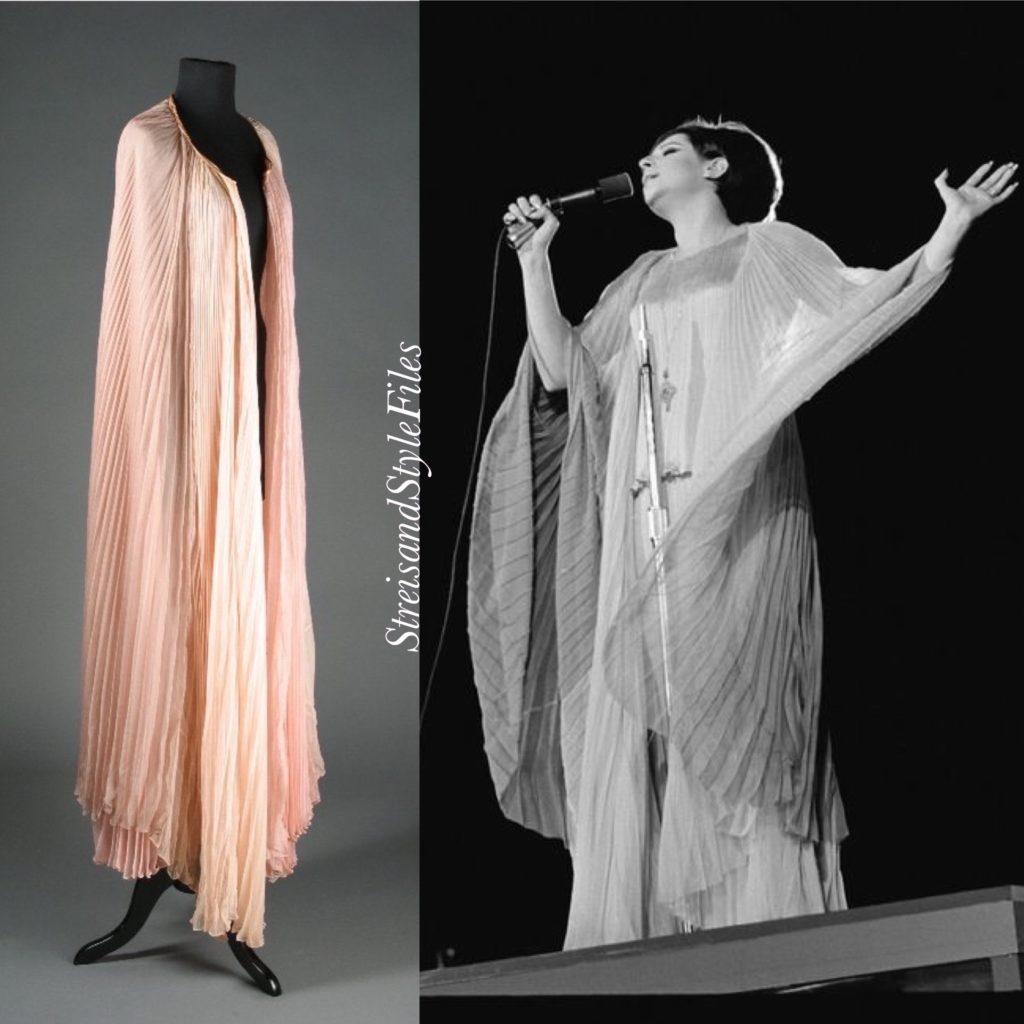 Streisand has worn several other gowns throughout her career inspired by her love of Fortuny's famous pleats. Read about them below.
*Photo Shoot As Sarah Bernhardt