1977 Academy Awards In A Self-Designed Gown
Barbra Streisand looked like a 70's goddess in this copper gown and cape at the 49th Annual Academy Awards, on March 28, 1977. Barbra designed this look herself. On this night, Barbra and Paul Williams won the Oscar for Best Original Song ("Evergreen"), which was presented by Neil Diamond. Barbra had also performed the song during the live broadcast. In her acceptance speech she stated "In my wildest dreams, I never ever could ever imagine winning an Academy Award for writing a song. I'm very honored and excited. Thank you all very much." This was a historic moment, making Barbra the first woman in history to win an Academy Award for composing music.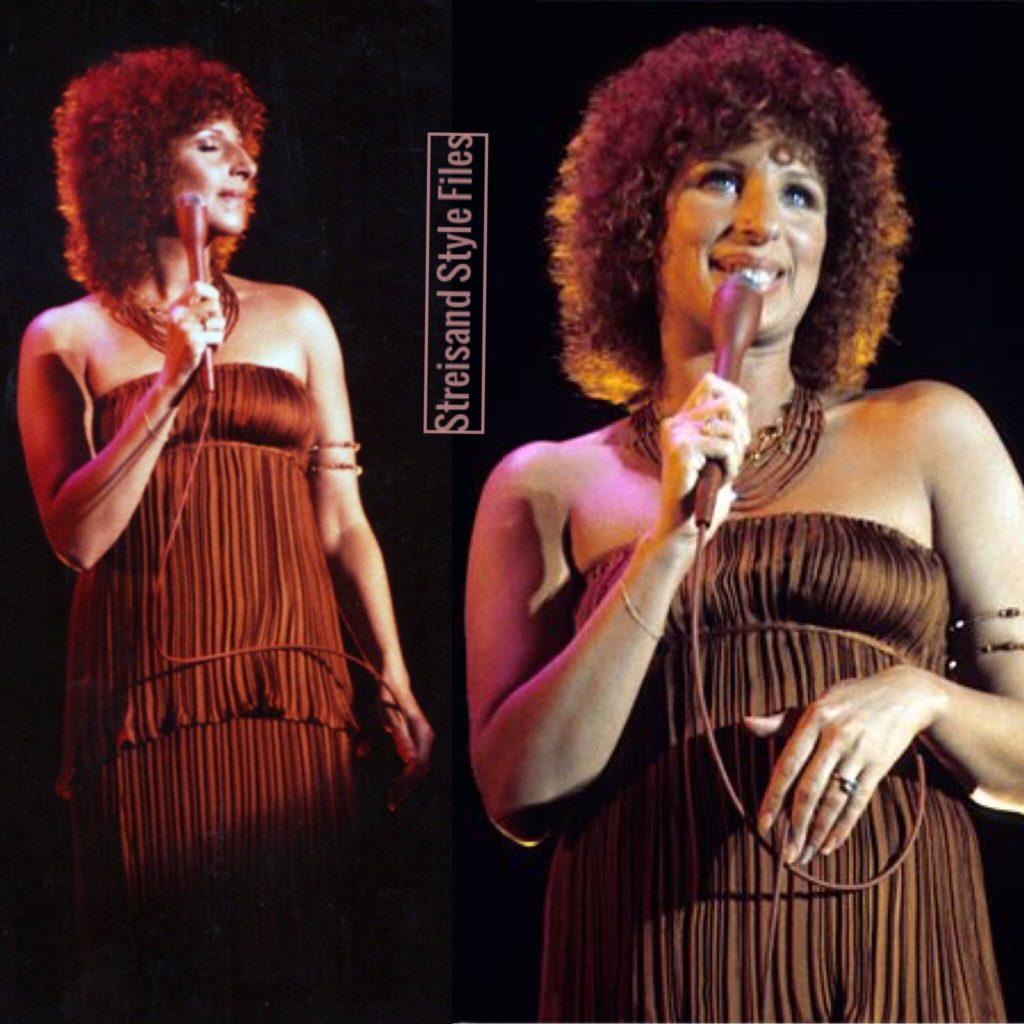 Regarding her choice of Academy Award fashion and her first iconic sheer pantsuit look, Barbra said "I thought to myself, I'm going to win two Oscars in my lifetime, and I'll be more conservative next time."
Barbra has been a huge fan of Fortuny style dresses since the 60's, when she wore a red Delphos dress in "Funny Girl." She loved it so much that she had Irene Sharaff recreate it in pink for her "Happening In Central Park" concert. Fortuny's method of pleating was extremely secretive and nearly impossible to duplicate. This gown brings to mind that legendary pleating.
Barbra's copper gown is an empire waist, strapless, tiered maxi. There is covered elastic top at the hem and satin edging under the bust. Finely accordion pleated satin crepe eloquently falls into three layers on the body of the dress, ending in a lettuce/ruffled hem. The matching open front cape added a fourth layer to this dress, completing its elegant tiered effect. This was elbow length and featured a high neck ruched collar with a lettuce hem, a four satin button closure, and three rows of satin edging. Barbra notably had the mic used in her performance sprayed copper to perfectly compliment her outfit. A photo of Barbra in this gown was also featured on the back of the "Eyes Of Laura Mars soundtrack (1978).